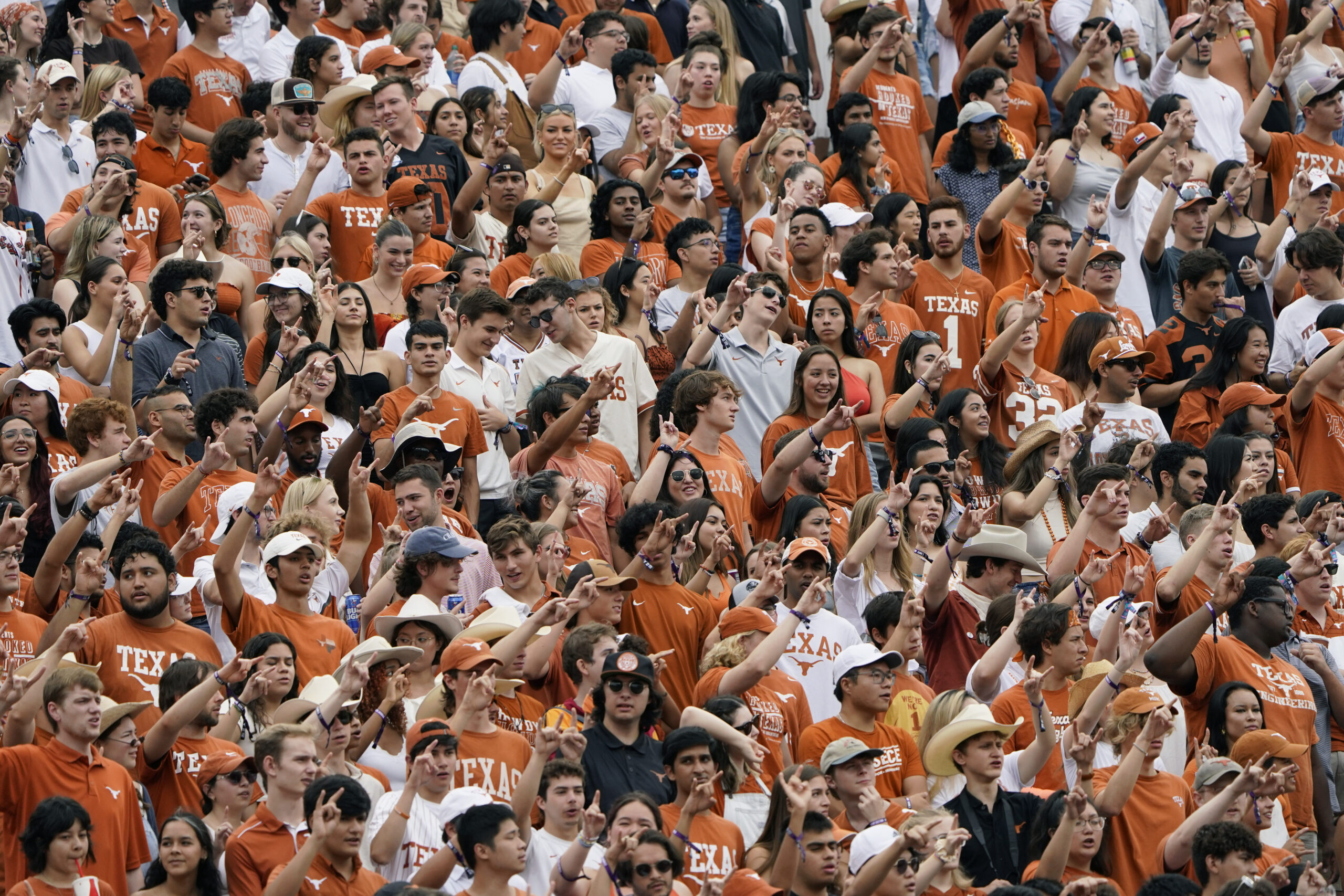 As the temperatures (slowly) become cooler and the days become shorter, fall brings the promise of football and the pageantry of the college game — an experience unmatched almost anywhere in sports. Tailgating is a four-day weekend where the sport is a religion and for an elite few, the idea of a national championship sits atop the list of desired outcomes at season's end.
And as college football undergoes historic changes, the theme of change just like the leaves on a tree in the fall months is at the top of mind of every fan. This year, the Big 12 has 14 members with BYU, Cincinnati, Houston and the University of Central Florida joining. The American Athletic Conference, having lost Cincinnati, Houston and UCF, welcomes six new schools in Charlotte, Florida Atlantic, North Texas, Rice, Alabama-Birmingham and the University of Texas-San Antonio. And Conference USA, which lost those six schools to the AAC, bring in four new members in Jacksonville State, Liberty, New Mexico State and Sam Houston.
Confused? It doesn't stop there. Recent seismic shifts at the top of the sport have college football on the cusp of a generational if not a geographic shift. It is the final year for Oklahoma and Texas in the Big 12 before both leave for the Southeastern Conference; the Pac-12, meanwhile, will lose UCLA, USC, Oregon and Washington to the Big Ten plus Arizona, Arizona State, Utah and Colorado to the Big 12. When the 2024 season kicks off, the Big 12 will have 16 teams, the Big Ten will have 18 and who's to say the Pac-12 will even be around?
Oh, well. That's a concern for another day. Instead, let's look at the issue from the vantage points of college towns that this fall will see something new, goodbye for pastures new and deal with the current uncertainty the best they can by trying to wrap their heads around the rapid pace of change.
[Related: Realignmen's Toll on The Most Historic, Unknown Trophy in Sports]
A New Adventure Beckons
BYU has football tradition, claiming a national championship in 1984. Being a Mormon campus brings a unique gameday atmosphere, with no alcohol served on university property. But "once they're inside the stadium, they're just as passionate and crazy and loud as any football fan would be," said Lee Adamson, executive director of Visit Utah Valley. "The game day atmosphere is great in Provo."
This year the atmosphere has a new level of anticipation. BYU went independent in football in 2011 but this year starts play as a full member of the Big 12 Conference.
"It elevates BYU and elevates Provo in visibility," Adamson said. "It's obviously bigger teams, bigger alumni, bigger fan bases that are following the teams in the Big 12. We're really excited to welcome those groups here."
BYU's inaugural season in the Big 12 brings home games against Cincinnati, Texas Tech, Iowa State and most notably Oklahoma on November 18. "The Oklahoma game is going to be awesome having a team of that caliber and tradition," Adamson said. "It'll be a hard one to get (tickets to)."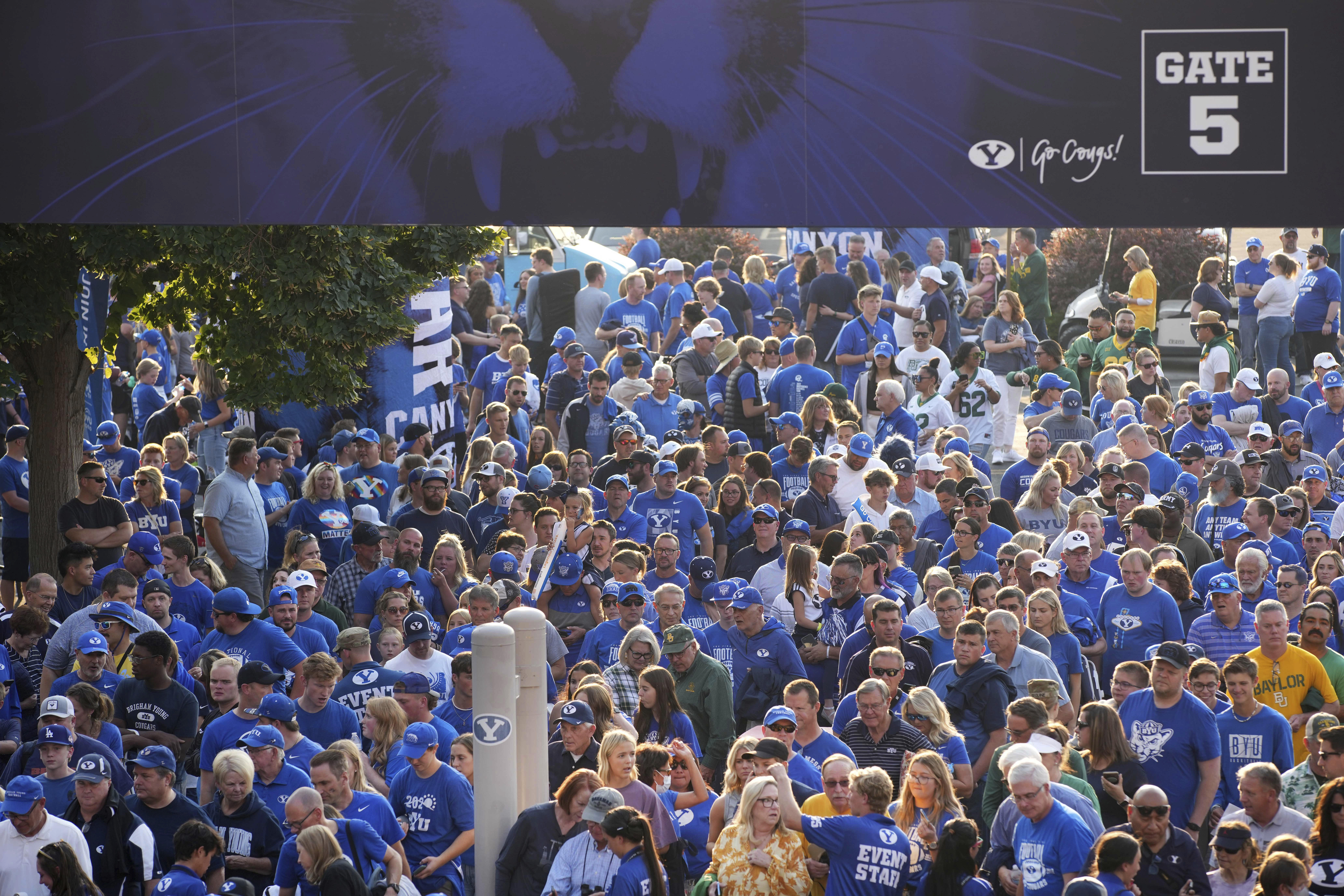 But while BYU is in its first year as a Power 5 member, it has hosted plenty of big-name opponents since Kalani Sitake took over as head coach seven years ago. In that stretch, the Cougars have hosted UCLA in 2016, Wisconsin in 2017, USC and Washington on back-to-back weeks in 2019, Arizona State and Virginia in 2021 and both Baylor and Arkansas last season.
"During the independence era, we had big-name teams coming into Provo and a lot of teams from the Pac-12," Adamson said. "And we had big alumni bases come in and those were so much fun. But it's been a long time since we were able to consistently showcase this area and especially from the Big 12 footprint."
While maybe not on the scale of the Big 12, the AAC's realignment gives UAB and Memphis the chance to renew a burgeoning Group of 5 rivalry. Last played in 2012, Memphis and UAB have been two of the better Group of 5 teams in the past seven seasons.
This year's game at Protective Stadium in Birmingham may be even more anticipated for what's at stake: The Battle for the Bones, a trophy that features a slab of ribs going to the winner on the field with a sanctioned rib cookoff outside the stadium before the game.
"I think there's a real excitement and the proof will be in the pudding, but I think people are definitely going to come out," said David Galbaugh, vice president of sports sales and marketing for the Greater Birmingham CVB. "I think fans are really excited about what Protective Stadium has brought to the table in terms of tailgating opportunities and restaurants and things around the stadium. The attendance is growing and I think there's going to be a real appeal and a real excitement about UAB moving into a different conference as well."
Birmingham's location makes it a bit unique as a college football market. It has UAB and its conference move to the American, which is a more prominent league than Conference USA, but it also sees significant visitation in the fall from fans who stay in the city for the weekend but attend games 45 minutes away in Tuscaloosa, home to the powerhouse Alabama program.
[From 2022: Why College Conference Realignment Reshapes the Sports Tourism Landscape]

"I think it just speaks to the culture of collegiate sports and particularly football in Birmingham and around the Southeast," Galbaugh said. "Particularly LSU, Tennessee, Auburn, when they come in, that really affects Birmingham and it affects our hotel occupancy in a very positive way."
One Crimson Tide home game in particular this season will help Birmingham's hotel occupancy this fall: the September 9 home game against Texas, which this season is a non-conference game but gives a preview of next season when the Longhorns join the SEC.
"I think some of our properties already sold out and I don't know if that's completely driven all by Texas, but I know it plays a role," Galbaugh said. "I've seen the fan base with Oklahoma, they're just out in rabid force as well. I expect whenever they come into Tuscaloosa, Birmingham's going to see residual impact for that."
Oklahoma and Texas are rabid fan bases, to be sure. This year, those fan bases will be seeing some Big 12 towns for the final time. And the towns home to those schools will also have the same experience when it comes to visitation — while planning for a highly anticipated future.
Time to Move On
From Longhorn City Limits, which ties into some of the things that make Austin so famous, to Bevo Boulevard for fans of all ages, "the gameday experience at UT is second to none and that's why they make a good fit with the SEC culturally," said Drew Hays, director of the Austin Sports Commission.
So while this year's Texas schedule includes final road stops at Baylor, Houston (a new Big 12 school), TCU and Iowa State, this season is a mix for fans with a little bit of sadness for saying goodbye to rivalries but high levels of anticipation for the Longhorns' SEC future.
If anything, there may be as much anticipation for Texas' home games in the Big 12. For Kansas, Kansas State and Texas Tech, it will be the final visit to Austin in conference play (Texas also hosts new Big 12 member BYU).
"I definitely think you're going to see a lot of Big 12 fan bases travel to Austin being that it may be the last game they'll match up with UT," Hays said. "Then when you look at 2024, there's a whole new set of fan bases that may never have been to Austin before."
Visits from LSU in 2019 and Alabama in 2022 also hint at what Texas' SEC future will mean for fall visitation. The average daily room rate for Austin's central business district was $370.42 for LSU's visiting weekend and $367.47 for Alabama last year. The occupancy rate for LSU was 97.5% and for Alabama it was 81.6% (which is in part because of a big increase of hotel supply downtown from 2019 to 2022).
Which leads to one of the other sports tourism-related questions that all of this conference realignment brings: How far can you expect fans to travel?
"If you're a casual fan, you're probably going to remain at home no matter what," Hays said. "What it's going to affect is the diehard fans who would go drive for a few hours and then drive back if they didn't want to stay overnight. If you're a USC or UCLA fan, your closest option soon may be Lincoln, Nebraska, which is (1,500) miles. The whole realignment process is going to put a new twist on how you're going to travel to collegiate sports."
And there's one school where the fan base faces a much-changed future if it wants to travel to conference road games.
No More Car Adventures
They're in the Pac-12. Then they were headed to the Big Ten. Then it looked like maybe the Pac-12 would survive. Then they were headed east again. And now, future travel could mean some big trips for its fan base.
Welcome to life as a Ducks fan in Eugene, Oregon, where the program has become a national presence in football and beyond for more than two decades thanks to its billionaire benefactor. After a whirlwind summer, Oregon will soon join Washington, USC and UCLA as new members of the Big Ten, leaving the Pac-12 that it called home since 1964.
"Football has always been really strong in the fall honestly from a hotel restaurant and overall tourism standpoint," said JB Carney, senior director of sports for the Eugene, Cascades and Coast Sports Commission. "It's always been extremely important for the community and not just Eugene proper, but Springfield and some of the smaller communities that see an uptick. College football and the Ducks are just a big, big part of the local tourism economy and a huge driver for economic impact in the fall."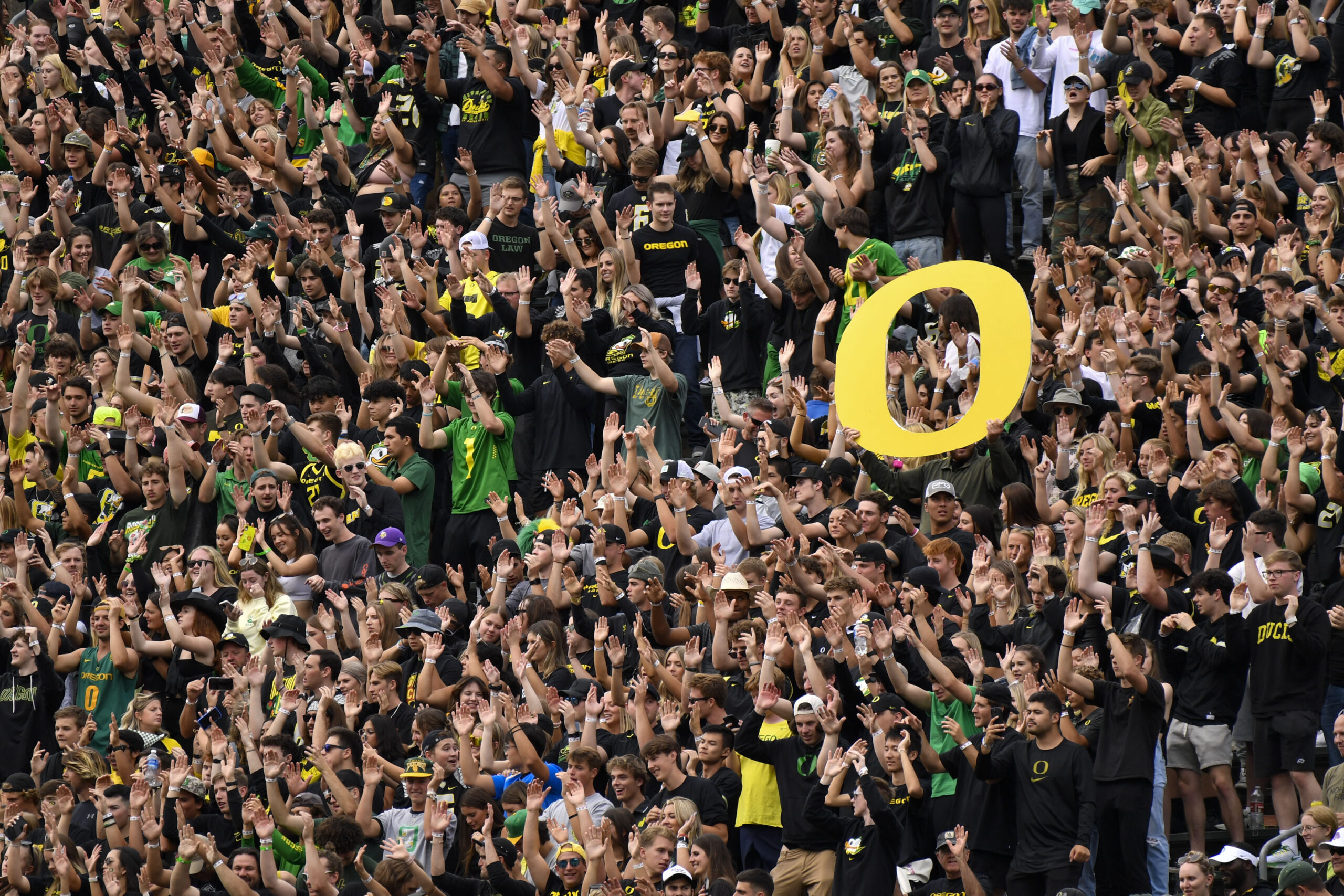 With Oregon leaving for the Big Ten, the question becomes how will that affect fan visitation in the future. One example is the Ducks' game November 11 at home against USC, which was going to be the Trojans' final true road game at a Pac-12 opponent (USC does play another road game the following week but it will be against intra-city rival UCLA). Oregon's game against USC will be the first time the Trojans have been in Eugene since the 2015 season.
The atmosphere would have been one of anticipation not only because of the game's conference title implications but the final chance for the two fan bases to compete on the football field. Now, suddenly, the teams will be in the same conference moving forward. Instead, home games against Colorado, Washington State, Cal and in-state rival Oregon State will be "goodbye" games.
"People who in the last couple of years may not have traveled down and stayed the night that are Duck fans from other communities may reconsider knowing that things are going to change long-term and may not be the same," Carney said. "The flip side is people say 'I'm done with this whole mess.' With media contracts and the way games are televised, sometimes it's just easier to stay at home and watch. It'll be really, really interesting, this year in particular with all the unknowns."
The changes leave Carney, a self-admitted fan of college sports more than any pro sports, wondering what the future holds. "There's something about being on campus in the fall for a big football game and the pomp and circumstance that's around college football," as he remembered attending Oklahoma State.
"Because of the regional nature of conferences, historically, I think it allowed for college kids to be able to hop in a car on Friday night and make the trip up to Lawrence or Lincoln or drive down to Austin and watch the game," Carney said. "As we look at college football and the conferences that are spread out … I could eat my words, I don't anticipate an Indiana, a Purdue, really traveling in heavy numbers to come to Eugene and vice versa.
"Getting down to San Francisco, L.A., even Tempe and Tucson, is a little different than flying across the country to visit Chicago or further than that. You're removing the ability to travel to a game by car. Maybe fans pick that one game a season that they're willing to go across the country for and see a new stadium and a new town, but I don't know if season-ticket holders are going to travel to every road game if you're talking about traveling out of the Pacific Time Zone."
What Carney and Hays mention is the heart of the issue for college sports. Will there be more money for the schools? Absolutely. But what is undetermined for the destinations involved is what changes will result in fan visitation and the moments and memories that make college football such a compelling sport.
"Some of the changes with OU and Texas moving into the SEC, it's not that far a stretch," Carney said. "But when you talk about West Coast schools joining the Big Ten, it's a little bit different. Will it continue to be a major (tourism) driver and especially from the tourism standpoint, really provide that economic boost that it's done for a long time? I don't know. I'm interested to see what happens."