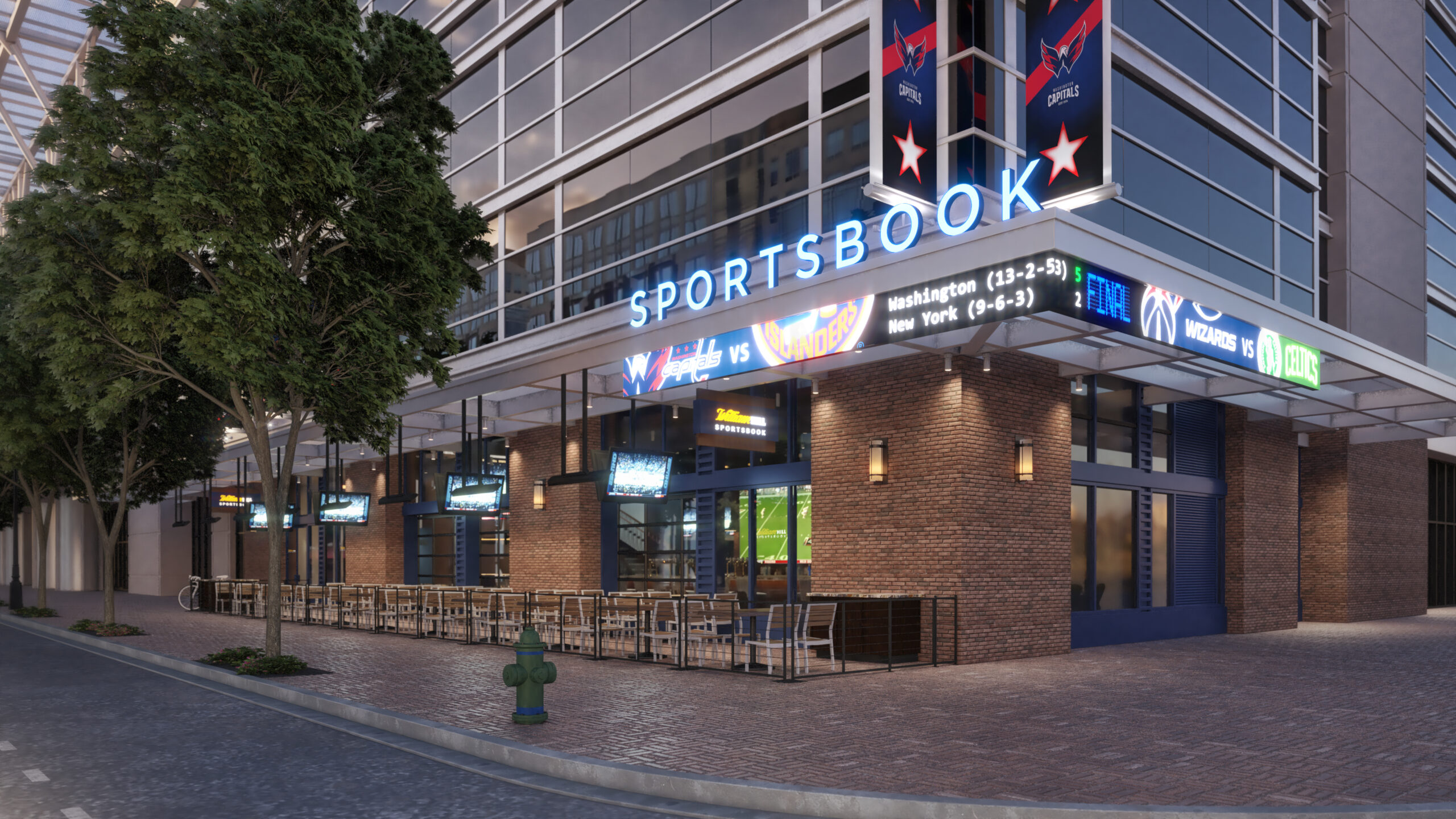 Nearly every day, there is a new partnership between a professional sports team and a gambling company — and sometimes the partnership even includes a college. In the wake of the Supreme Court's ruling on legalized sports gambling, each election day brings a new state that will allow gambling within state lines.
For any team or venue in states that currently allow gambling, being ready to capitalize on the ability to offer wagers is imperative, especially for venues and teams looking to get a revenue boost in the wake of the COVID-19 pandemic. Whether a sportsbook is part of the venue's hospitality space or a separate facility attached to the sports venue is up to the amount of available space, but the possibilities are widespread.
One of the more aggressive markets in gearing up has been the District of Columbia, where Monumental Sports & Entertainment have put a temporary book at Capital One Arena and partnered with William Hill U.S. The temporary book, the first retail sportsbook in a major U.S. sports venue, took in $12.2 million in bets in September, the bookmaker announced in mid-October.
"We thought this was an incredible extension opportunity to engage with fans and look at new ways at taking advantage of these beautiful buildings," said Jim Van Stone, Monumental's president for business operations and chief commercial officer. "There's a huge platform there and excitement … we think sports betting and the opportunities it will bring will heighten the levels of fan engagement."
Stone and others spoke during the "Sports Gambling and Your Facility—Are You Ready?" webinar that was part of the recent annual Association of Luxury Suite Directors meeting. The panel was moderated by Jim Kahler, the director of sports gambling education at Ohio University.
Supreme Court Ruling
The U.S. Supreme Court in May 2018 struck down the Professional and Amateur Sports Protection Act of 1992, which had restricted regulated sports betting primarily to Nevada. Since then, 19 states and D.C. have sportsbooks up and running with six more states preparing to have sports betting in their states.
Each state has its own rules and regulations, so what fans can do when it comes to sports betting in Washington is not the same as if they went to a game in New Jersey or Philadelphia. Adam Davis, chief commercial officer for Harris Blitzer Sports & Entertainment, has seen that first-hand with HBSE having not just teams in Philadelphia with the NBA's 76ers and New Jersey with the NHL's Devils, but overseas as it owns Crystal Palace in England's Premier League.
"Our sister company across the pond helped us start to navigate the process," Davis said. "We're in the entertainment business and I think of sports betting as no different than that. Fans like having a hot dog and a beer at a game — I think it can evolve to having a hot dog and a beer and putting a few dollars on the game."
Sports gambling has proved so successful in Washington that Monumental and William Hill are planning a two-story sportsbook inside Capital One Arena to open in 2021, anchored by nearly 1,500 square feet of LED video screens wrapping around the interior.
"I love the idea of having a million customers go to your venue outside the gameday three-hour experience," said Steve Pastorino, senior vice president and head of business development for U.S. Integrity. "Making sure that venue is incorporated in an urban environment and close enough for people to stop by at lunch and watch an EPL soccer game, have lots of screens and ways to bet and interact with the sportsbook partner or partners in person."