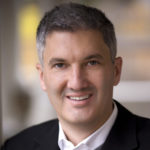 MGM Resorts International has appointed George Kliavkoff as president of entertainment and sports. He most recently served as president and CEO of Jaunt Inc., an augmented and virtual reality start-up that worked with clients including the NFL, NBA, MLB and Disney.
"George is joining our company at an exciting time and will play a key role as we both build on existing successful partnerships as well as continue to expand our industry-leading sports and entertainment offerings," said MGM Resorts President Bill Hornbuckle. "His innovative approach and knowledge in the entertainment and digital world will strengthen our reputation as a company that provides world-class experiences for our guests to enjoy."
Kliavkoff's more than 20 years of experience also includes executive roles such as co-president at Hearst Entertainment & Syndication, chief digital officer at NBC Universal and executive vice president of business for Major League Baseball Advanced Media.
In his new role with MGM Resorts, Kliavkoff is responsible for the operations, finance, strategy, booking, marketing, sponsorships and ticketing for the company's more than 30 theaters, showrooms and arenas, including T-Mobile Arena, MGM Grand Garden, Mandalay Bay Events Center, the Mandalay Bay Beach, Park Theater, the Theater at MGM National Harbor and the MassMutual Center at MGM Springfield.
Additionally, MGM Resorts announced an exclusive three-year consulting agreement with former president of entertainment and sports Richard Strum's new company, Las Vegas Live Entertainment and Sports. As part of the agreement, Strum will continue to provide business advice and oversee key relationships for MGM Resorts.