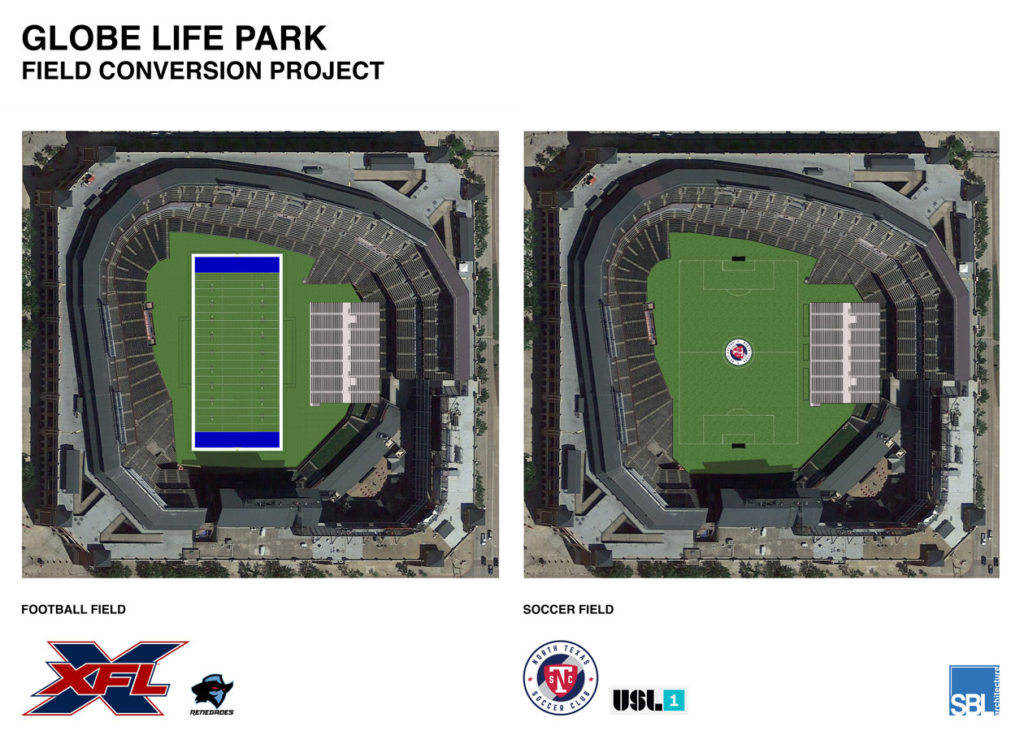 Globe Life Park, the former home of the Texas Rangers, will be converted into a venue to host two professional sports teams in Arlington starting in 2020.
Details released show the venue being used to host the Dallas Renegades of the reborn XFL football league, plus soccer matches for the USL League One club North Texas SC, an affiliate of Major League Soccer's FC Dallas. The Renegades season begins in February with North Texas SC starting in March.
Both the football and soccer fields will run north and south along the old first base/right field side of the ballpark, and the third base dugout and some 6,000 seats along the third base side will be removed to accomodate the side of the field. The first base side will provide seating for the majority of the field, but a permanent structure will be built in the old left field area to add 4,000 seats.
The playing surface will be a synthetic grass field provided by Shaw Sports Turf with installation completed by Paragon Sports Constructors. The Rangers clubhouse on the first base side will be renovated to accommodate the Dallas Renegades, and the current visiting clubhouse on the third base side will be the visiting football locker room with lockers being added to this area.
Globe Life Park opened in 1994 and was previously known as The Ballpark At Arlington. The Rangers will move next door into Globe Life Field, a retractable-roof ballpark currently under construction. SBL Architecture, an Arlington firm with offices at Globe Life Park, designed the reconfiguration.