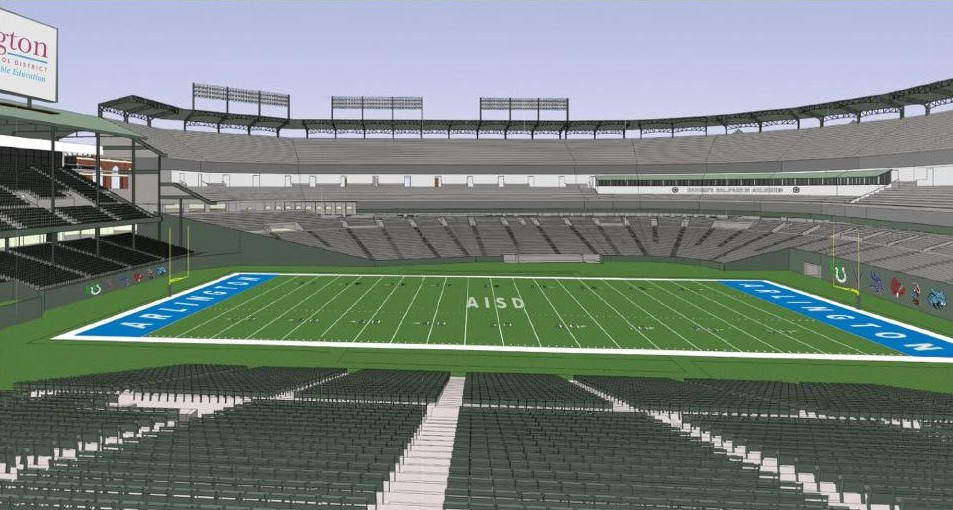 The former home of the Texas Rangers in Arlington, Texas, will host a series of high school football games in its latest use as a multipurpose sports venue.
The Arlington Independent School District will lease the field for a minimum of 14 high school games at the stadium, an agreement that was approved by the AISD board. The season is scheduled to start on August 28 with a tripleheader at the stadium while all six Arlington ISD teams will play at least one home game at the stadium. The AISD is also scheduled to host its annual Dean Corey Band Event at Globe Life Park in October.
"We're excited to have all our teams playing games at Globe Life Park," Arlington ISD Athletic Director Eric White said. "The reconfigured stadium sets up very well for football and will provide all of our teams a unique opportunity for our players, cheer squads, bands, fans and families. We wanted to be able to utilize the stadium and create experiences and this allows us to do that."
Globe Life Park underwent a $10 million reconfiguration after the Rangers left to become the home of the XFL's Dallas Renegades and the USL's North Texas SC, an affiliate of Major League Soccer's FC Dallas. But the XFL folded after five games and the USL's season has been suspended until June at the earliest because of the coronavirus pandemic.
"The Rangers want to thank the Arlington Independent School District for helping make Globe Life Park in Arlington a destination for high school football," said Sean Decker, Rangers executive vice president, sports and entertainment. "We are certainly hoping to have the honor of hosting these high school games this fall."
With the change of venue, Arlington ISD will no longer play games at UT-Arlington's Maverick Stadium.
"This is an outstanding opportunity for our district at Globe Life Park," said AISD Superintendent Dr. Marcelo Cavazos. "This will provide a unique and lasting experience not only for our football players, but also for our students, cheer teams, bands, families and everyone coming to the park. We have always had an outstanding relationship with the Texas Rangers, and this just adds another layer to that."