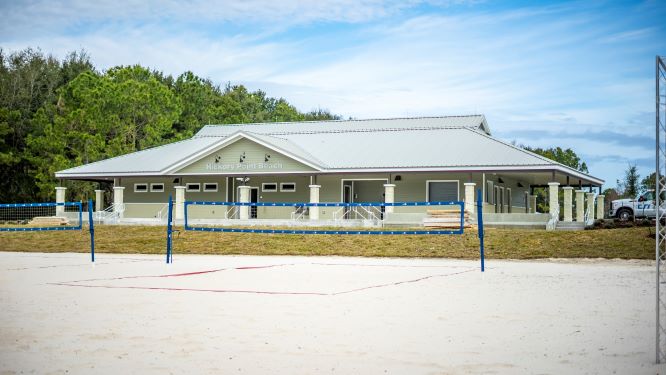 Hickory Point Beach will become a national training site for the USA Volleyball Beach ParaVolley program after a $100,000 private donation from the Norelli Family Foundation to support the effort. The donation, announced by the Florida Region of USA Volleyball, will support the program at the sand volleyball complex in Tavares, Florida, through the 2024 quadrennial.
Beach ParaVolley is an emerging sport as recognized by World ParaVolley. It consists of three-member teams and works within the Paralympic classification system.
In 2019, USA Volleyball announced that it would become the recognized governing body for the sport in the United States. At the inaugural WPV World Championships in Pingtan, China, in 2019 the U.S. women earned a silver medal while the men won the gold.
"The growth of Beach ParaVolley is a huge priority for USAV as this new discipline expands globally," said USA Volleyball President and CEO Jamie Davis. "As the U.S. national federation for BPV, our goal is to provide state-of-the art facilities where our athletes can train in their pursuit for gold. We are grateful to the Florida Region and the Norelli Family Foundation for their generous support in helping our athletes achieve their dreams."
The Norelli Family Foundation has supported the Florida Region of USAV scholarship program since 2015 and has provided nearly $300,000 in four‐year scholarships and matching dollars for private scholarships for high school seniors.
Through a public‐private partnership with Lake County, Florida, the Florida Region of USAV opened the 21‐court Hickory Point Beach sand volleyball complex in 2014. In 2019, a 4,000-square-foot Athletic Center was opened with amenities to improve the experience for athletes and visiting fans.
"Lake County is both extremely proud and excited to become a national training site for USAV Beach ParaVolley," said Brandon Matulka, executive director for the tourism division in Lake County. "Since the inception of the Hickory Point Beach facility, we have strived to work hand in hand with our partners like the Florida Region of USA Volleyball, to create and provide tremendous opportunities like this to athletes and our community."