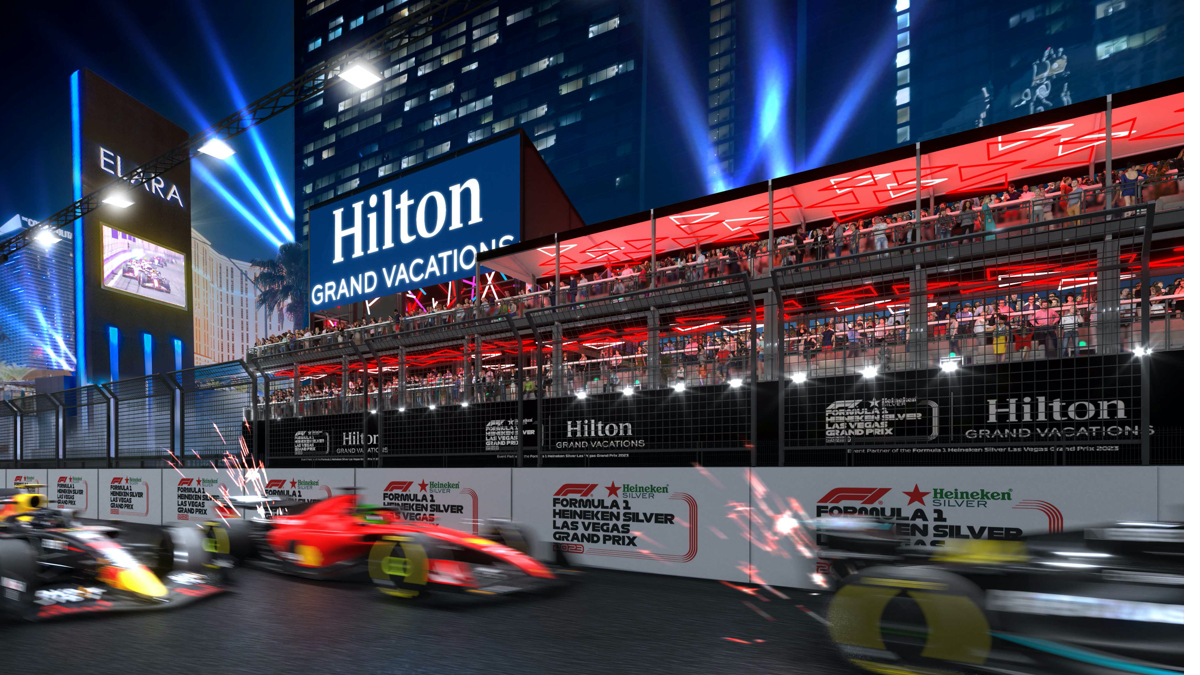 Hilton Grand Vacations Inc. has announced it will host a premier on-track hospitality suite for the Formula 1 Heineken Silver Las Vegas Grand Prix.
As an official event partner, HGV will provide a hospitality suite that offers a view of the Las Vegas Strip that will be used for the 1.2-mile main straight plus one of the chicane turns at the November 16–18 event, the inaugural F1 race in Las Vegas. The suite will be located in front of the 52-story Elara by Hilton Grand Vacations and offer a front-row seat with food and drink selection.
"We're thrilled to be a part of this exhilarating experience in Las Vegas," said Mark Wang, president and chief executive officer of Hilton Grand Vacations. "Partnering with the Formula 1 Heineken Silver Las Vegas Grand Prix for this high-energy international sporting event is the perfect way to expand our collection of sought-after travel experiences. We can't wait for members, sponsors and guests to join us for an unforgettable weekend of immersive action on and off the track."
HGV is known for its travel offerings through its HGV Ultimate Access program, which gives members access to once-in-a-lifetime concerts, celebrity meet-and-greets and more.
"Hilton Grand Vacations has established a stellar reputation for producing memorable travel experiences and we know they have the expertise to provide fans an unforgettable way to enjoy the inaugural race in Las Vegas," said Emily Prazer, chief commercial officer of Formula 1 Las Vegas Grand Prix. "The elevated guest experience at the HGV Hospitality Suite paired with exceptional views of on-track action will make for an only-in-Vegas spectacle."
Tickets for the HGV Hospitality Suite will be available to purchase on June 9 at 10 a.m. PT.