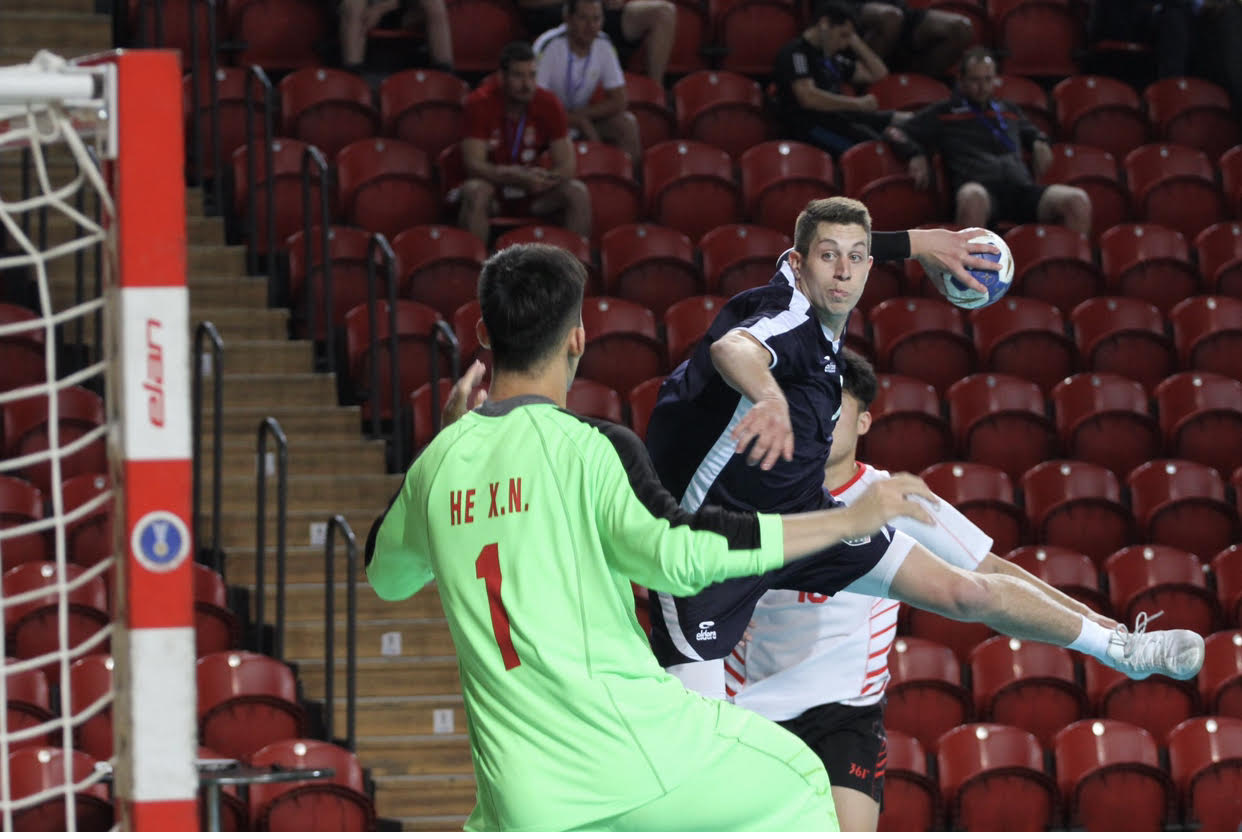 Barry Siff is in a place several before him have been. But he hopes—and has produced some early evidence—that he can be the one to put the entertaining sport of team handball on the map in the United States.
"It's a sport that's designed for America that isn't known here," said Siff, CEO of USA Team Handball and the latest leader to try what has seemed impossible: Get some domestic traction for the Olympic sport that is wildly popular overseas.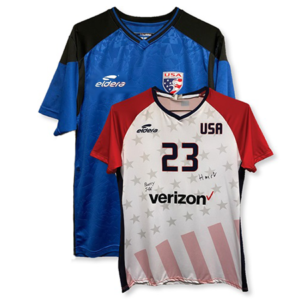 While others have failed to get over that hill, it would appear Siff's efforts since taking the helm last April have resulted in legitimate progress. In January, the national governing body announced that Verizon was coming on as founding partner. As part of the deal, the communications company will not just become a sponsor of the NGB. It will also become the official jersey partner for the national teams and will sponsor and help produce content for an upcoming tryout for the men's and women's teams that will be called the USA Team Handball Open Tryouts Powered by Verizon.
"There is so much opportunity with USA Team Handball," said John Nitti, Verizon's chief media officer. "We're excited to see the ways Verizon can help the organization and the sport grow and evolve."
But Siff hopes the deal is just a start. "My hope is to get outside of the handball world," he said about future sponsors. "It's to get more partners like Verizon, to broaden the reach. We know once people see the sport and get a taste for it, the sport will grow."
Falling for the Sport
That's exactly what happened personally for Siff, who is no stranger to the Olympic movement. Before taking over at USATH, he served seven years on the board of directors for USA Triathlon, including five as volunteer president. But his interest has been laser-focused on the potential of team handball since he first saw it at the 1996 Olympic Summer Games in Atlanta. "I just was beside myself," he said. "Why can't America excel and grow this sport? It stuck with me."
For the uninitiated, team handball—a popular and professional sport in Europe and elsewhere—is played on a court larger than a basketball court with seven players per side, including a goalie. Players dribble the ball and can pass it to each other like basketball. And like soccer, they are trying to get the ball into a goal defended by a goalie, only the ball must be thrown instead of kicked. (When shooting, players will often jump in an effort to gain a height advantage over the defender.) While the traditional version of the sport is played indoors, there is also a beach discipline that is gaining momentum.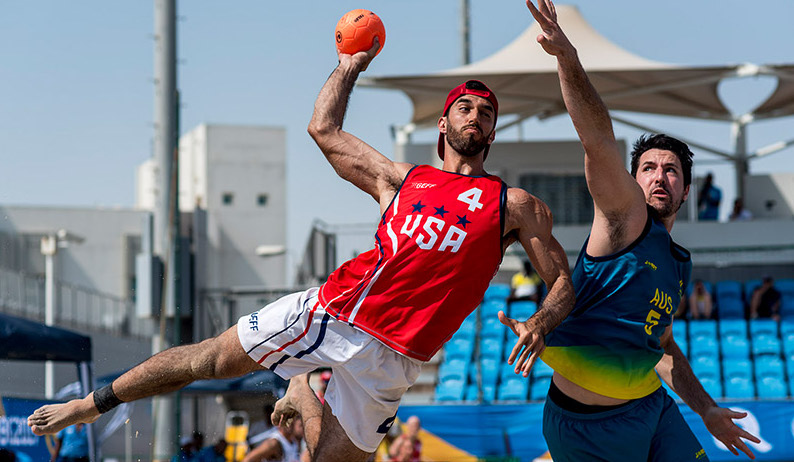 On the surface, team handball would appear to have everything an American sports fan would find attractive. The game is fast-paced but easy to follow, requires significant athletic skills and features more contact than you might imagine as players try to score or defend.
Because the game is so popular elsewhere, Siff has been tapping into the expertise of countries where the game is well-established. Their advice? Build a grass-roots program with a concerted effort in a select few markets first, including the larger U.S. cities, some of which have greater populations than entire nations in Europe. That is why USATH's initial efforts to grow a grass-roots network will start in places such as New York/Boston, Chicago, Los Angeles and San Francisco. The plan is to get into youth programs in those markets, many of which already offer a version of the sport in school or community recreation programs.
In one example announced in January, the NGB has partnered with New York Edge, the region's largest provider of afterschool programs, which will offer handball as a sport in exchange for USATH providing equipment, balls and training for coaches and teachers.
"We'll be focusing in those areas on youth development through Boys and Girls Clubs and nonprofit organizations that support youth physical activity," Siff said. "We're working in New York City to get us into schools. We believe grassroots is critical."
After that will be an effort to expand the collegiate space, which has about 20 club programs nationwide. Siff hopes to grow that network to 40 by the end of 2020.
The collegiate circuit is big enough that USATH organizes a collegiate championship (the 2020 event will be held April 3–5 at Ohio State University in Columbus). The NGB also has an open national championships, with the 2020 event headed to Cobo Arena in Detroit, May 8–10.
The Ideal Athlete
To build a team for the elite level, the NGB will also make a concerted effort to attract the right kind of athlete that can succeed in the sport. There has long been a debate about what that ideal player looks like. The height of players interested in basketball is attractive, but so is the endurance of a long-distance runner or a water polo player, given the amount of movement in the game.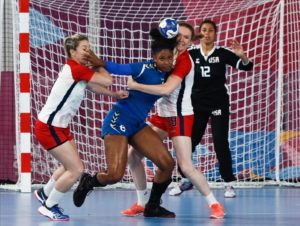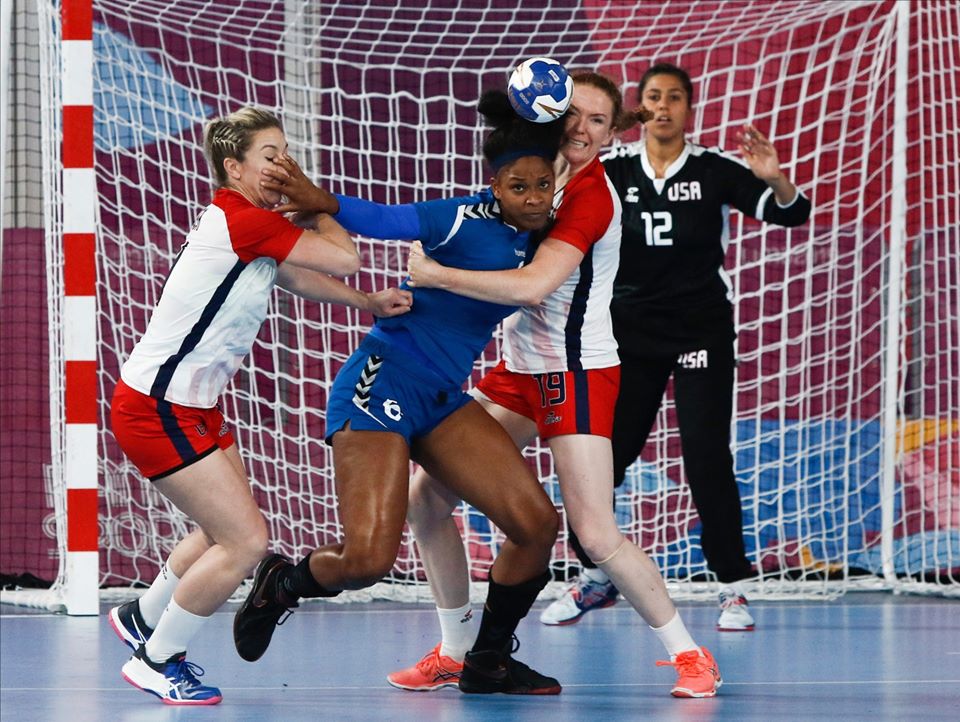 Siff, fortunately, has some experience in this area from his time at USA Triathlon. "In triathlon, we knew if we found a fantastic runner who swam in college, we could teach them to bike and to win a gold medal," he said. For team handball, "we haven't figured that out yet," he concedes. "But if we found a national team water polo player who ran cross-country in their high school years, that might be someone. Tell me Kobe Bryant couldn't have been an amazing handball player. We've got lots and lots of those people who have the physical attributes, the competitiveness, who have competed in college in different sports."
Melissa Zhang, the NGB's new communications manager and whose job it will be to spread the good word about the sport, said football wide receivers and quarterbacks have worked as recruits in the past. And she recently had discussions with USA Ultimate, whose events department noted there is a corollary for successful athletes in both sports when it comes to attributes like hand-eye coordination, jumping and court or field awareness.
Olympic Qualification
Traditionally—and not surprisingly—the U.S. national teams have had a hard time qualifying for the Olympic Games. When the U.S. has hosted, as in 1984 and 1996, the team automatically qualified, as it will in 2028 in Los Angeles, offering another chance for a spotlight on the sport. (Fast fact: Handball was the second most attended event at the 2016 Olympic Games in Rio by ticket sales, behind soccer.)
But the pathway to an Olympics held overseas has been made easier for Team USA after the Pan American confederation, whose champion receives an automatic bid, was split into two. Now the U.S. will be competing for that qualifying spot against Canada, Mexico and the Caribbean, leaving several South American powerhouses like Argentina on a separate path to qualify from their own confederation.
"The goal is not to wait until 2028," Siff said of his ambitions for the Olympics.
A Bigger Organization
Apart from the Olympic level, Siff said the NGB needs to work on establishing itself as a membership organization that has clear and real benefits to those who want to join. "We need to provide resources to people," he said. "If you become a member, you'll get this and this, you'll be part of a club. We've got to expand our reach."
To that effort, Siff oversaw a new strategic plan and has brought in a new board president with experience in professional sports. He is also gearing up for expected growth, recently hiring several staff members such as Zhang to bring the organization up to three full-time employees, plus a high-performance coach and national team coaches.
The biggest question, of course, is will the conversation about team handball in the United States reach the point where the sport doesn't have to start over after each Olympic year, when it gets at least some attention? The likes of Verizon jumping in, and promised support from the sport's international federation and the U.S. Olympic and Paralympic Committee, would suggest there's a reasonable chance.
"We're doing things differently and more aggressively, and that's resonating with our members, with sponsors and with other NGBs with whom we're also collaborating," Siff said. "You've got to work with everybody, and that's what we're doing. It's a different organization today than it has been for quite a while."