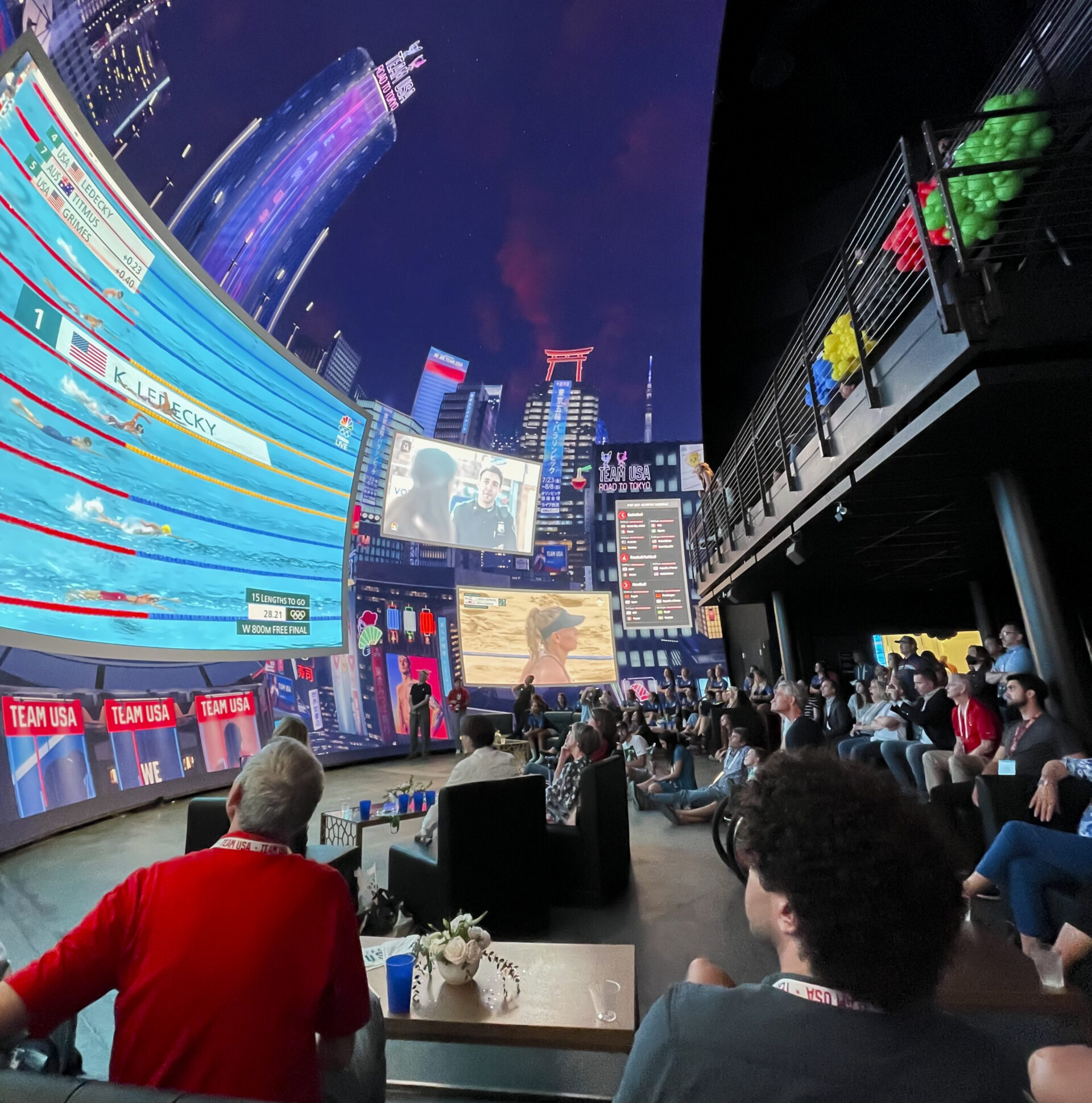 With spectators not being allowed to experience the action of the Olympic Summer Games first-hand in Tokyo, a company that bills itself as providing "immersive experiences" saw an opportunity.
The Cosm Experience Center, an event technology service based in Salt Lake City, served as an immersive viewing party for previous Olympians as well as friends and families of athletes in Tokyo during the Games to showcase technology that it plans to roll out throughout the country over time.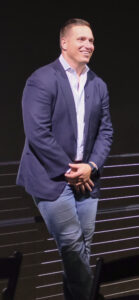 Those invited were able to watch the Games — highlighted by Katie Ledecky's final race from Tokyo — on an 8K resolution, 20-meter high LED Dome video board in the University of Utah's Research Park. With a group of Olympians including Summer Sanders, Brandi Chastain, David Boudia and Paralympian Dan Cnossen among those on hand, the experience showcased some of the content that Cosm's partner in NBC had been broadcasting throughout the Games in never-before ways.
Imagine the experience of watching through a VR headset but instead of a headset, there is a gigantic board that would instantly become the best sports bar viewing experience you've ever experienced. From various angles watching a beach volleyball match, it gave attendees the feeling of being — depending on the camera used — either right next to the court sitting on a beach chair, or being at the top of the temporary bleachers for an up-high view.
"We always talk about democratizing access to the biggest events in the world," Cosm Chief Executive Officer and President Jeb Terry said. "How do you get courtside to a NBA game? How do you get to Wimbledon? How do you get to the Super Bowl? There's no bigger event in the world than the Olympic Games."
The vision that Cosm has predates the pandemic, Terry said, but the decision by Tokyo 2020 organizers to ban foreign fans gave it the opportunity to showcase its technology by partnering with NBC and the United States Olympic and Paralympic Committee to put on the special event. By showcasing some of the NBC footage from previous events and then using live broadcasts throughout the video board, attendees were made to feel like they were departing from Salt Lake City on an airplane that then somehow left the atmosphere and went around the globe before landing almost precisely in a Tokyo Olympic venue.
"It's amazing — I don't know where to look," said Sanders, a four-time medalist at the 1992 Barcelona Games. "My favorite part was the travel experience. Leaving Salt Lake City, I felt like we went into space before landing in Japan. It was gorgeous."
Terry said Cosm is working with leagues, broadcasters and teams to produce and distribute live VR events in the future, although the phrase they try to use is "shared reality." Starting with some of the philosophies that make a planetarium experience exciting for attendees, the company built upon that with more traditional sports bar or live game experiences including food and beverages. "It's the opportunity to bring that content in and make fans feel like they've got the best seat in the house and they're actually there," Terry said. "You can get the same promise of immersivity but you get to have a drink, you can high five other fans, you get the emotion of the crowd. That's why you go to a game, a sports bar, a watch party. It's going to be a world-class experience that is as good as it gets to being on the sidelines somewhere."
The company's goal, Terry said, is to grow Cosm into a company that has fan experiences throughout the world whether it's a fan in Salt Lake who wants to watch soccer or an NFL fan in England.
"We were thinking about this long before the pandemic started but really it's accelerated the way the whole value chain is now," Terry said. "This has forced the entire industry to think differently. We don't know how fans are going to react going forward. We all still believe that fans will fill stadiums, but there's going to be fans who want something different now. You have the teams, the leagues, the broadcasters, the world's best at what they do. Our goal is to work with those partners and allow them to present their world class IP right to fans on the other side of the equation."