An inaugural conference for leaders in adaptive sports has rescheduled as a virtual event in October. All In Sport Consulting, presenter of the Adapted Sport Leadership & Business Symposium (LABS), announced that program initially intended as a live event in Denver will instead be a one-day virtual event that will be free to attend.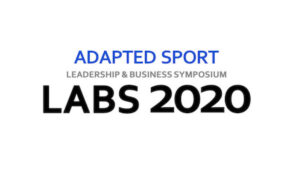 The event, initially planned for October 5­–7, will instead be staged October 15. The conference is designed "to elevate the adapted sport industry and unite its leaders from across the country through idea sharing, cutting-edge thinking and collective growth."
"We created LABS with the goal of uniting leaders from the disability sport community and beyond to have the conversations necessary to bring the experience of adapted sport to more people," said Dawna Callahan, founder and CEO of All In Sport Consulting. "As we move virtual, we are more focused than ever on offering a diverse, dynamic lineup of cutting-edge educational sessions highlighted by David Grevemberg, CEO of the Commonwealth Games Federation, who we are thrilled to welcome as our keynote speaker to launch the conference."
Grevemberg will deliver a keynote discussion on "Building a Movement for Social Change with Sustainable Impact and Benefit." Grevemberg serves as CEO of the Commonwealth Games Federation (CGF), which organizes the Commonwealth Games and Commonwealth Youth Games. Other speakers lined up for the conference include:
Cheri Blauwet, MD, Assistant Professor in Physical Medicine and Rehabilitation at Harvard Medical School, attending physician at the Brigham and Women's Hospital and Spaulding Rehabilitation Hospital and Paralympian
Victor Calise, Commissioner of the New York City Mayor's Office for People with Disabilities, Paralympian
Ann Cody, Special Advisor, International Disability Rights, U.S. Department of State, Paralympian
Greg Fante, VP of Sports Development, Louisville Sports Commission
Blaze Foster, Para-Powerlifting, Paralympic hopeful
Jason Gewirtz, Editor and Publisher, SportsTravel
Nate Heckman, President, Stitch Marketing Research
Mike Mushett, CEO, Turnstone
Dan O'Connell, CEO Visit Fort Wayne
Phil Pangrazio, CEO, Ability360
John Register, CEO, Inspired Communications International, Paralympian
Jon Schmieder, Founder/CEO, Huddle Up Group
All In Sport Consulting also announced that is will team with Huddle Up Group and national research agency Stitch Marketing Research to conduct a first-of-its-kind Adapted Sport Economic Impact Survey, which is intended to gather data related to the adapted sport movement and how it contributes to the U.S. sport economy. The results of the survey will be presented at the LABS virtual conference.