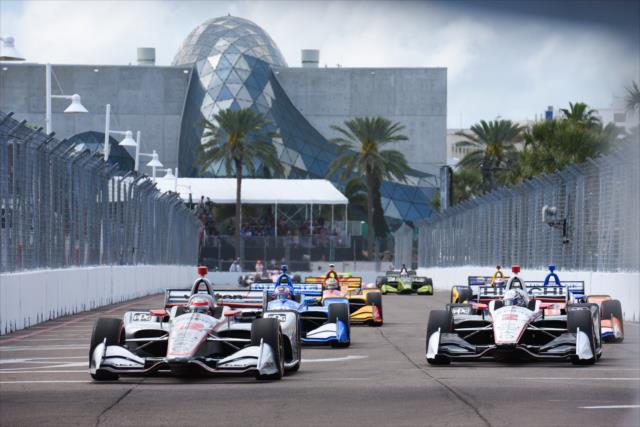 Both the IndyCar Series and Formula 1 announced sustainability plans this week with the U.S.-based series planning to run the St. Petersburg Grand Prix in March 2023 with 100% renewable fuel and the worldwide series saying that by 2030 it plans to have its schedule designed with regionality in mind as part of goal of reaching net zero carbon by 2030.
IndyCar's season opener in Florida will be run on all renewable fuel as part of a strategic partnership with Shell. In addition, all IndyCar team transporters supporting the series will continue with 100% renewable diesel as they travel to all 2023 race venues. The Firestone Firehawk race tire with a green sidewall made from guayule rubber debuted in August at the Big Machine Music City Grand Prix and will be utilized in 2023. IndyCar is also continuing a path toward introduction of a hybrid engine platform for the 2024 season.
"We are most proud of the many advancements that the NTT IndyCar Series has made in leading the motorsports world toward a more sustainable future," IndyCar President Jay Frye said. "The 2.2-liter IndyCar engines supplied by Honda and Chevrolet have provided the most competitive racing in the world. The 2024 hybrid engine package will provide even more excitement with horsepower increases over the current engine."
Formula 1 also has released its report on sustainable initiatives with several planned over the coming decade. In 2019, F1 committed to reaching net zero and Tuesday's report included actions such as introducing remote broadcasting operations, redesigning freight containers for the use of more efficient aeroplanes and using 100% renewable energy in the sport's offices.
The next issue for Formula 1 will be the schedule changes. The 2023 slate includes 24 events with some lengthy travel such as Miami to Azerbaijan. There is also a stretch where the series goes to Japan, Qatar, Las Vegas and Abu Dhabi.
"We're now three years into our journey to Net Zero by 2030 and it's fantastic to see the progress that's been made already," F1 Head of Sustainability Ellen Jones said. "The work that's going on behind the scenes to bring this strategy to life is tireless and we are confident that we are building strong foundations for the future of our business and sport."
The F1 report said "planning for a future calendar regionalisation was under way" with four regions between Middle East, Europe, the Americas and east Asia/Australia. Regionalizing the schedule would include cost savings in freight fees and will reduce travel.