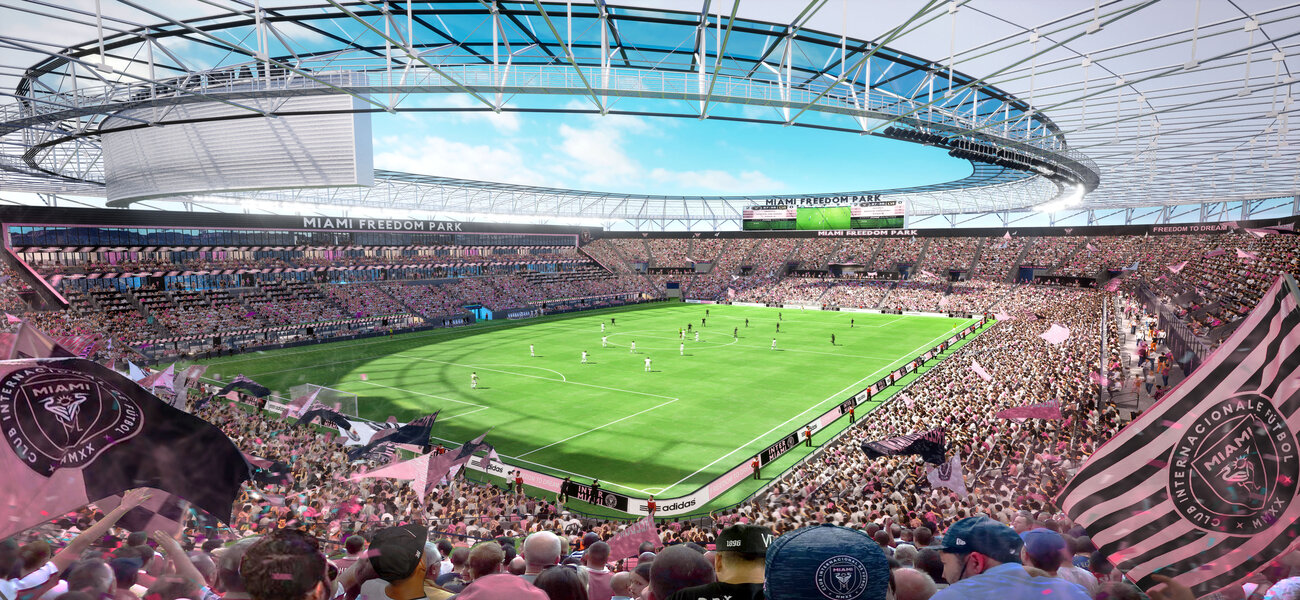 A years-long saga in Miami seems to have finally be completed with the approval of the Miami City Commission of a 99-year lease agreement for Major League Soccer's Inter Miami to build a new stadium in the city's Freedom Park area — although there still may be a few obstacles left.
The plan passed 4-1 for the project that would be privately funded with a mixed-use district anchored by a new stadium for the team of which David Beckham is one of three owners. There would also be a hotel, commercial and office space, community fields and the largest public park in the city. The stadium has been projected to be 25,000 seats but a Miami Herald report indicated that it could be expanded to as much as 40,000 seats with the venue also hosting University of Miami football games.
Inter Miami has played its first two-plus seasons in the league at DRV PNK Stadium in Fort Lauderdale, where it has a 50,000-square-foot training complex. Tenative plans would have the downtown Miami project ready for the 2025 season.
"I'm super happy," said Inter Miami Managing Owner Jorge Mas. "[It's been] three-and-a-half years of really hard work, negotiations, the ups and downs. But listen, today's a great day for Inter Miami. It's a great day for Major League Soccer. I think it's an amazing day for my city, for Miami. To be able to build a stadium and a transformational development around this, listen, I think it's a good day all around. But a lot of hard work went into this and the work just continues."
The stadium search for the club has taken eight years from when Beckham first exercised an option to acquire a team. A 2018 referendum passed to authorize the commission to negotiate a lease with Inter Miami's owners but city politics have consistently slowed the progress toward a vote, which was rescheduled multiple times.
The city must still approve a special area plan as well as change zoning in the area and there could be legal challenges.
"It'll just take the time it takes," said Mas. "But the city has committed to us that they're going to do everything on an expedited basis with permitting. They understand the urgency of getting this built as soon as possible. So I expect that with the city's cooperation that we'll be able to move, hopefully on a fast track basis."
Inter Miami will maintain permanent facilities in Fort Lauderdale with a 50,000-square-foot training ground and DRV PNK Stadium. The club will continue to play home matches at DRV PNK Stadium while they work towards constructing Miami Freedom Park, which Mas confirmed is expected to be finished for the 2025 MLS season.