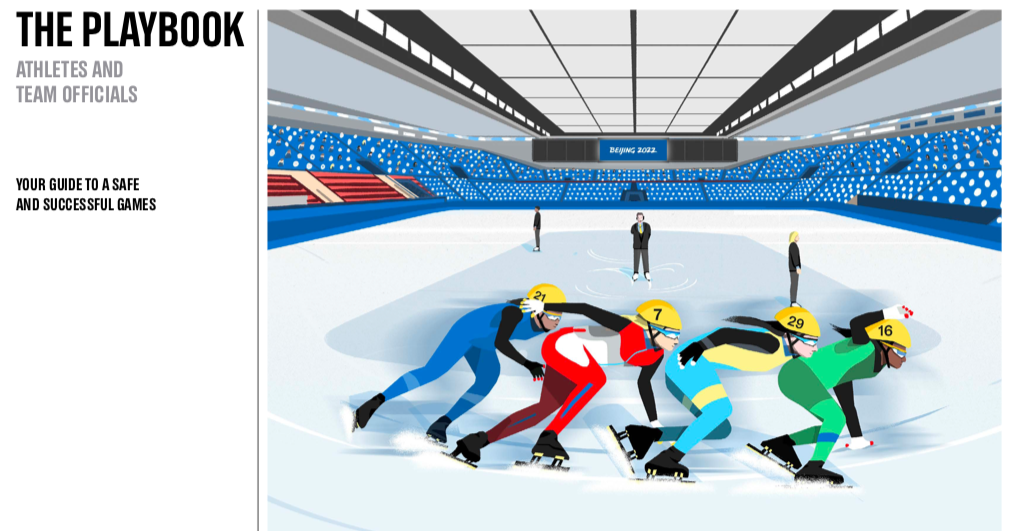 Athletes, officials, dignitaries, marketers, broadcasters, media and others traveling to Beijing for the 2022 Olympic and Paralympic Winter Games will have to undergo more strict COVID-19 countermeasures than were put in place in Tokyo for the 2021 Summer Games, under terms of the first documents outlining the game plan for both events.
Among the rules laid out in the first "playbooks" written by the International Olympic Committee and the Olympic organizing committee are the requirement that all participants be vaccinated or undergo a 21-day quarantine in China if they are not protected. Among other restrictions, all stakeholders will be placed in a "closed-loop" management system and all participants whether they are athletes or not will be tested daily, a more strict regimen than was required in Tokyo.
The IOC issued two playbooks — one for athletes and officials and one for all other participants — that will be updated again before the Opening Ceremony of the Olympic Games on February 4. The documents spell out the baseline expectations before people travel to China, during their stay and the rules for their departure.
"The Playbooks provide a game plan to help Olympic and Paralympic Games participants, and consequently the local population, stay safe and healthy during Games-time," said Christophe Dubi, IOC Olympic Games executive director. "They have been developed jointly by the IOC, the IPC and Beijing 2022, incorporating the very latest scientific advice and proven countermeasures implemented during the pandemic. This includes important learnings from international sports events held in recent months."
Among the requirements for those attending the Games:
Two negative tests will need to be proved within four days of departure.
All participants will be tested upon arrival at the airport in Beijing in a process organizers have vowed to be six hours or less.
Anyone who is not fully vaccinated will have to quarantine for 21 days upon arrival, meaning unvaccinated athletes will not be able to train during that time.
All participants will be tested daily while in China, including at centers that will be managed in the Athletes Village or at official hotels contracted by the organizing committee.
Movement will be restricted to official transportation and limited entirely to competition venues, official accommodations or in the case of working journalists, broadcast and media centers that will be established as work spaces.
Air travel into Beijing will be limited to charter, temporary or approved commercial flights.
"In developing the Playbooks, we made it a top priority to safeguard the safety and health of all Games participants including athletes, as well as the Chinese people, draw on the experiences from other international sports events, and the COVID-19 policy currently in effect in China," said Han Zirong, vice president and secretary general of  Beijing 2022. "We will work with all stakeholders on the implementation of the Playbooks and together, deliver to the world a streamlined, safe and splendid Games."
Foreign spectators have already been banned from attending both the Olympic and Paralympic Games, although vaccinated Chinese spectators are expected to be allowed to attend live events.