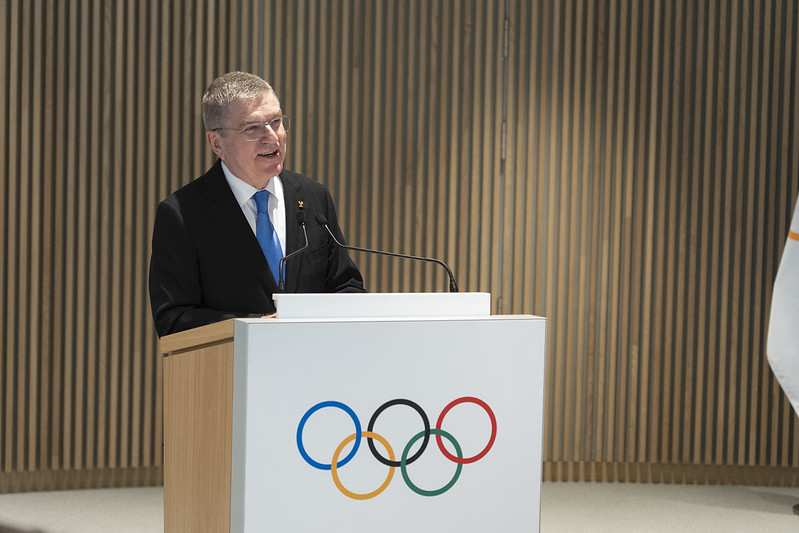 The International Olympic Committee on Wednesday pushed back on speculation that the Tokyo Olympic and Paralympic Summer Games would be postponed or canceled, saying playbooks with specific plans to combat COVID-19 will be delivered in early February to National Olympic Committees and the Games will proceed as planned.
"There is no blueprint for this and we are learning every day," IOC President Thomas Bach during a press conference following an IOC Executive Board meeting. "This fight against the virus, as you all know from your personal circumstances, is a tough one. But we are fighting this fight for and like Olympic athletes."
Bach set aside recent reports that the Japanese government has discussed canceling the event set to begin July 23, as well as speculation that the event or portions of it could be moved to different locations. "All these speculations are hurting the athletes in their preparations who have already had to overcome the challenges in their daily training and competition with all the restrictions they are facing in their countries when it comes to traveling," he said.
Bach responded to several specific scenarios about postponement, insisting the Games will proceed as scheduled:
On the possibility of canceling the Games and having Tokyo host in 2032: "I want to say good luck if you would have to discuss this with an athlete who is preparing for the Olympic Games in 2021."
On the possibility of a different host city this summer: "There are some proposals to move it to another city, which everybody who knows about the complexity of the Olympic Games (knows) is not possible in such a short period of time. For all these reasons we are not losing our time and energy on speculations but we are fully concentrating on the Opening Ceremony on the 23rd of July this year. We are not speculating on whether the Games are taking place, we are working on how the Games will take place."
On the possibility that the event will take place without spectators: "This I cannot tell you. Our priority is to ensure a safe Olympic Games. We will do whatever is needed to organize safe Olympic Games. I think everybody would love to have fully capacity stadia and roaring crowds. But if that is not possible, we will respect our principles and that is the safe organization. This is the first priority."
On polls showing 80 percent of the Japanese public do not want the Games to proceed this year: "From a human point of view I can understand everybody who has concerns about Olympic Games when he or she is living in a lockdown, does not know whether you can go to a restaurant or to see your friends or family. In this circumstance, it is extremely difficult to imagine the Olympic Games. But the responsibility of the government and the IOC is to look beyond this situation and there again we have many good reasons to say it's not about the whether the Games are taking place, it's about the how."
Bach said the IOC will deliver playbooks to the world's National Olympic Committees in early February that will begin to spell out details of how each stakeholder group will be affected by COVID-19 countermeasures in Tokyo. Those details, he noted, will likely change as more data becomes available. But with qualification tournaments currently taking place around the world, Bach said the organization is confident the Games can proceed. He noted that international federations have organized 7,000 events this winter and conducted 175,000 COVID tests. Only 0.18 percent have come back positive, leading the IOC to have confidence that measures to contain the virus will succeed in Tokyo as well.
To put a final point on the IOC's position, Bach said: "If we would think it would be irresponsible and we would think the Games would not be safe, we would not go for it."
Still, there are signs of the challenges that remain. Six months before the Opening Ceremonies are scheduled, Japanese Prime Minister Yoshihide Suga placed Tokyo under a state of emergency Jan. 7. The IOC in advance of this week's meetings have asked potential competitors to minimize their time in the Athletes Village, arriving five days before and leaving 48 hours after their events when possible.
Any concern over the final schedule of events also has ramifications on the American sports scene. Both the NBA and NHL seasons, which were delayed in starting, are abbreviated in the number of regular season games so that both leagues can finish the playoffs before the Opening Ceremonies — the NHL because its broadcast partners at NBC are committed to emphatic Olympic coverage and would not have the time slots for hockey games, the NBA because many of its players would be participating in Tokyo. Should Tokyo 2021 become canceled, both leagues would have extended time in the summer to finish their seasons instead of being on a hard deadline.
What must make all of the attention frustrating on Tokyo organizers is that for a while, things were slowly starting to turn in the right direction in Japan. More than 24,000 socially distanced spectators attended the season finale of Japan's professional soccer league at the National Stadium, where the Opening Ceremonies are scheduled to take place.
But there have also been plenty of setbacks. Earlier this month, 65 wrestlers were forced to withdraw from a national sumo tournament after contracting the virus or being a close contact with someone who had. Japan's 22-member badminton team withdrew from the Thailand Open and the opening of Japan's Top League rugby matches was put on hold after 67 players and staff tested positive according to the Washington Post.
The attention around if the Games will occur passed a fever pitch and descended to strange depths when one government official from the state of Florida proposed moving the Olympics to his state. It got so much attention that it was brought up at Tuesday's White House press briefing and referred to the United States Olympic and Paralympic Committee, which told The Washington Post: "We were not made aware of the letter to President Bach in advance. We invite American cities to indicate to us their interest in hosting a future Olympic and Paralympic Games, and we are happy to work with them through the education and fact-finding process. We stand in support of the Tokyo Organizing Committee and Japanese government who have given more than seven years of focus and dedication to welcoming the athletes of the world, and honor their efforts to host a safe and successful Games this summer.
For his part, Bach said he has received no official notification from anyone in Florida about their interest.
And through every news cycle, whether filled with subtle hints or outright troll proposals, those in the Olympic movement have been emphatic in the resolve to hold the Games: "The Tokyo Games are definitely on," Australian Olympic Committee chief Matt Carroll said on January 22. "The flame will be lit on the 23rd of July."