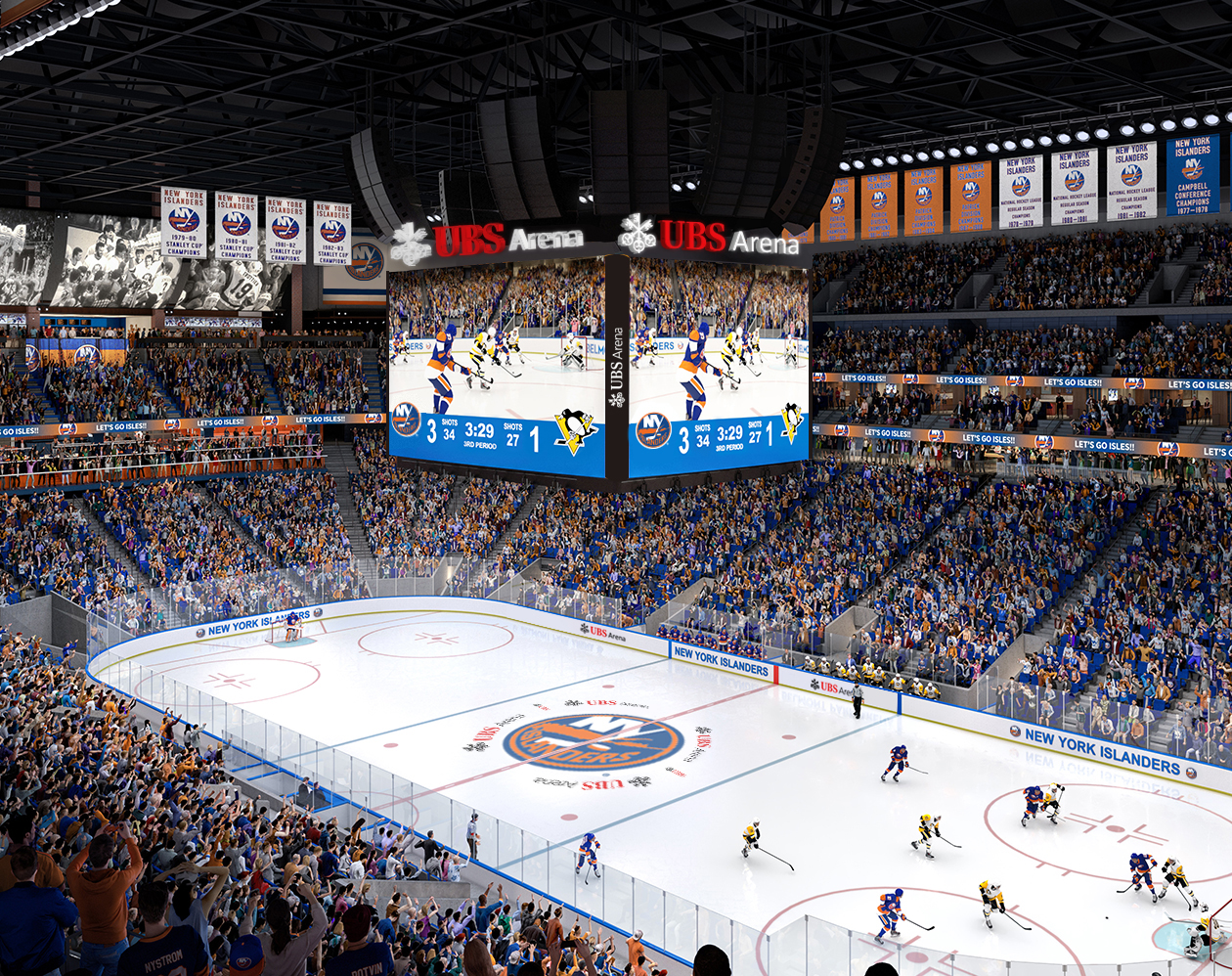 The new home of the New York Islanders will be named UBS Arena at Belmont Park, with its debut scheduled to come in the 2021–2022 NHL season.
The arena will have a capacity of 17,113 for hockey and is the centerpiece of a $1.3 billion development at Belmont Park, which includes a new hotel with 250 rooms and approximately 350,000 square feet of retail space by the racetrack best known for hosting the Belmont Stakes.
In addition to the naming rights for the next 20 years, UBS will have permanent exterior signage and be entitled to the largest private hospitality space in the arena. There will be logo placements on the roof, center ice and throughout the venue.
The arena includes outdoor terraces open to all guests and both the exterior and interior will pay homage to iconic New York landmarks including Grand Central Terminal, Prospect Park Boathouse and the Park Avenue Armory. The Islanders will have a 23,000-square-foot locker room and training facility at the arena and fans will be able to enjoy a dedicated Islanders Club sports bar decorated with memorabilia and a unique standing room section.
"UBS Arena will stand as a beacon of strength, resilience, achievement and community, and we look forward to celebrating this milestone with our loyal fans," said Jon Ledecky, co-owner of the New York Islanders. "We're thrilled to be partners with UBS on this transformational project that will be so important to the New York economy for decades."
The cost of the agreement was not disclosed. UBS Arena will also have a philanthropic investment for economic redevelopment throughout the local community.
"UBS Arena is poised to become a global landmark entertainment and sports destination, leading us to partner with one of the world's premier brands, UBS," said Tim Leiweke, chief executive officer of Oak View Group and leader of the arena project. "Together we're eager to deliver on our shared promise of helping reinvigorate the New York economy, creating jobs, supporting a sustainable future and safely providing an unrivaled, distinctive premium experience for all. We're excited to bring our passion and unmatched guest service commitment to life and we look forward to welcoming fans to what will surely become a popular global destination for world-class events for many years to come."