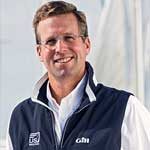 U.S. Sailing has announced the departure of longtime CEO Jack Gierhart, part of the implementation of a new strategic plan at the national governing body. Gierhart had been the head of the NGB since 2011 after serving as assistant executive director from 2009–2011 and marketing director from 2002–2005.
"Jack guided the association through some challenging times, especially this past year after the pandemic forced U.S. Sailing to pivot to meet the challenges of a new environment," said Cory Sertl, president of U.S. Sailing. "Looking forward, the association is confident that change will enable us to meet our commitment to excellence."
The governing body intends to conduct a nationwide search for a new CEO. In the interim, the U.S. Sailing board of directors has appointed members of its executive management team to run the organization on a daily basis with oversight and consultation by the board's executive committee.
In a statement, the NGB said the new strategic plan addresses three pillars of the organization: Olympic and high-performance success; member experience and value; and organizational effectiveness.