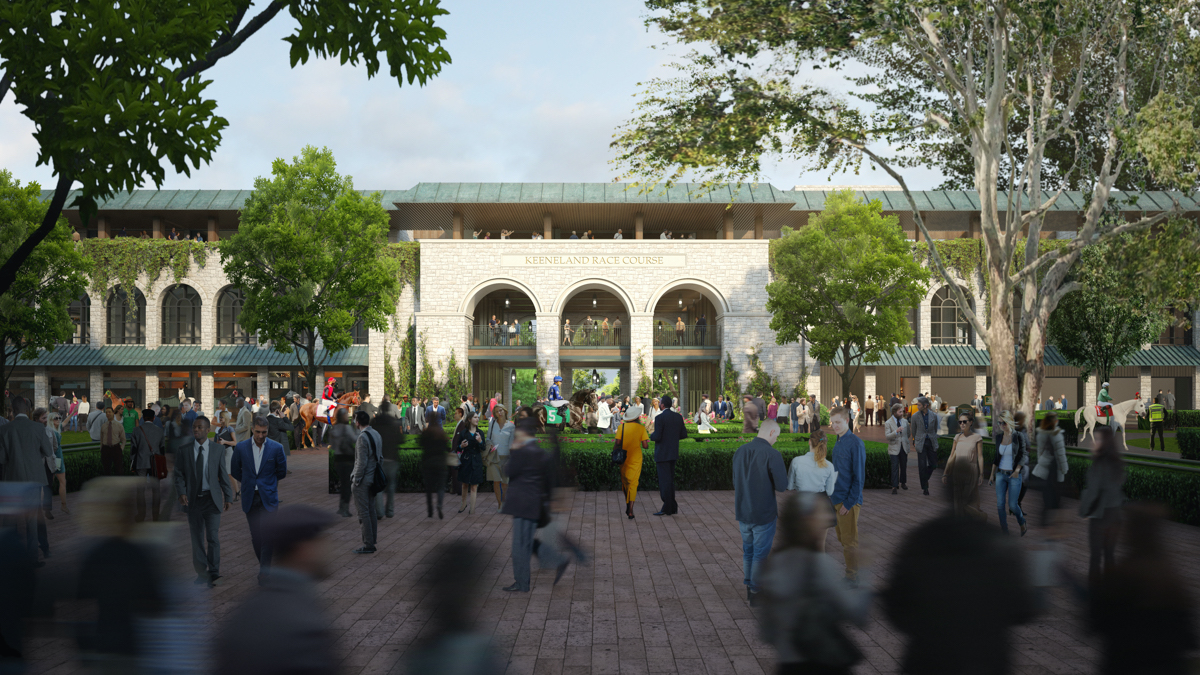 Keeneland Race Course officials in Lexington, Kentucky, have announced plans for major capital investment projects highlighted by a permanent paddock building, visitors' center and new operations building.
Keeneland is working with state and local government to secure incentive funds to support the project, which is expected to cost nearly $93 million. It has received preliminary approval from the Kentucky Tourism Development Finance Authority for incentives to support the project totaling up to $23.2 million.
The new paddock building will expand viewing and dining experiences, enhance hospitality during Keeneland's Thoroughbred auctions and provide new venues for special events year-round. The saddling stalls will also be repositioned, providing the safest environment possible for equine and human participants. The new structures will be consistent with the existing clubhouse and grandstand and feature the two-over-two pattern of stonework unique to Keeneland.
"Keeneland's founding mission is to be a model race track, to invest in the future of our sport, to enrich our central Kentucky community and to always do what is best for the horse," Keeneland President and Chief Executive Officer Shannon Arvin said. "This project is central to our mission because it will allow us to welcome more fans and give them a variety of world-class experiences during our race meets and beyond."
Construction is scheduled to begin in January 2024 and completed in the fall of 2025. The capital project is the largest since Keeneland opened in 1936 and marks the first major construction at the track since Keeneland Library was built in 2002.
"VisitLEX is thrilled with Keeneland's plans for expanded seating and enhanced visitor experiences," said VisitLEX President Mary Quinn Ramer. "Keeneland is investing in the future and this project ensures that visitors will continue to choose Lexington for world-class Thoroughbred racing. We are excited to welcome even more visitors to town to experience the magic of Keeneland."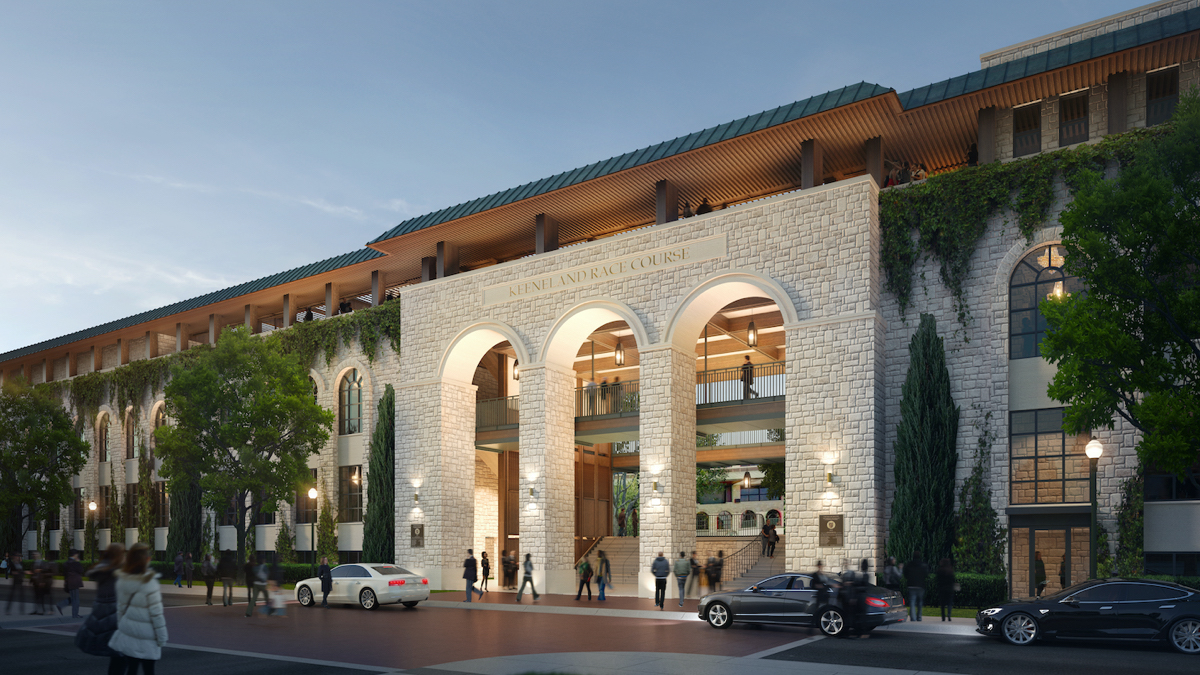 The new venue will feature a variety of ticketed experiences available to the public, including food and beverage, a panoramic rooftop and more. A new Jockeys Quarters will be within the building, providing fans a unique experience in which jockeys will walk directly through the venue before each race.
The paddock building will include a reconfigured East Gate entrance while expanding the area inside the gates around the historic Sycamore tree. To accommodate the building, a two-story operations building is planned for construction within walking distance of the race track. Plans are also in development for an on-site visitors' center.
"We spent a great deal of time looking at racing venues and sports facilities around the world for inspiration," Arvin said. "We also talked to our stakeholders and fans to understand what they love most about spending a day at Keeneland, whether it be during racing, sales or another occasion. This new facility will allow us to provide a variety of unique experiences allowing more fans to enjoy the finest hospitality in sports."
Keeneland hosted the Breeders' Cup in 2015, 2020 and 2022. The track's grounds were designated a National Historic Landmark in 1986 and racing and sales generate nearly $600 million in estimated annual economic impact to Fayette County.
Populous is serving as lead architect and will carry out exterior and interior architecture and design, landscape design and experiential branding for the project.
"Keeneland is a national treasure and Populous is honored to support the emerging needs of horsemen and guests through these thoughtful design solutions while creating a new vantage point for future generations to enjoy all that Keeneland has to offer," said Mason Paoli, principal, interior design director, Populous.