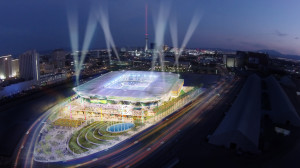 The city of Las Vegas has inched closer to landing at least one professional sports team—and possibly another. The city, The Cordish Companies and Findlay Sports & Entertainment have announced a term sheet that outlines key deal points for the construction of a $410 million stadium designed specifically for Major League Soccer. The new stadium would be home to a Las Vegas-based MLS franchise should the league award the city a team and be located in the city's downtown Symphony Park area, north of the Smith Center for Performing Arts. The stadium would seat up to 24,000 fans and include state-of-the-art concession and fan entertainment experiences.
An independent analysis shows the stadium is estimated to generate more than $9 million in annual tax revenue for the state, county, city of Las Vegas and other local entities and is projected to generate more than 1,200 jobs, including 525 construction jobs and 700 permanent jobs, according to Findlay Sports & Entertainment.
The new stadium project will not move forward unless the Findlay-Cordish partnership is awarded an MLS team. "The time to bring professional sports to Las Vegas is now," said Las Vegas Mayor Carolyn G. Goodman. "The deal negotiated with Findlay Sports & Entertainment and The Cordish Companies will be a win-win for the city of Las Vegas and its residents. I love that both our partners are family-owned companies with great reputations."
At its next meeting on September 3, 2014, the Las Vegas City Council will vote on a non-binding term sheet. If approved, the city and the Findlay-Cordish partnership would draft and present a binding development agreement to the City Council in December 2014.
Meanwhile, reports have surfaced that the National Hockey League may also be considering Las Vegas for an expansion team. A report in the Vancouver Province said a team in Las Vegas is a "done deal" for the league's next round of expansion. League officials, however, have downplayed the report, saying the league has not yet set a timeline or process for potential expansion.