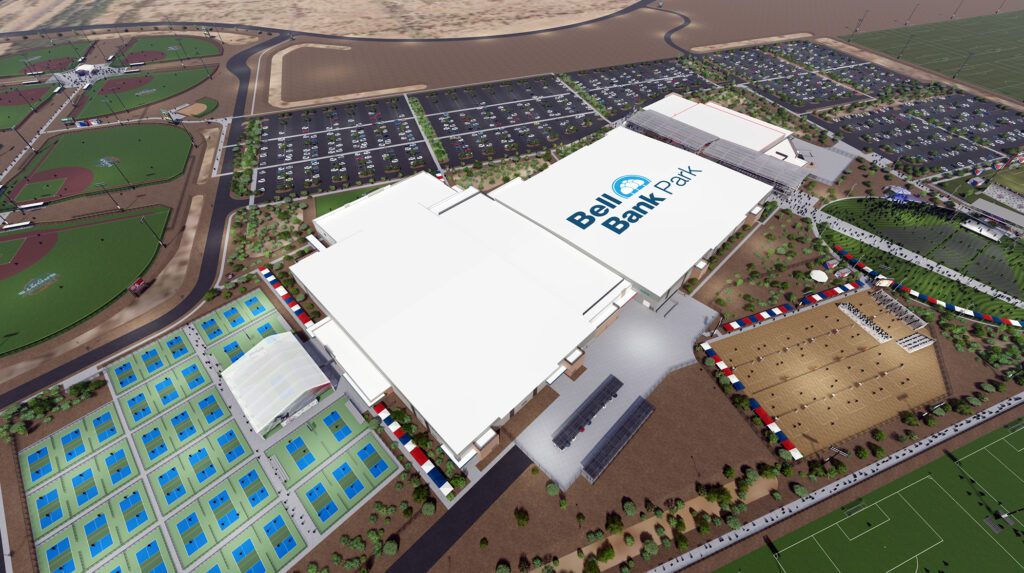 Legacy Sports USA and Oak View Group Facilities have announced a 10-year naming rights partnership with Bell Bank for a 320-acre complex in Mesa, Arizona that will be the largest of its kind in North America.
Bell Bank Park, at a cost of over $280 million, is designed to host youth and amateur sports teams and individual and team training plus events, concerts, youth sports tournaments and fitness opportunities. After breaking ground last fall, the facility is already booking events and taking reservations for 2022.
"Bell Bank Park will be a special place to compete and train, and gather with family and friends to enjoy sports and live entertainment," said Chad Miller, chief executive officer of Legacy Sports USA. "Sharing similar core values of family and giving back with Bell Bank, we are thrilled to have them as our naming rights partner for our new complex."
Upon its scheduled opening in January, Bell Bank Park will feature a multi-purpose arena and outdoor 2.7-acre lawn for concerts and events, plus indoor and outdoor facilities for soccer, baseball, softball, football, lacrosse, futsal, basketball, volleyball, pickleball, gymnastics, cheer, dance, obstacle course racing, esports, fitness, youth and recreational sports camps and performance training.
"Bell Bank Park will be the premier destination for aspiring athletes, sports enthusiasts, and more," said Peter Luukko, chairman of OVG facilities. "It will be the ultimate place to train, play and enjoy live events. We are grateful for this new partnership with Bell Bank. Each time people visit and experience the many live sports and entertainment events at Bell Bank Park, they'll see Bell's commitment to the community and its support for bringing people and families together."
"Bell Bank's partnership with Oak View Group and Legacy Sports extends our support in the community," added Kyle Kennedy, senior vice president and Arizona market director for Bell Bank. "The opening of Bell Bank Park in 2022 will be an exciting moment for Mesa and the entire metro area. It is a venue where people from all over will enjoy experiences that create lifetime memories. Our participation in this venture embraces our mission to give back. We're proud to be a part of such a tremendous undertaking."