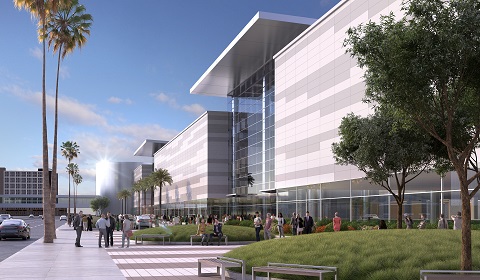 Nevada Gov. Brian Sandoval has signed into law legislation that will set into motion the expansion and renovation of the Las Vegas Convention Center as well as the development of a new football stadium.
"Tourism is Nevada's number-one economic driver, employing nearly half of the people who call Southern Nevada home and this decision represents a once-in-a-lifetime opportunity for Southern Nevada," said Rossi Ralenkotter, president and CEO of the Las Vegas Convention & Visitors Authority. "Our destination thrives on evolution and reinvention and we commend the bold decision by the Nevada legislature and (Nevada) Governor Sandoval to approve these two monumental projects that position our destination to remain a leading tourism destination for decades to come."
The expansion of the Las Vegas Convention Center is a $1.4 billion project that would add 600,000 square feet of new exhibit space to the facility, which currently offers 2 million square feet of exhibit space and 250,000 square feet of meeting space. In 2015, the Las Vegas Convention Center hosted 49 events with a combined attendance of 1.3 million people. According to the LVCVA, "The Las Vegas Convention Center District expansion will allow the Las Vegas Convention & Visitors Authority to pursue new business opportunities while also growing the shows currently taking place in the destination."
The bill also includes plans for the development of a $1.9 billion, 65,000-seat football stadium that could house the University of Nevada, Las Vegas football team as well as the NFL's Oakland Raiders. The Raiders' owner Mark Davis had expressed interest in moving the team to Las Vegas if the bill were approved. "I would like to thank Governor Sandoval, the Southern Nevada Tourism Infrastructure Committee and the members of the Nevada legislature on this historic day," said Davis. "All parties have worked extremely hard to develop and approve this tremendous stadium project that will serve as a proud new home for the entire Raider Nation." NFL owners would need to approve a move of the team from Oakland to Las Vegas.
Both the stadium project and convention center expansion are expected to create more than 14,000 jobs and pump $1.4 billion into the economy. A 0.5 percentage point increase in Clark County's room tax and an additional 0.88 percentage point room tax increase will help fund the convention center district and stadium projects, respectively.