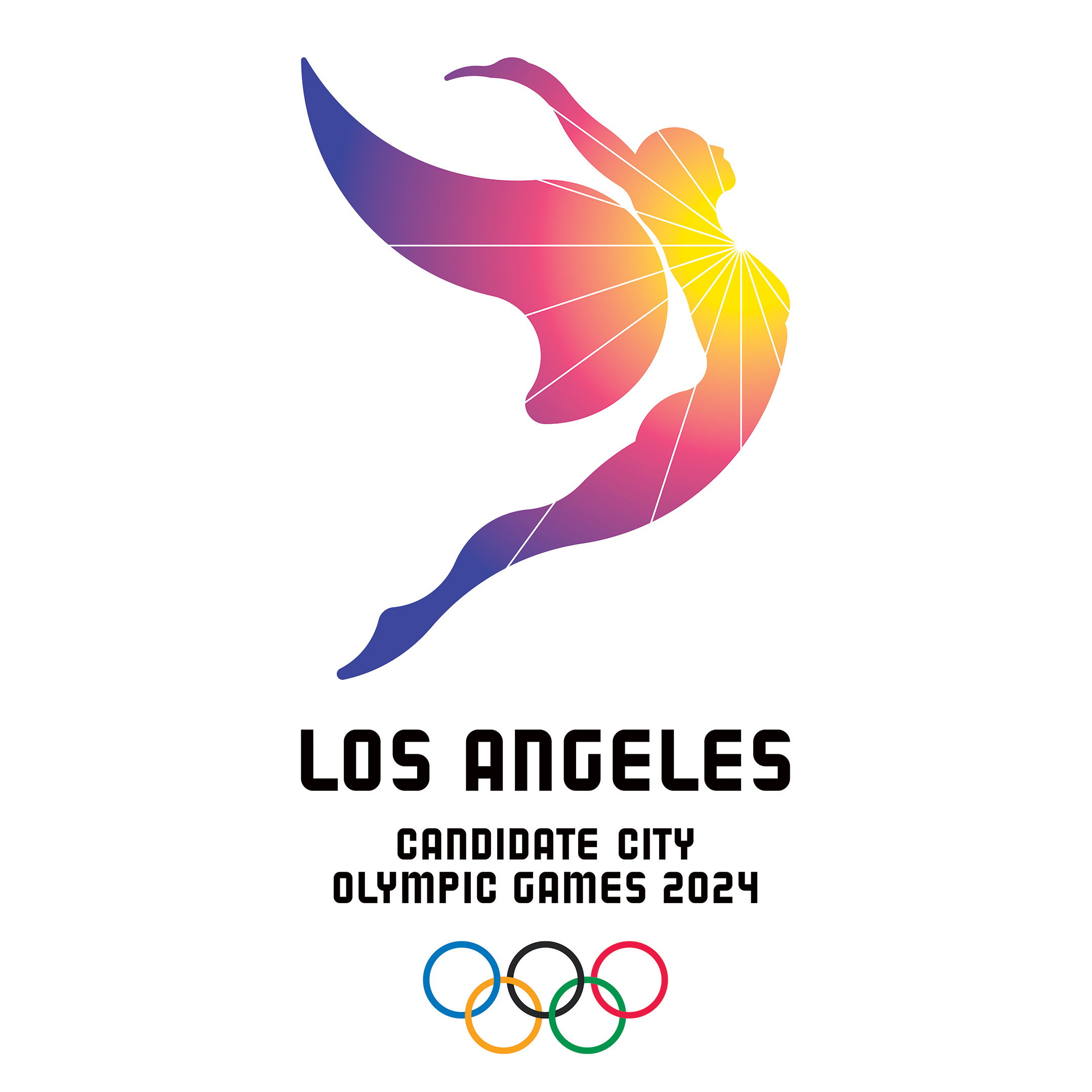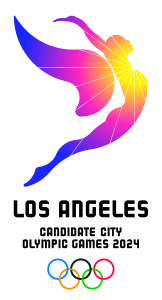 Los Angeles 2024 has unveiled its official bid logo and slogan for its effort to land the 2024 Olympic and Paralympic Summer Games. At a ceremony on the top floor of the USC Downtown skyscraper, more than 100 Olympians and Paralympians joined bid leaders and city officials to unveil the new markings and slogan, "Follow the Sun." The soaring figure of the logo is a symbol of athletes reaching for their dreams, according to bid leaders. "Follow the Sun" is a reference to the city's year-round sunshine, as well as the "perennial optimism and constant reinvention" that characterize the world's entertainment capital, according to a release describing the slogan.
"Everyday people follow the sun to our city in pursuit of their dreams, spurring unprecedented creativity, innovation and progress," LA 2024 Chairman Casey Wasserman said. "We're inviting the world to 'Follow the Sun' to California in 2024, to join us in L.A. for an Olympic and Paralympic Games that signal the dawn of a new era for the Olympic Movement."
Los Angeles Mayor Eric Garcetti said: "We all know that Los Angeles is a city that breathes Olympism. It's in our DNA. But this logo is about more than Angelenos' love for the Games. This logo capture's the essence of L.A.—a soaring belief that through hard work, creativity and ingenuity, we can follow the sun and reach the highest levels of success. It is with that commitment, that we are excited to continue following our dream of bringing the Games back to a city that loves them."
Janet Evans, LA 2024's vice-chair and director of athlete relations, and USOC Chief Marketing Officer Lisa Baird also took part in the ceremony, as did Brazilian Olympic swimmer and silver medalist Thiago Pereira. The unveiling ceremony was followed by a screening of the upcoming film "Race," which tells the story of U.S. track-and-field athlete Jesse Owens and his preparations for the 1936 Olympic Games in Berlin, Germany.
"I believe this is just the beginning of the immense creative potential we're going to see from the LA Olympic 2024 bid," Baird said. "I love the feeling of optimism and progress that is captured by the logo's design and the sense of promise in the message of the theme. With the prospects of marrying sport, innovation and entertainment in new ways, LA 2024 can be a new beginning for California, our nation and the Olympic movement worldwide."