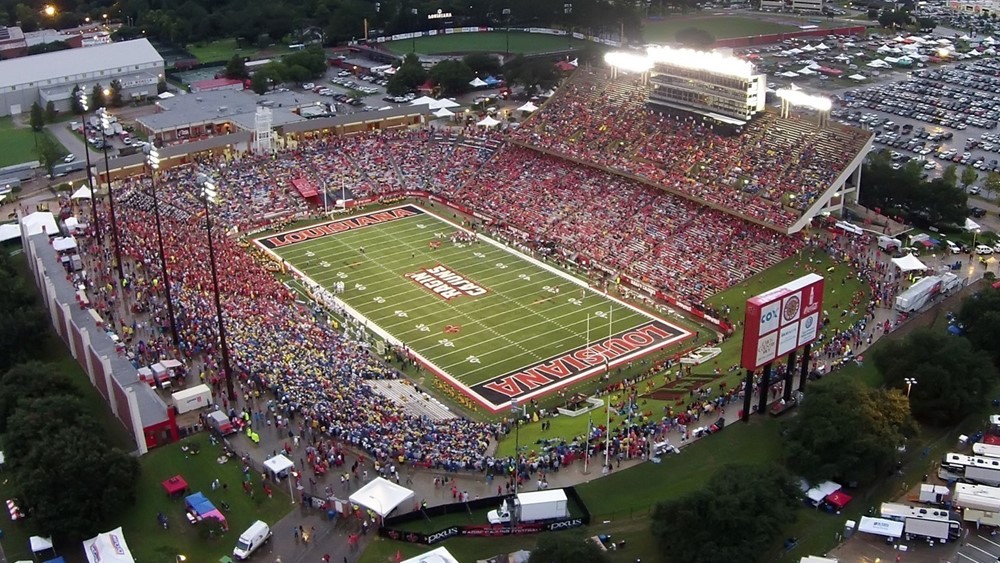 University of Louisiana Athletics has agreed to a $15 million, 15-year naming rights deal with Our Lady of Lourdes Regional Medical Center for the planned renovation of Ragin' Cajuns football, which finished the 2020 season ranked No. 15 in The Associated Press Top 25.
The completed project, Cajun Field at Our Lady of Lourdes Stadium, will provide the first major extensive renovation of the venue in its 50-year existence. Renovations include premium suites, a new club level and club seats, loge boxes and a new press box. The club area will also serve as a dining facility for athletes throughout the season.
Additional plans for the project include a new videoboard, lights, sound system, renovated west side seating, new east side façade and operational and office spaces for Department of Athletics staff.
"This transformational gift from Our Lady of Lourdes will play a pivotal role in the future of our campus community and Ragin' Cajuns Athletics," Director of Athletics Bryan Maggard said. "Our Lady of Lourdes is one of the most vital organizations in Lafayette, as well as across Acadiana, and we are extremely grateful to join in this partnership to create a first-class game day experience for Cajun Nation and our student-athletes."
Our Lady of Lourdes, a regional acute care medical center, is a wholly owned subsidiary of the Franciscan Missionaries of Our Lady Health System, which serves communities throughout Louisiana and Mississippi.
The Ragin' Cajuns have finished 11-3 in 2019 and 10-1 in 2020 ahead of the 2021 season, which starts September 4 at Texas.
"We are extremely excited about Our Lady of Lourdes' level of commitment to this project," Head Coach Billy Napier said. "This investment is a crucial part of the overall process of building our football program from both a recruiting and developmental standpoint. Our Lady of Lourdes is truly a member of the Ragin' Cajuns Football family and we are thrilled to continue forward with them as a close partner."