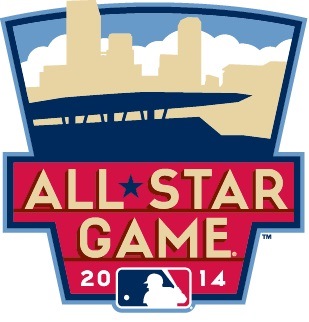 Major League Baseball and the Minnesota Twins have unveiled the official logo for the 2014 MLB All-Star Game, scheduled for July 15, 2014, at Minneapolis' Target Field.
The logo shows the silhouette of Target Field set against the city's skyline, and features the Twins' main colors of red and navy blue along with tan lettering, which is symbolic of the locally quarried limestone used throughout the stadium.
"The Twins are honored to host the 2014 All-Star Game events," said Twins Owner and CEO Jim Pohlad. "Even before opening Target Field in 2010, we dreamed of hosting this incredible event. With this logo unveiling, we're one step closer to making this dream a reality."
The 2014 game will mark the Twins' third time hosting the event. The Twins previously hosted the All-Star Game in 1965 and again in 1985.
"We're excited for this incredible opportunity to showcase our great city," said Minneapolis Mayor R.T. Rybak. "The City of Minneapolis is committed to making the 2014 All-Star Game a great experience for the many visitors to our region."