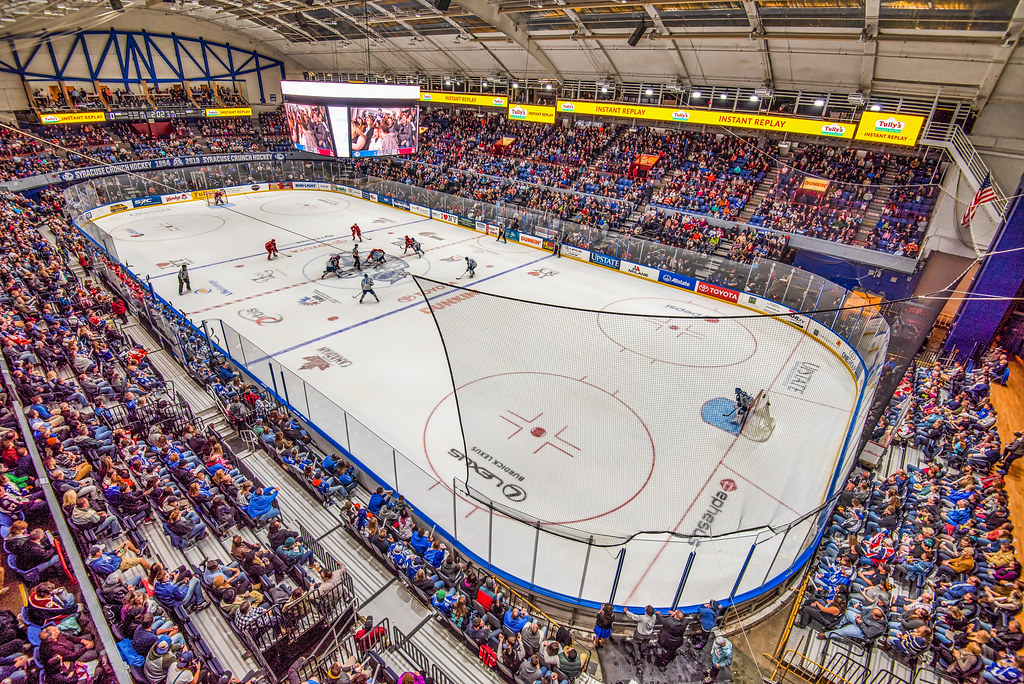 The home of American Hockey League team Syracuse Crunch will be known as the Upstate Medical University Arena at Onondaga County War Memorial as part of an 11-year, $2.7 million sponsorship agreement that includes naming rights in addition to continued team sponsorship.
The naming rights element includes Upstate's name on major exterior and interior signage plus websites, social media outlets, tickets, television and radio broadcasts and other promotional materials. The agreement also includes a foundation established by the Crunch to support initiatives for veterans.
"Today's exciting announcement comes as the result of a fully collaborative effort involving Onondaga County, Upstate Medical University, our local veteran organization and the Syracuse Crunch Hockey Club," said Crunch Owner Howard Dolgon. "This is a great day for our community, our fans and everyone who will enjoy any of the hundreds of future events at the Upstate Medical University Arena."
Over 11 years, the cost of the arena naming rights is $2,778,236.  The agreement also provides Upstate with year-round use of the venue as a site for health programming and continues an existing partnership between the Crunch and Upstate Medical, which has been ongoing for 15 years.
"We are delighted with the naming rights agreement as it increases awareness of Upstate's clinical, education and research mission, as well creates new health programming and outreach in the heart of downtown. As we have significant relationships with the veteran community, we are further honored that the opportunity for the named arena is at the Onondaga County War Memorial," said Robert Corona, DO, MBA, chief executive officer of Upstate University Hospital. "We are also very pleased to continue our long-standing sponsorship with the Crunch. This partnership unites the region's only academic medical center and largest employer with the region's only professional hockey team."
The Onondaga County War Memorial Arena opened in 1951 and previously was home to the NBA's Syracuse Nationals and several AHL franchises before the Crunch came to town in 1994. In 2018, the War Memorial Arena received a major renovation, including the addition of six luxury suites, a new scoreboard and updates throughout the facility. That same year the Crunch, in partnership with ASM Global, agreed to a lease extension at the Arena through the 2029–2030 season.
"We are thrilled that Upstate Medical University has expanded their partnership with Onondaga County and Syracuse Crunch to now have the Upstate Medical University Arena at Onondaga County War Memorial," said Onondaga County Executive Ryan McMahon. "As I have said repeatedly, the primary tenant of this building will always be our veterans. I am pleased that they have been consulted in this process and will also receive many benefits from this expanded partnership."