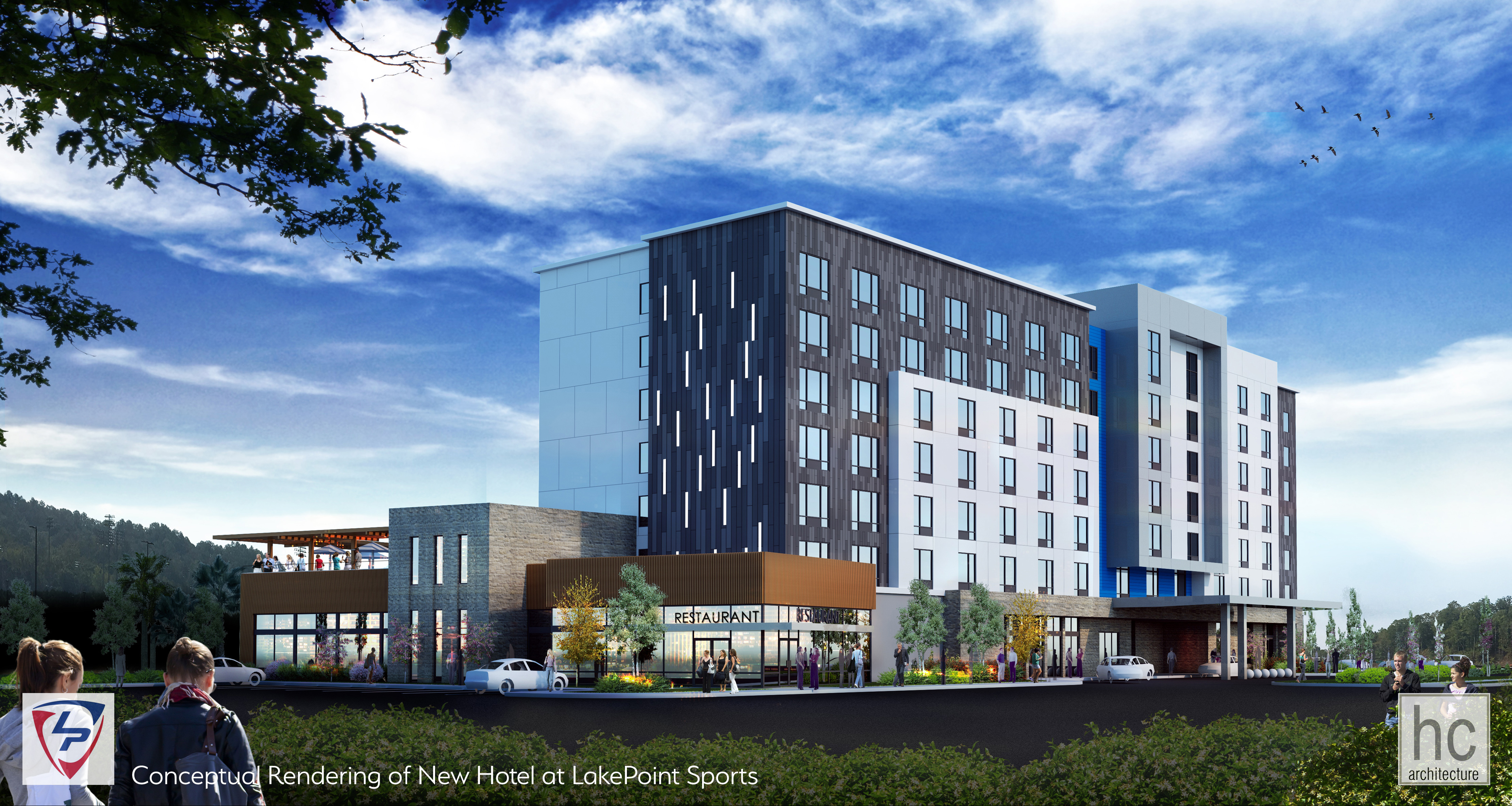 LakePoint Sports near Atlanta will have extended road infrastructure at its sports campus, leading to more than 500 acres of development including the construction of a 200-room hotel that will open in 2021 at a cost of $39 million.
Located adjacent to LakePoint Sports' 170,000-square-foot Champions Center and baseball complex, the hotel will feature a resort-style pool, food and beverage offerings, and a rooftop terrace above the restaurant for athletes and families to gather. LakePoint Sports serves more than 30 sports year-round, including baseball, basketball, volleyball, soccer, gymnastics, cheer and lacrosse.
Georgia Governor Brian Kemp joined officials from the city of Emerson and Bartow County in celebrating the completion of a 1.3-mile parkway that will aid in the new project.
"We see unrivaled potential for growth and opportunity for the LakePoint Sports campus in traditional and emerging youth sports and entertainment," said Mark O'Brien, president and chief executive officer of LakePoint Sports. "Our vision is for a vibrant development that features experiential retail, acclaimed restaurants, new lodging opportunities for our guests and an expansion of venues and fields to create a complete sports and entertainment experience for all who come here."
The LakePoint Sports campus' Champions Center is large enough for 12 full-court basketball games or 24 full-court volleyball games to be played at once. The campus features eight Major League-sized baseball fields and three multiuse fields for soccer, lacrosse, rugby, football, as well as a 10-court sand volleyball pavilion and wakeboarding park.
"We are so excited about adding this special hotel to the center of our campus," added O'Brien. "The hotel will address the number one request of our athletes, families and coaches: More hotel rooms on campus. The hotel, restaurant, and food and beverage offerings will directly complement events at the Champions Center and the entire campus, enabling our guests the added convenience of staying on campus near their events and activities."
"The new flagship hotel and expanded road infrastructure are significant milestones," said Jeff Bemis of Rimrock Capital Management, the owner of LakePoint Sports. "These signature events reinforce our deep commitment to LakePoint Sports and enthusiasm for what the new leadership team is doing on the ground."