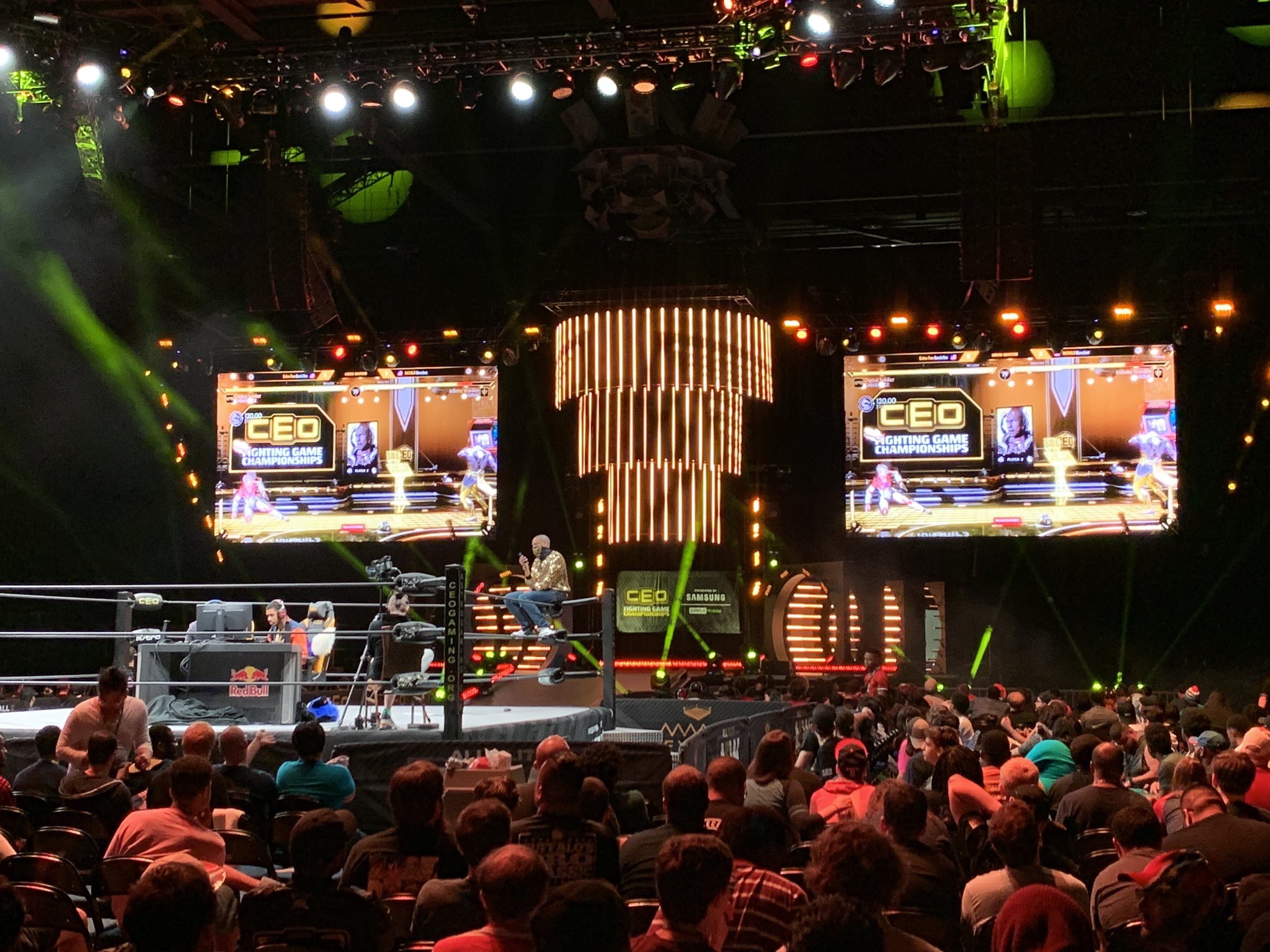 The number of esports fans has skyrocketed during the coronavirus pandemic and those fans will be more willing than the general public to travel to live events and competitions when they return, according to new research presented at the EsportsTravel Virtual Summit held December 2–3 at Esports Stadium Arlington in Arlington, Texas.
In a session delving into the latest research about esports fans and live esports events, lead researchers from Conventions, Sports & Leisure International and YouGov presented data that show fans not only want to travel, but they are highly interested in attending live events. The data also showed that nearly nine out of 10 destinations are interested in hosting esports events.
For context, studies show esports fans have watched 750 billion hours of gaming on platforms such as Twitch and YouTube in 2020, including the months of the pandemic. "That's 10 times the number of hours that's been watched of Netflix," said Tyler Othen, project manager for CSL, which conducted its fan surveys in conjunction with the Esports Entry Advisory. "That starts to hammer home how big this market could be."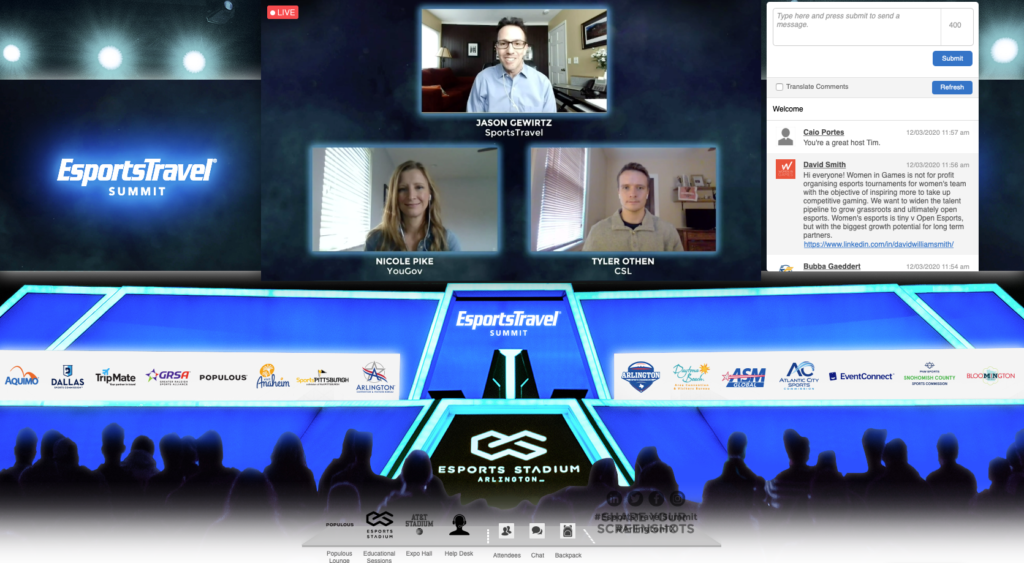 When it comes to live esports events, Othen noted that professional esports leagues were heading out to local markets for their franchised teams before the pandemic hit. When events return, he said, those fans—combined with the new fans esports have reached online since March—will be poised to travel to events. "I think fans had been excited about the prospect of this and then had it taken away," he said. "So I expect there to be some pent-up demand."
Among the combined findings from the research of CSL and YouGov:
More than 67 percent of esports fans would "maybe," "likely" or "definitely" attend a live esports event in 2021 assuming required safety measures are implemented.
More than half of esports fans would travel at least an hour to attend a live event and consider paying for a hotel room.
Those in the 18–24 age bracket are nearly 75 percent more likely than those 25–35 to attend a live esports event.
88 percent of convention and visitors bureaus—and 79 percent of venues—said they had a "strong" or "highly significant" interest in hosting esports events once public gatherings are considered to be safe again.
85 percent of destinations that have hosted an esports event said they would be "very interested" to host more.
70 percent of esports fans say they are "passionate" about traveling compared with 50 percent of the general population.
29 percent of esports fans have taken a trip by air more than once in the past year, compared with 20 percent of the general population
Othen and Nicole Pike, the global sector head of esports and gaming for YouGov, said esports remained poised for a rebound when it comes to travel in part because the industry has gained so many new fans during the pandemic. "I think a lot of the in-person event industries are going to rebound," Othen said. "But esports is particularly positioned well because people have been introduced during the pandemic not just into gaming but into esports."
Esports Fans Will Travel
The data compiled by CSL and the Esports Entry Advisory was among the first to answer the key question perplexing destinations that are seeking to host to esports events: Will fans travel?
The answer, according to the research, is a resounding yes.
Just over 67 percent of 1,300 esports fans surveyed by CSL in the United States said they would definitely, likely or maybe attend an esports live event when those competitions return. But only 17 percent indicated they had previously attended an in-person esports event, which Othen said is an opportunity for destinations and event organizers.
Click here to download the CSL/Esports Entry Advisory research
In addition, nearly 50 percent of fans surveyed said they would travel more than one hour for an event, with nearly one in five saying they would travel more than three hours to attend. On top of that, nearly 55 percent said they would maybe, likely or definitely pay for a hotel room for an event.
"I think the opportunity here is that these are multi-day events often very much like an amateur sports tournament," Othen said. "You're talking about something that could surpass what concerts do on room nights but could get up to those large amateur sports levels in terms of room nights."
Othen's group also surveyed venues and destinations, which showed a strong willingness to host events in the future. According to the research, 38 percent of venues have already hosted an esports event while 41 percent of destinations had experience hosting such events as well.
"If you were to ask me about two years ago my guess is it would have been half this figure," Othen said of those statistics. "It shows the growth taking place out there."
Of the venues and destinations surveyed, 58 percent of venues and 63 percent of CVBs expressed a "highly significant" interest in hosting future events.
Esports Fans Vs. the General Population
YouGov's new research, meanwhile, delved into how esports fans compare to the general public when it comes to their willingness to travel. And the data show that esports fans outperform the general population when it comes to their willingness to explore new places.
When asked if they agreed with the statement "I am passionate about traveling," 70 percent of esports fans said yes, compared with 50 percent of the population. Another 66 percent of esports fans said they are "excited to generally spend more when traveling" compared to 43 percent of the population, a statistic that Pike, the lead esports researcher at YouGov, said bodes well for esports fans' willingness to travel and spend money when they visit a destination.
The YouGov research also showed that esports fans want to explore the destinations they visit, including opportunities to visit a beach, lake, mountain or countryside.
"Esports fans want a city break, something they can do for a three-day weekend," she said. "Esports fans are more likely to do that."
Click here to download the YouGov esports research
As a whole, esports fans also wait longer to book their travel, with about half saying they are willing to plan at the last minute. "This particular group has flexibility to do that especially if it means they don't have to pay as much for travel arrangements."
Another finding of note from YouGov's research: Esports fans are looking for outdoor experiences when they travel. Of those surveyed, 64 percent said they prefer attending events in natural spaces as opposed to being indoors. While an esports competition may have to be held indoors, longer events that span several days may want to consider an outdoor ancillary element to help attract more attendees, Pike said.
"Having outdoor elements where they can go to an expo outside or have a drink at an ancillary event may be more COVID-friendly but also would play into what their preferences are," she said.
Click here for more coverage of the EsportsTravel Virtual Summit