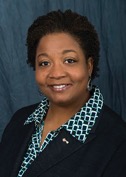 The United States Olympic & Paralympic Committee has hired a director of diversity, equity and inclusion. Nitra Rucker, who began her position October 26, will be responsible for leading, developing and executing diversity and inclusion strategies for the USOPC and the broader U.S. Olympic and Paralympic movements.
In the new position, Rucker will also lead and implement the USOPC's workforce diversity, equity and inclusion strategies, focusing on identifying and addressing inhibitors that prevent progress. Among her tasks will be helping to develop leadership talent pipelines to benefit the larger Olympic and Paralympic family. She will also manage a series that provides education and sharing of ideas on topics such as unconscious bias, intersectionality and fostering belonging at the USOPC.
"We are thrilled to welcome Nitra to the Team USA family, and we are grateful our search led us to her and her strong knowledge and background in this important field," said Bobbi McPherson, USOPC chief people officer. "It's imperative that we make impactful change at the USOPC and in the Olympic and Paralympic movements, and we have the utmost confidence in Nitra's ability to make us a stronger and more representative community."
Rucker previously spent more than 20 years with KeyCorp, most recently holding the title of vice president of diversity, equity and inclusion engagement manager. In that position, she crafted a new DE&I operational structure to increase change across the organization and developed employee resource groups to fulfill the organization's business and philanthropic ideals.
"It's a huge honor to join the U.S. Olympic & Paralympic Committee to lead its diversity, equity and inclusion efforts, both internally and across the Olympic and Paralympic movements in the United States," said Rucker. "The Olympic and Paralympic community is incredibly diverse and has a great opportunity to be a leader in recognizing the power of that diversity to create better and stronger movements. I'm incredibly passionate about this area and am eager to learn how best to bring forth my background and experience to benefit Team USA athletes, and all who work to support them."