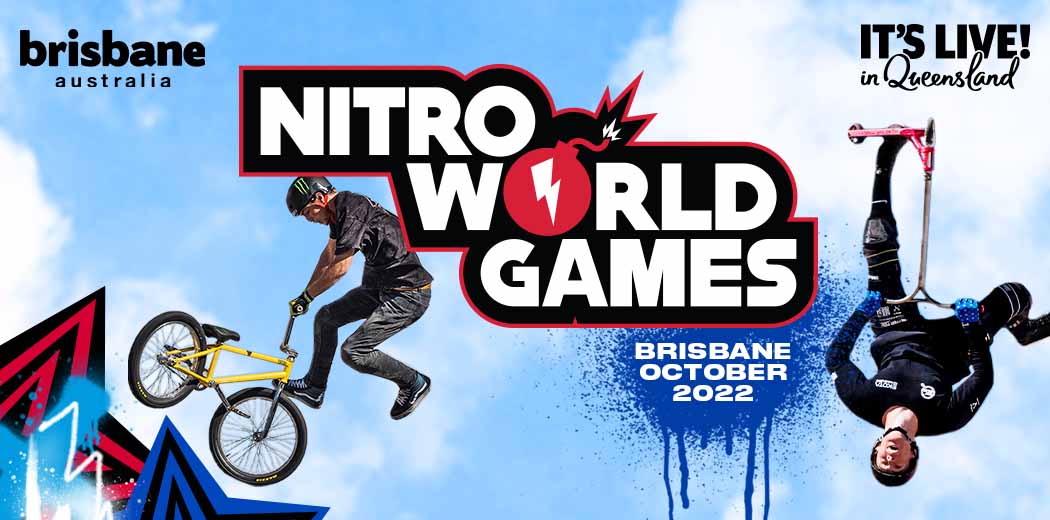 Nitro Circus is gearing up for its biggest event of the year — the Nitro World Games in Brisbane, Australia. The list of competitors has been revealed with more than 70 participants from five continents battling in Freestyle Motocross, FMX Best Trick, BMX Best Trick, BMX Triple Hit, Skate Vert and Scooter Best Trick.
The high-octane event is coming to Australia for the first time on October 22–23. Brisbane's Suncorp Stadium will host the two-day event.
"At last, Nitro World Games is back and primed to take the big air of action sports to another level," said Travis Pastrana, action sports legend and co-creator of Nitro World Games. "After a two-year hold, I know that athletes can't wait to debut the insane tricks that they will need in order to have a shot at the podium. It's going to be a wild ride at Suncorp Stadium."
Top contenders to hoist Nitro World Games championship hardware include Sunshine Coast's own Ryan "R-Willy" Williams, a dual threat in both BMX Best Trick and Scooter Best Trick. Gold Coast Olympian Logan Martin is widely regarded as one of the most dominant Park riders today and is looking for his first Nitro World Games Triple Hit victory.
On the moto side, Jackson "Jacko" Strong is a favorite to add FMX and FMX Best Trick titles to his résumé. Donnybrook's Josh Sheehan will square off against Strong in FMX Best Trick and FMX, while American veteran Adam Jones will look to better him in FMX.
In Skate Vert, Japan's Moto Shibata — the 2018 champion — will face a formidable field including U.S. competitors Mitchie Brusco and Clay Kreiner and more.
"We are very excited to bring the biggest action sports event in the world to Brisbane, a marquee host city for premier sport," said Joe Carr, chief executive officer of Thrill One Sports & Entertainment, Nitro World Games' parent company. "To have this opportunity is possible thanks to the great support of our partners Tourism Events Queensland and the Brisbane Economic Development Agency, who have shown their vision and commitment every step of the way."
Nitro Circus is producing the Nitro World Games in partnership with the Queensland Government through Tourism and Events Queensland alongside Brisbane City Council's Brisbane Economic Development Agency.
Together, this collaboration will also stage a full calendar of exhibitions in the run-up to the Nitro World Games championship weekend, both in Brisbane as well as across Queensland and in Sydney. These will include athlete clinics, autograph signings, school visits and more.
"Securing the Nitro World Games for Brisbane this October is a massive win for fans and the city's economy," said Brisbane Lord Mayor Adrian Schrinner. "With tens of thousands of spectators anticipated over two days, and 70 competitors from five continents coming to Brisbane to compete, our local hotels, restaurants and retailers are set to benefit from a $20 million economic injection."