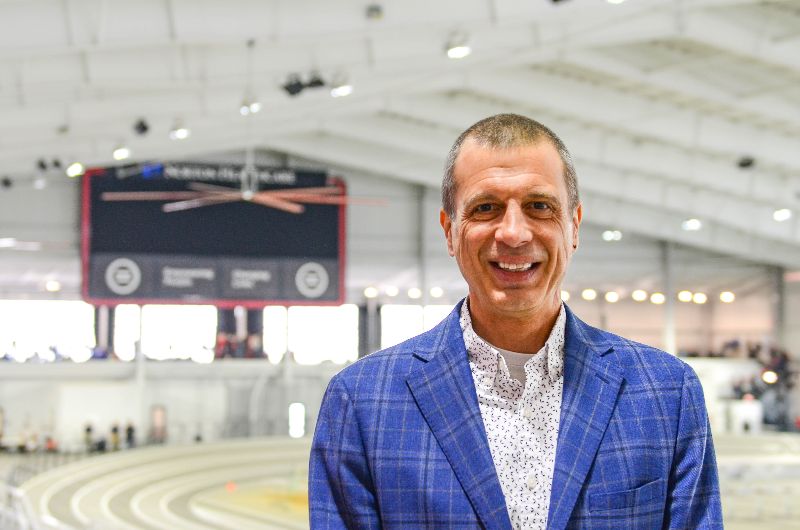 David Patrone has been hired by the Louisville Urban League and ASM Global to engage with Norton Healthcare Sports & Learning Center staff on event programming and business development for the new track-and-field venue.
"Our desire from the very beginning was to bring a truly world-class venue to the west end of Louisville," said Sadiqa Reynolds, president and chief executive officer of Louisville Urban League. "We achieved that in the development of this complex, and since our opening a year ago, our focus has been to fill this space with world-class events and world-class experiences. In David, we welcome not only an industry expert with decades of relationships, but someone whose commitment to equity and the west end is real and proven."
Patrone will collaborate with the Louisville Urban League, ASM Global, the Louisville Sports Commission, Louisville Tourism and other local and regional agencies to attract events and develop additional business opportunities for the facility. Patrone will work to drive content into the venue and position it as a leader in the track and field industry as well as a location to host other sports, concerts, corporate events and more.
"I'm very excited about the opportunity to bring the Louisville Urban League's vision to life at the Norton Healthcare Sports & Learning Center," said Patrone. "I look forward to finding new ways to showcase the venue's versatility by bringing a wide variety of events to the facility. We are very fortunate to have this world class, multi-purpose venue right here in West Louisville and I am confident it will continue to thrive as a catalyst for growth and economic stability for the local community. Additionally, the venue will provide unique entertainment options for local residents. It truly is the best of all worlds and I am excited to be a part of it."
Patrone spent two decades building the local convention and trade show market in the city, and most recently served as vice president of client services for Kentucky Venues. Prior to that he spent five years at Richfield Coliseum and Rocket Mortgage Field House in Cleveland, Ohio, where he served as front of house manager.
"As ASM Global continues to solidify the Louisville market as a leader in the major events and sports sector, we are proud to have such a talented and well-connected leader assist our team," said Eric Granger, general manager of ASM Global Louisville. "David has a proven track record of attracting large scale events to Louisville and his industry expertise combined with his passion for success will enable us to attract even more big events to the Norton Healthcare Sports & Learning Center."