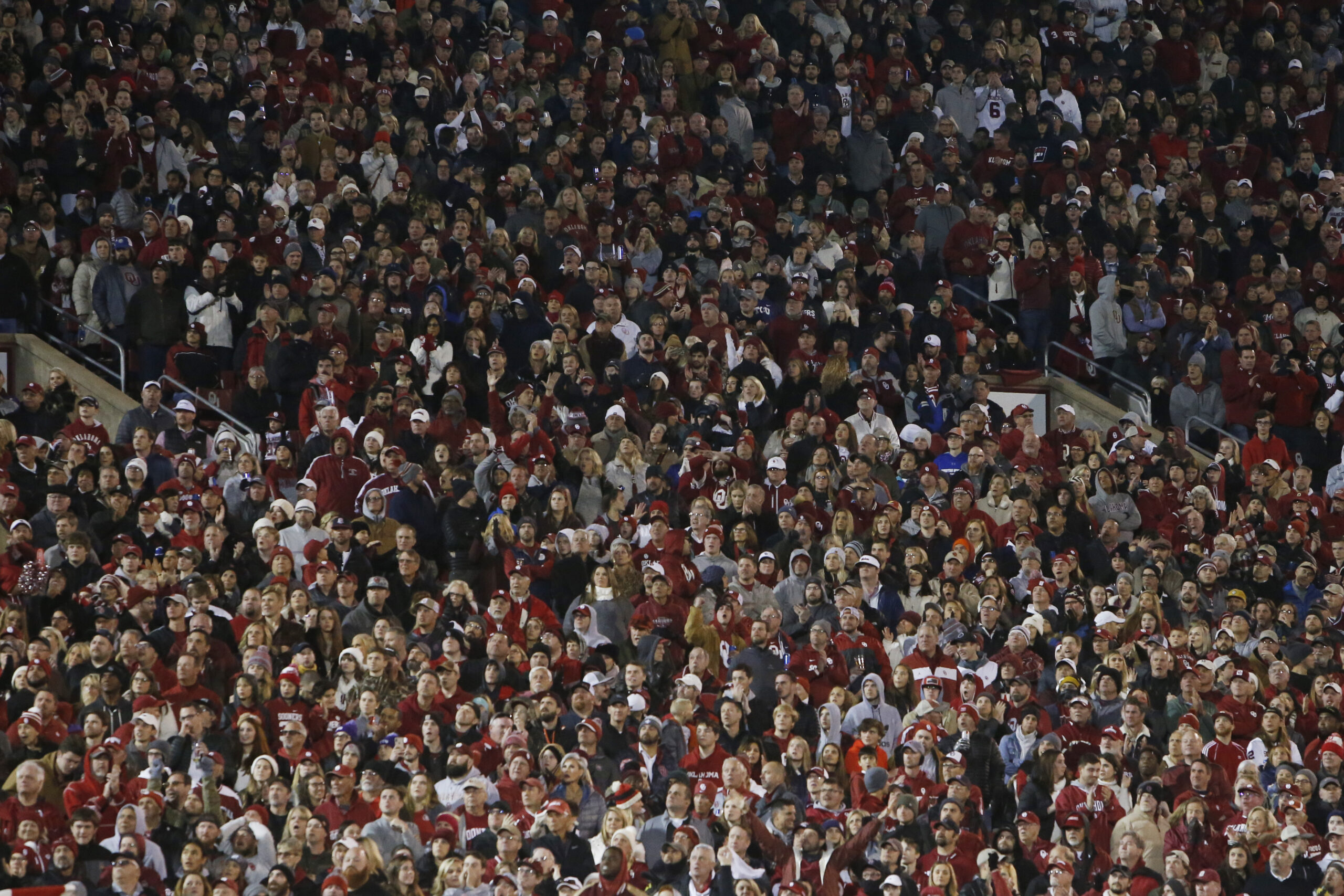 University of Oklahoma football is planning on a full stadium and working backward from there when it comes to planning for fall sports to get underway, Sooners Athletic Director Joe Castiglione said during a college sports webinar this week.
"I'm staying very optimistic about fans and fans of some number," Castiglione said during the webinar "College Athletics in the Post-COVID Era: What to Expect" hosted by the website Sport Hiatus. "We've planned on fans, we've planned on a full stadium. But we've spent the better part of last three months in contingency planning of all different levels. … Then what we would do if we can't have a full stadium, what would a stadium look like with practicing social distancing and what would that mean and how many fans we could accommodate?"
Memorial Stadium, where the Sooners play home games, seats 80,126. The team is scheduled to open the 2020 season at home on September 5 against Missouri State. Castiglione said regardless of how many fans the Sooners have in the stands, the athletic department is planning on a "driveway-to-driveway experience where (fans) don't have to touch as many things as they once did" with digital ticketing and concessions being ordered and paid for via mobile devices.
The issue of whether events will be played without fans — or a reduced amount of capacity — is one that teams and leagues at all levels are determining. There is no uniform policy throughout the United States for it, leaving each program to its own devices in many ways with consultations going on with public health officials at the local and state levels.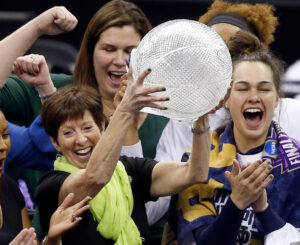 "I think it has a dramatic effect on the game," said former Notre Dame Women's Basketball Coach Muffet McGraw of not playing with fans. "The atmosphere is so important, especially in the women's game. … It's hard to imagine college athletics without fans, but there's got to be a way we can see how we can social distance in our arenas," adding that without fans "it'd be like playing the 11 a.m. game in the conference tournament — nobody's there."
All Schools Affected
Fans at games and the financial ramifications from the coronavirus pandemic have touched every school, conference and level of collegiate athletics. Atlantic 10 Conference Commissioner Bernadette McGlade said the NCAA Tournament's cancellation led to a 68 percent reduction in the distribution of revenue from the NCAA to conferences, "which is millions and millions of dollars."
"What it's caused us to do is really focus on the priorities," McGlade said. "The last thing anyone wants to do from a conference or institutional level is to cut sports or reduce opportunities for student-athletes. We have a rainy-day fund, and that's what it's for. We have to go into our reserves and we've got to be able to cover the expenses and really hope and pray that this is a one-year blip on the economic impact."
Conferences across the NCAA spectrum are also adjusting how they schedule events for each of their sponsored sports. In the A-10, several sports will have the conference schedules condensed by 25 percent with six sports converting its tournament championships into four-team fields. McGlade added that by condensing conference play, those sports will have open weekends "which we feel from a mental health issue is really important."
Challenging Conference Planning
During the webinar, moderated by Octagon Global Chief Marketing Officer Lisa Murray, the topic of how to organize a conference when there are different state regulations throughout the country was addressed. The Atlantic 10 has institutions in eight states plus the District of Columbia, so McGlade said they have decided through conversations at both the presidential and athletic director levels that the league will not penalize teams that have a delayed start to a season because of state or local regulations.
While some sports may see teams starting at different times, there are also leagues that will have condensed schedules for another reason as several programs throughout the collegiate level have been eliminated because of budget cuts resulting from the coronavirus. Programs that will survive would likely have some aspects of their travel changed at least in the short term, if not beyond.
"There's a lot of trips to the Bahamas, to these great spots that are probably all going to be canceled," said McGraw of in-season tournaments. "Do we need to look regionally and play more teams in your region? What about conference scheduling, do we need to look at an Ivy League or Big 10-type of format, is it a Friday-Sunday or Thursday-Saturday format where you travel, stay and play another team instead the constant back-and-forth?"