Open Water has partnered with World Surf League to be the exclusive packaged water option of the Vans U.S. Open of Surfing presented by Swatch. The nine-day event in Huntington Beach, California, begins July 27.
As part of the agreement, the event will feature Open Water's 12-ounce aluminum cans of water, eliminating the need for as many as 10,000 plastic bottles.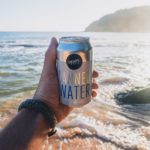 "There is so much alignment between this event and what the Open Water brand stands for," said Jess Page, chief brand officer of Open Water, which has also partnered with music festivals and events. "We started this company to protect our oceans from plastic pollution and show people there's a better-for-the-planet alternative in aluminum. It's awesome and inspiring that the status quo is shifting and more organizations are taking a stand against plastics. World Surf League has always been at the forefront of this movement and we're honored that they've chosen Open Water for the event."
The company, which launched in 2014, uses aluminum bottled and canned waters as a sustainable alternative to plastic bottles. Through 1% For The Planet program, the company also gives back a percentage of each sale to clean up plastic pollution damage in the ocean.