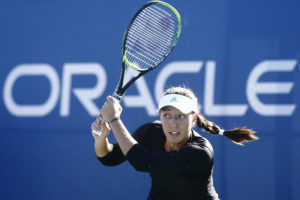 For every top-ranked ATP or WTA star, there are dozens of professional tennis players trying to make ends meet and live out the dream of being on the tour's top tier at some point in their career.
The obstacle for those lower-ranked professionals in the United States has long been a lack of viable tournaments on home shores that can be a chance to earn valuable tour ranking points toward the top 100 of the world without having to spend thousands of dollars in overseas travel.
Now, those players are being given an avenue with the Oracle Pro Series, which will consist of more than 25 new ATP, WTA and ITF professional tournaments through the rest of 2019 and into 2020, with almost all of them being combined men's and women's events.
"At Oracle, we're looking at this holistically," said Oracle CEO Mark Hurd. "We want more exposure for tennis at all levels in the United States. All of our efforts, from awards to tournament series to collegiate sponsorships and strategic partnerships, are pieces of an overall plan to raise the quality of American tennis."
Oracle has been involved heavily in tennis for years. It is the sponsor of the ATP and WTA Challenger Series, which is the level below full ATP and WTA Tour events. Oracle's founder, Larry Ellison, also owns and operates the BNP Paribas Open at Indian Wells Tennis Garden in California, one of the biggest non-Grand Slam events of the tennis year.
There will be equal prize money of up to $108,000 per event. The six tournaments that are scheduled during the rest of 2019 are $25,000 events, and will be held as follows;
October 6–13: The Claremont Club, Los Angeles
October 13–20: Baylor University, Waco, Texas
October 20–27: Texas Christian University, Fort Worth, Texas (men)
October 20–27: Southern Methodist University, Dallas (women)
November 4–10: Pepperdine University, Malibu, California
November 11–17: USTA National Campus, Orlando, Florida
November 17–24: Sanchez-Casal Academy, Naples, Florida
"We are incredibly excited that Oracle is providing even more opportunities for American players to compete throughout the year, as well as more opportunities for fans to attend professional tennis events throughout the country. These events help develop American talent and serve as a stepping stone for players to reach the highest levels of the game, while at the same time inspire kids across the nation to pick up a racket and play this sport," said Stacey Allaster, the USTA chief executive for professional tennis.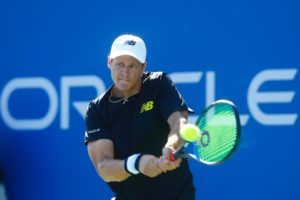 Having the events at or near college campuses also allow NCAA players the opportunity to get ranking points at minimal cost. The setup of the series will allow those who succeed to move up the rankings faster with a goal of qualifying into Oracle Challenger events, then finally onto full ATP and WTA tournaments.
The series will be managed by InsideOut Sports & Entertainment, led by former men's No. 1 player and Grand Slam champion Jim Courier and his business partner, Jon Venison.
"The Oracle Pro Series is an unprecedented expansion in the number of U.S. professional tournaments and reinforces Oracle's commitment to advancing the sport," said Courier. "We are thrilled to be partnering with Oracle to give up-and-coming players more opportunities to compete for prize money, improve their rankings and launch their careers. Together, we will play a big part influencing the future of tennis in the U.S."