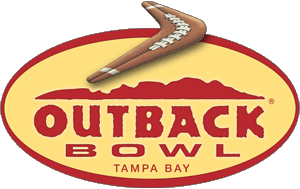 The Outback Bowl has announced an extension with long-time broadcast partner ESPN that will see the network air six additional years of the college football game through January 2026. As part of the deal, the Tampa Bay bowl game will continue to be played on New Year's Day, when it has been played for the past 32 years.
"Finalizing this agreement with ESPN along with six-year contract extensions with title sponsor Outback Steakhouse, the longest tenured title sponsor in the history of bowl games, and our conference partnerships with the SEC and the Big Ten/ACC Conferences positions our game to continue to make a dramatic impact on the Tampa Bay community, the universities and local charities," said Outback Bowl President/CEO Jim McVay.
Since its inception, the game has generated more than $1 billion in estimated economic impact. The extension will generate an additional $45 million for universities and is expected to help expand the game's Charitable Giving Initiative program that has benefited more than 110 local nonprofits.
"By extending our long-time relationship with the Outback Bowl, we will continue to showcase the Tampa region with a top matchup every year and we further solidify our industry-leading bowl lineup for the next several years," said Kurt Dargis, ESPN director of programming and acquisitions.