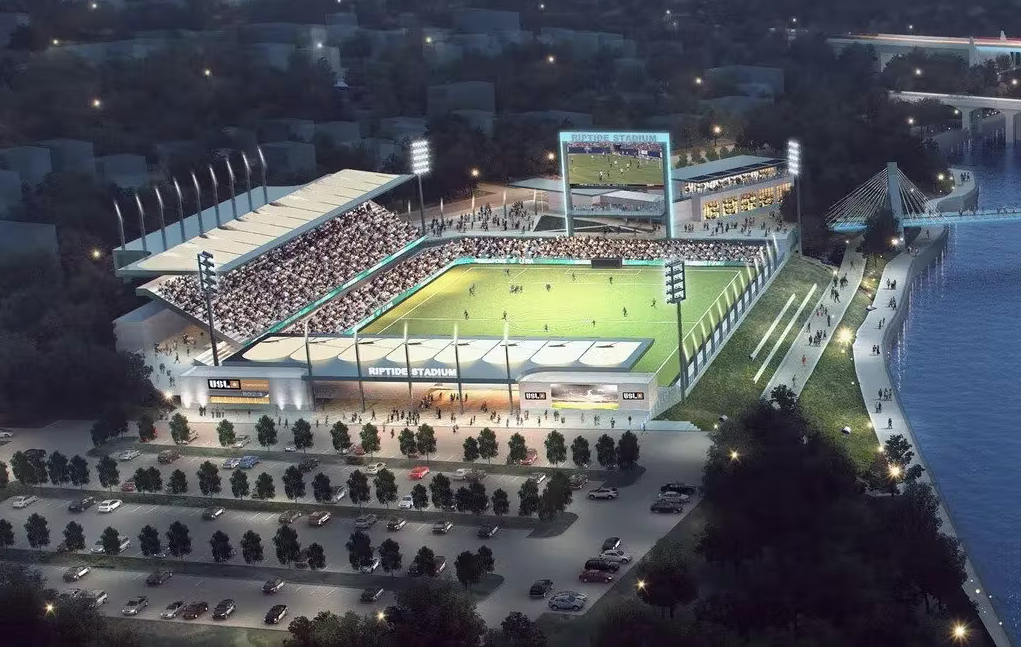 An official groundbreaking in Pawtucket, Rhode Island, has moved the city closer to the arrival of a United Soccer League Championship club.
Investors, elected officials, executives and dignitaries gathered August 12 to celebrate a major milestone for the club and community.
Brett M. Johnson, founder of Fortuitous Partners, along with supporting owner and former United States men's national team player Michael Parkhurst, joined Pawtucket Mayor Donald R. Grebien, Rhode Island Governor Daniel McKee and USL Chief Operating Officer and Chief Real Estate Officer Justin Papadakis for the official groundbreaking on the riverfront soccer-specific venue that will become the club's home.
"We congratulate Brett Johnson and his group for all the outstanding work they have done to bring professional soccer to the beautiful state of Rhode Island," said USL Chief Executive Officer Alec Papadakis. "Stadium development continues to be a key strength for the USL and our clubs. We are on track to open 10-15 new soccer venues across the country in the next three years, with more to follow. The USL has entered a new phase in its evolution, bringing world-class soccer experiences to more communities than anyone."
The groundbreaking came after the completion of a financing agreement between the club's ownership group and both state and local authorities that will secure funding for the venue. The new stadium in the centerpiece of a larger Tidewater Landing project that includes new housing, retail and a footbridge.
Johnson said the stadium is scheduled to be completed in the spring of 2024, with the club aiming to begin play the same year. An official announcement on the club's name, official colors and crest is expected in the coming months.
"This will be Rhode Island's team," Johnson said. "Our vision is to be one of the most respected soccer clubs in North America, and this stadium will be a flagship venue for sports and entertainment in Rhode Island. We will build a successful soccer club that is respected across every level of the game. We will compete for championships, we will run a successful business, we will be socially and environmentally responsible, and we will contribute to this community for decades to come."