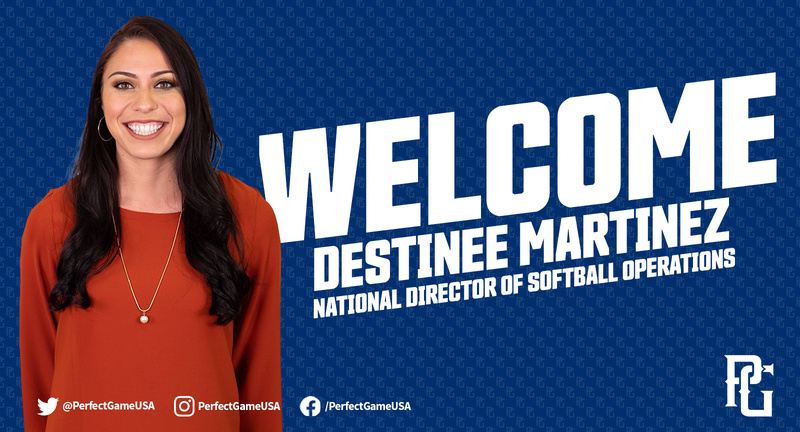 Perfect Game has named NCAA softball champion and Team USA member Destinee Martinez as its national director of softball operations.
Martinez joins Perfect Game after seven years with USA Softball, including the past two years as managing director of sport development. Martinez was the main liaison between USA Softball and Major League Baseball, developing and overseeing programming that provided resources to underserved communities.
"We welcome Destinee Martinez to the Perfect Game family, and we feel blessed to have her take the reins of our women's softball division," said Perfect Game Founder and President Jerry Ford. "Not only is she one of the most accomplished women's softball players of her generation, her passion and knowledge of the game have placed her among the top innovators and leaders of the sport. We're confident Destinee will take our softball program to new heights."
Martinez will be responsible for developing and maintaining Perfect Game's softball presence throughout the country. She will oversee the game at all levels with a focus on growing Perfect Game's relationships with softball clubs, coaches, players and teams. Martinez, a graduate of the University of Oklahoma, where she won a NCAA championship in 2013, will also be responsible for developing and maintaining revenue-generating relationships with strategic business partners.
"I'm honored and excited to join Perfect Game in this very important role," Martinez said. "I look forward to working with the entire Perfect Game team in growing the sport of women's softball around the country. Providing opportunities and breaking down any barriers that exist between young girls everywhere and this great game is my life's mission. I'm thankful that Perfect Game is providing me with an opportunity to make this happen."