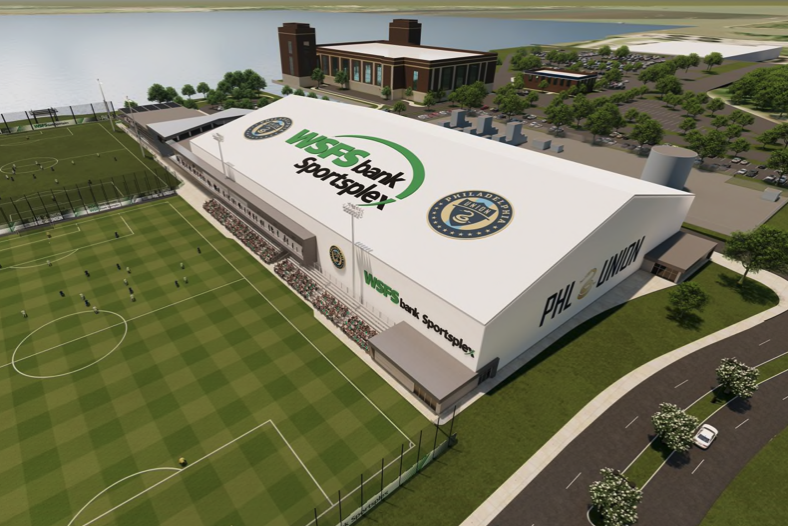 Major League Soccer's Philadelphia Union has announced plans for the WSFS Bank Sportsplex, a 170,000 square foot, 32-acre sports and recreation complex that will be open year-round with groundbreaking scheduled for this winter and outdoor fields ready for use by August 2023.
The complex will include a 100,000 square foot indoor facility (scheduled to open June 2024) that will be available for community use and an adjacent 70,000 square foot support building that will house the MLS Next Pro Philadelphia Union II team as well as the Union Academy. The project includes seven outdoor multi-sport fields including one championship grass field with spectator seating, two additional full-size grass fields, one youth-size grass field and three full-size turf fields.
"This best-in-class facility will provide a singular home for our professional and academy teams while creating a premier destination for local youth groups to fall in love with sports," said Philadelphia Union Principal Owner Jay Sugarman. "Alongside Subaru Park, WSFS Bank Sportsplex will become another centerpiece of our club and community strategy and I could not be prouder to see this project come to fruition."
The announcement of the project, which will cost a minimum of $55 million, marks a significant step in the development and revitalization of the Delaware River Waterfront. WSFS Bank is the naming rights partner as a part of a multi-year agreement announced in August; as a part of the naming rights entitlement, WSFS Bank will donate 365 hours of field and facility usage to community organizations.
"The announcement of WSFS Bank Sportsplex is the beginning of an important next chapter for the Philadelphia Union and the growth and development of the Chester Waterfront," said Tim McDermott, Union president. "The heart of this project is our commitment to community and our desire to be an agent for positive change. We are proud to do this alongside a like-minded organization in WSFS Bank and look forward to enriching the lives of young aspiring athletes in the Philadelphia area."