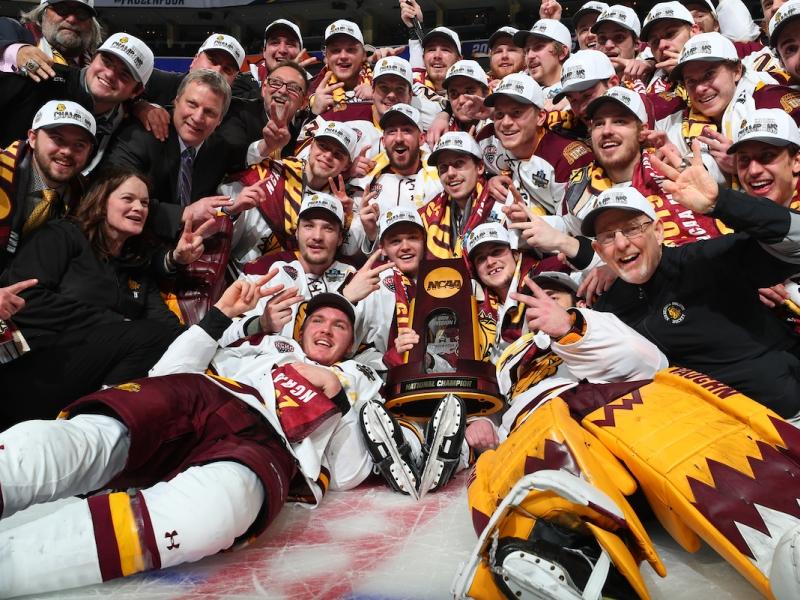 Pittsburgh is preparing to host the NCAA Men's Frozen Four with PPG Paints Arena at 25 percent capacity. The teams competing will be Minnesota State, St. Cloud State University, University of Massachusetts and University of Minnesota Duluth. The event, which is a near sellout, is estimated to produce $3.49 million in economic impact on the local economy.
The National Semifinal games will be held at PPG Paints Arena April 8 at 5 p.m. and 9 p.m. ET, on ESPN2, with the National Championship set for April 10 at 7 p.m. ET, on ESPN.
"It's been a difficult year for student-athletes and college hockey since the shutdown," said Mike Kemp, chairman of the NCAA DI Men's Hockey Committee. "On behalf of the NCAA and the committee, I want to sincerely thank Pittsburgh for your willingness to stand by us and continue the work on putting this event together. These four teams have persevered, they've gone through the gauntlet to get here and win their way into the championship, and they deserve a tremendous tournament. We know that SportsPittsburgh, PPG Paints Arena and Robert Morris are going to do their best to make sure this is a memorable and enjoyable event for everyone."
The Men's Frozen Four is the first national sporting event to return to Pittsburgh since larger events were put on hold due to COVID-19 mitigations.
"I would like to thank the NCAA for again placing its trust in Pittsburgh and the Local Organizing Committee to host a safe, memorable event," SportsPittsburgh Executive Director Jennifer Hawkins said. "Pittsburgh is the definitive destination for sports events because of our community partnerships. And this year, as we worked together to safely welcome the Men's Frozen Four back to Pittsburgh, the Local Organizing Committee has proven that we are strongest when we combine our efforts. From developing safe event plans, to organizing hotel blocks and creating unique experiences for the student-athletes, our partnerships are authentic and make our region stronger."
County Executive Rich Fitzgerald and Pittsburgh Mayor William Peduto proclaimed April 8 NCAA Division I Men's Frozen Four Day in Allegheny County and the city of Pittsburgh, respectively. Both proclamations are being displayed inside the teams' hotel lobby. The local organizing committee has also partnered with The Event Group to personalize the four team rooms with school-themed colors and signage. Host gifts for the teams competing included school-themed bowties crafted by Knotzland Bowtie Co., and a black and gold glass hockey puck crafted by the Pittsburgh Glass Factory. In addition, Wigle Whiskey donated bottles of its City of Champions Bourbon, as well as bourbon glasses, for the NCAA and school support staffs.