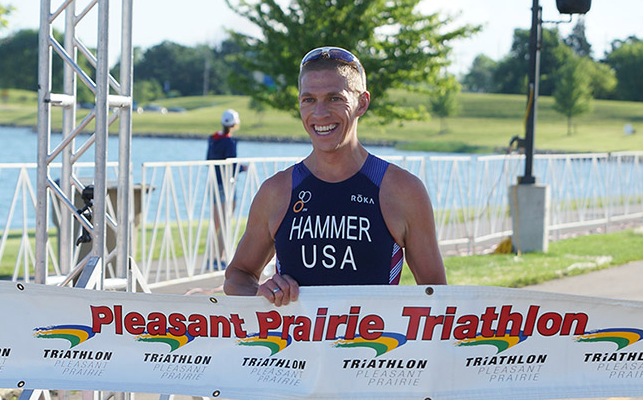 USA Triathlon, PATCO and Race Day Events have announced that the 2021 Americas Triathlon Para Championships will be held June 27, in conjunction with the Pleasant Prairie Triathlon in Wisconsin. The elite international race serves will serve as a World Triathlon Paralympic Games qualifier.
Athletes from North, South and Central America will have the chance to earn qualification points for their country for the Paralympic Summer Games in Tokyo. For U.S. athletes, the event will serve as the second selection event for qualification to make Team USA after an initial selection event at the 2019 World Paratriathlon Championships in Lausanne, Switzerland.
The championships were initially scheduled for March 15 in Sarasota-Bradenton, Florida, but the PATCO (Americas Triathlon) Championship designation was ultimately removed as international travel restrictions and quarantine requirements prevented some PATCO nations from traveling to the race.
The Sarasota event was instead held as a USA Paratriathlon invitational with no direct Paralympic rankings or points implications. But it served as a discretionary selection event toward Games qualification for those U.S. athletes who were able and willing to attend.
The Pleasant Prairie Triathlon, hosted by Race Day Events, has featured competition for paratriathletes from beginners to elites since its inception. The race served as the host of the 2017 and 2018 USA Paratriathlon National Championships.
"Race Day Events is proud to host this key international competition on the road to the Tokyo Paralympic Games," said Ryan Griessmeyer, owner and race director at Race Day Events. "We look forward to showcasing the world's top paratriathlon talent right here in Pleasant Prairie, and we believe our community of spectators, age-group athletes and up-and-coming adaptive athletes will provide unmatched energy and support for these elite competitors."
"USA Triathlon is thrilled to bring the 2021 Americas Triathlon Para Championships to a scenic and world-class venue in Pleasant Prairie," said Amanda Duke Boulet, Paralympic Program Director at USA Triathlon. "We are grateful to Race Day Events for their collaboration as we prepare to safely and responsibly host athletes from across the U.S., as well as the rest of North America, and Central and South America. This event will be a welcome opportunity for our elite paratriathletes to demonstrate their fitness and work toward qualification for this summer's Tokyo Paralympic Games."