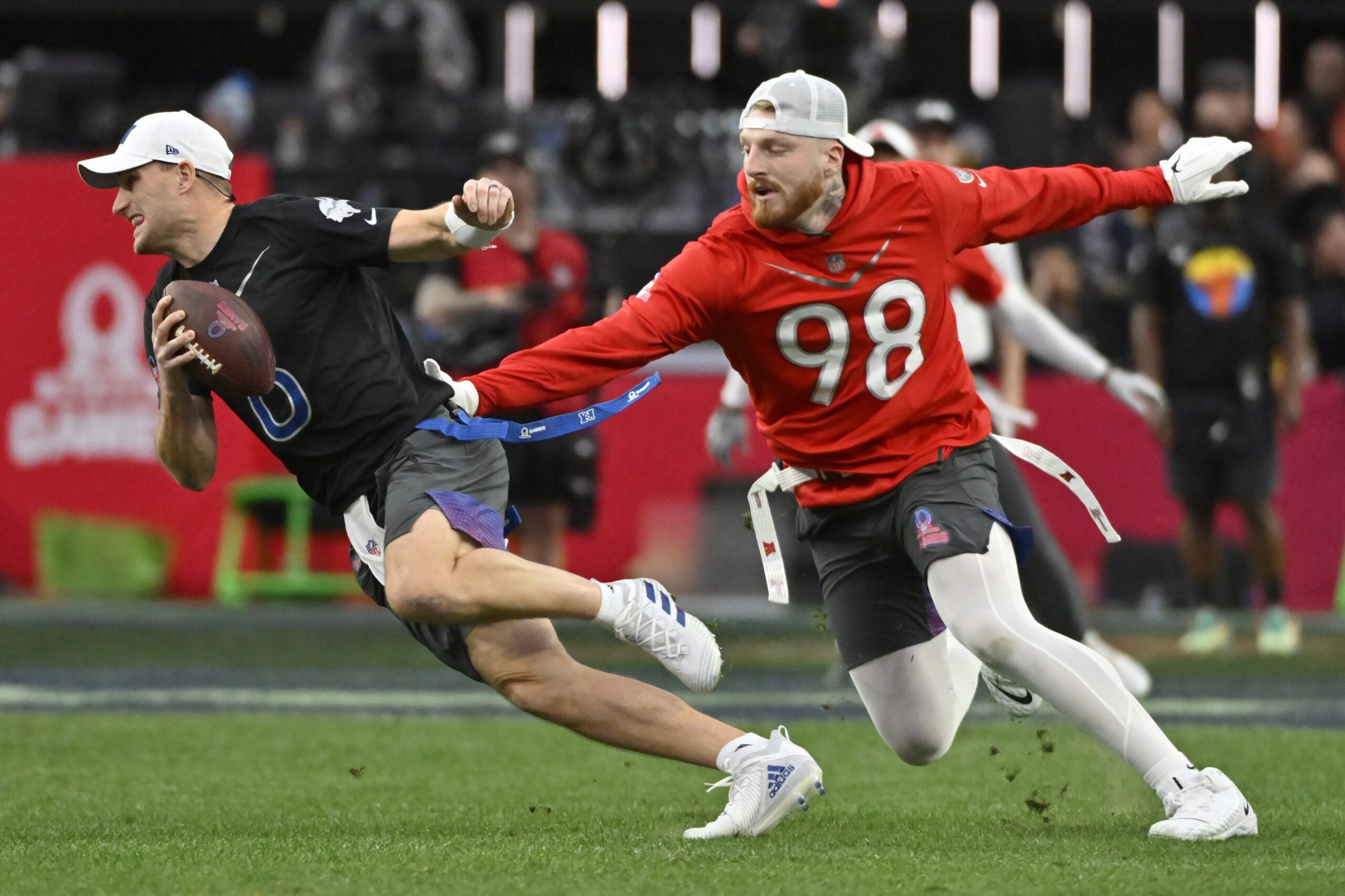 Nearly 60,000 people at Allegiant Stadium watched some of the best athletes in the world play flag football on February 5. More importantly, millions of people around the world watched on TV, including children — the same children the NFL and its NFL Flag initiative hope will be the next generation of football players.
And perhaps most significantly, the International Olympic Committee was watching.
The 2023 NFL Pro Bowl Games in Las Vegas were an important step for the world's most profitable sports league to revamp its all-star game. The traditional tackle football exhibition had worn thin on spectators due to players' lack of effort and not wanting to get hurt after a four-month season.
That's where Izell Reese and his company, RCX Sports, came into play. Reese, a former seven-year NFL veteran with the Buffalo Bills, Denver Broncos and Dallas Cowboys, is the chief executive officer of the Atlanta-based company that oversees many youth sports initiatives, including NFL Flag. RCX has run NFL Flag since 2019 and there are now close to 600,000 kids participating in the sport within the United States.
"About six months ago, we started having conversations with the NFL about what we could do differently at the Pro Bowl and I said we should turn it into flag," Reese said. "Obviously it had to be signed off by the players, GMs, and NFL teams. Everybody saw it as a good opportunity."
NFL Commissioner Roger Goodell said the idea of flag football for the Pro Bowl came two days after last year's event when Russell Wilson called him to suggest it. Goodell called the event "incredibly well done," crediting NFL Executive Vice President of Club Business and League Events Peter O'Reilly and his team, and noted its importance in trying to spread the NFL's reach.
"I think we have a lot to build on there," Goodell said of flag football. "This is the future for us. Flag is such an important initiative for us with boys, girls, men, women. There's an opportunity to grow our game globally with flag football. Seeing NFL players do that is just going to launch us even faster."
While the Pro Bowl Games featured several side competitions, flag was the main attraction. The large crowd roared with every big play made on the 50-yard field as NFL players got to act like kids for an afternoon.
"Flag football is so good for youth and it's the path moving forward," said Kirk Cousins, Minnesota Vikings quarterback who was on the winning NFC team. "It's a great way to be introduced to the game and such a great way to grow the game, domestically and internationally. I think it's a positive for the young people to see the pros playing it."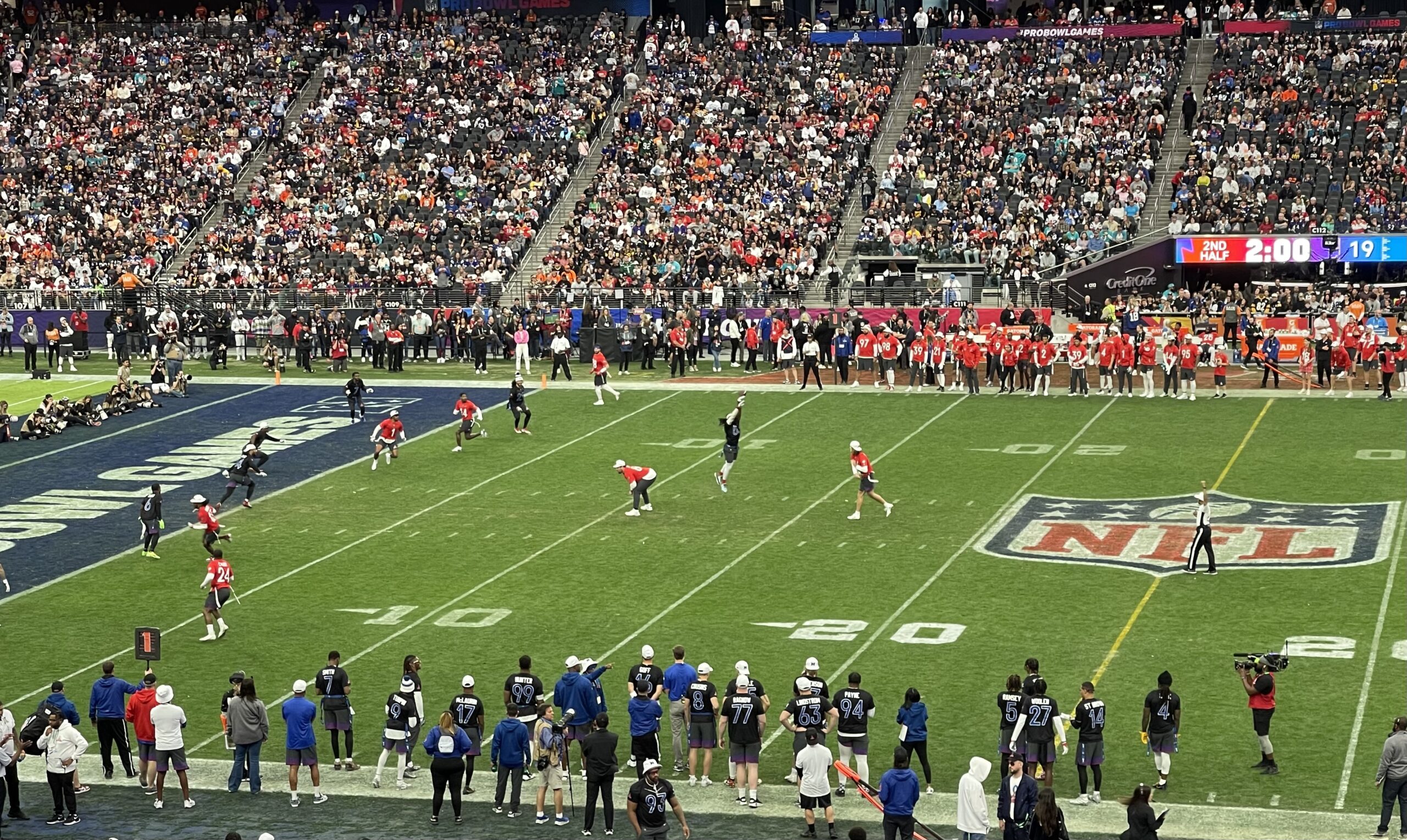 Jacksonville Jaguars quarterback Trevor Lawrence started playing tackle football at an early age and never had the opportunity to play flag. The Pro Bowl was the first time he — and many other NFL players — tried it.
"We weren't really used to the rules, so it took some time adjusting, but as each game went on, we got more comfortable," Lawrence said. "I think this is just another way to expand the game. There are a lot of people around the country who play flag and this is a way to gain exposure for the game."
LA28 Decision Looming
The opportunity to display flag football to a worldwide audience with NFL players couldn't have been timed any better for Reese and NFL Flag, as flag football is under the microscope from the IOC about potentially being included in the Olympic Games for the first time in Los Angeles in 2028.
The World Games in Birmingham, Alabama, last fall were the first spotlight put on flag football. Then came the past week in Las Vegas, which featured the NFL Flag Championships with nearly 200 teams from a dozen countries participating in front of IOC members.
"The IOC is here to see this being played at every level and it's caught their attention," Reese said. "I can't stress enough how big it was to have flag at the World Games last year. Both the men's and women's divisions were extremely competitive. We're only going to see that grow, especially with multiple countries being represented here at the youth level. You have kids who could potentially be represented if we get into LA in 2028 that are right here, right now, playing at younger ages."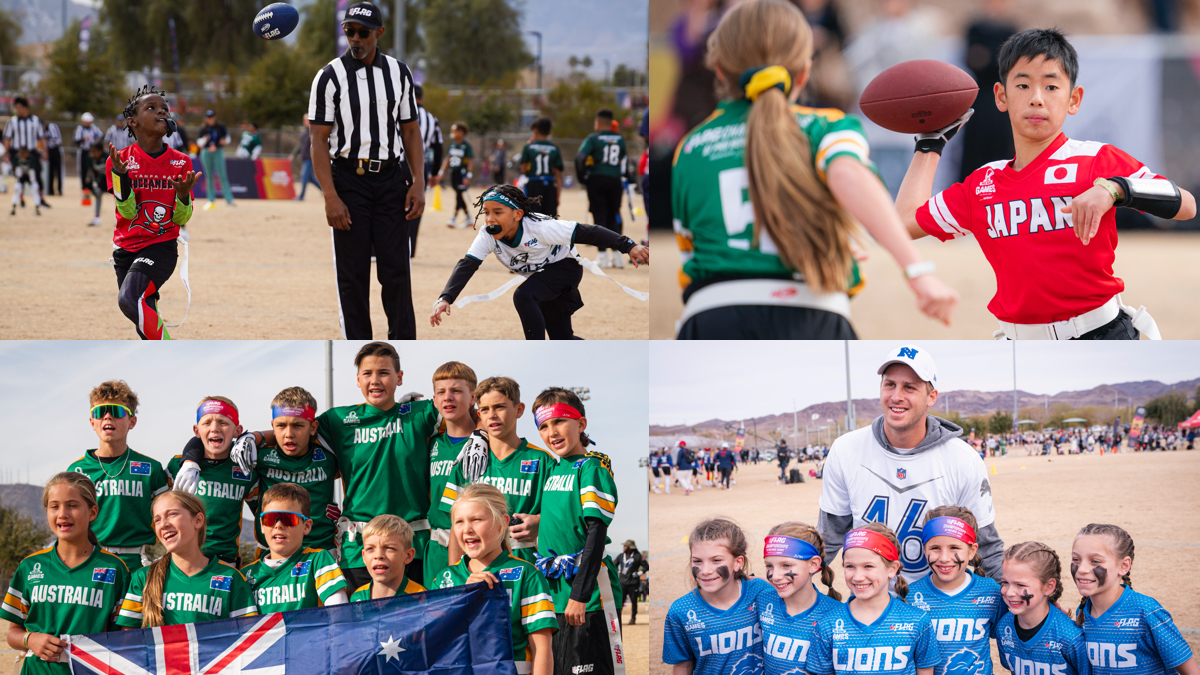 A decision on flag at the 2028 Olympic Games could come this year, making the international exposure priceless for the sport.
San Francisco 49ers running back Christian McCaffrey played in the Pro Bowl and says having flag football in the Olympics would be big.
"I think it would be great and I think you'd see a lot of former NFL players who are just recently retired joining and wanting to play," McCaffrey said. "That's absolutely something I would do when I'm retired — but hopefully that's not for a long time. I thought (playing flag in the Pro Bowl) was awesome. We want to save our bodies and not take any more hits, and that's a great way to keep it competitive and fun and still get after it a little bit."
Football may have been created in America, but the sport has reached all parts of the globe. Flag has been played around the world for many years, but now several countries are coming together in an effort to gain Olympic approval. NFL Flag has teamed with the International Federation of American Football to drive interest.
"The demand is there, the strength is there and we're checking all the boxes in my opinion," Reese said. "And the skyrocketing growth of flag football on both the male and female side is what's going to help us get to that finish line."
A Game for Everybody
Flag football may be a sport geared toward young people to get involved in football in a safer, less violent way than traditional tackle football. An important component of the growth of flag is everybody can play, and that means girls who want to grow up to be football players now have a path to do so.
"You now have 7- and 8-year-old girls saying, 'Hey, I want to play it at every level' and that's a goal that did not exist three years ago," Reese said. "To be able to see that and continue to grow that around the country is what we intend to do."
"I see the girls scaling over boys, because boys have two alternatives with flag and tackle football, where the girls have said, 'Flag is our game, and we want to play it.'"
In the past few weeks, California and New York, the first and fourth most populous states in the country respectively, both recognized girls flag football as a championship sport for the spring 2024 season. This opens the gateway for girls to play flag through high school and possibly beyond.
"Flag is now going into its third year where girls are playing in college and it's growing year over year," Reese said. "Junior college will be launched this year and we're in heavy talks with NCAA institutions to give girls that opportunity. So that's going to be at every collegiate level."
Reese and RCX Sports work with CVBs around the country to organize flag tournaments and events, including NFL Flag College showcases. In the past, most NFL Flag events have taken place in the 32 NFL markets, but the organization is branching out .
"If people want to host it, we want to continue to evolve and expand the tournament series and welcome cities of all sizes," Reese said. "We want to support and partner with those cities and CVBs to be able to continue to grow the game. CVBs are critical in communities and the more we can get community involvement, the better."
Reese says the ultimate goal is get flag to the Summer Olympics and then to create professional leagues as the end game for the top players around the world.
"You see pickleball and how it's exploded and it's professional now," Reese said. "So I think there's a place for professional flag leagues and you'll continue to see it probably on both the men's and women's sides.
"We're in a lot of conversations with the NFL about the adult space and what could that look like, and the NFL being associated with that as well. I could see a world where that is going to happen because it's skyrocketing, so the sky's the limit."