You may think that Puerto Rico is a golf escape and yes, that is largely true. The Puerto Rico Open will celebrate its 15th anniversary in early March, having generated $5.7 million for the economy and creating more than 1,000 direct and indirect jobs. With 16 courses open to the public, golf has boomed on the island during the pandemic.
But golf is not the only sports-related reason to head to Puerto Rico, as this traveler found out during a trip in November. As our guide for the weekend, Discover Puerto Rico's Davelyn Tardi said, Puerto Rico is "sports mad." And with a deeply rooted sports culture that goes back decades and stories that are passed down by each generation, there is something for almost every sports fan on the island at every level of competition.
Honoring Island Icons
You cannot visit Puerto Rico, or talk about Puerto Rican sports, without talking about baseball and visiting Hiram Bithorn Stadium, named after the first Puerto Rican to play in Major League Baseball in 1942.
Estadio Hiram Bithorn, opened in 1962, is the type of stadium that reflects history. From the pictures of Hall of Famers decades ago on the walls as you walk the concourses, to the wavy roof that recalls another icon, Dodger Stadium. There are modern touches within the field's playing surface and some of the 18,000 seats are updated as well but make no mistake — this is a stadium where you go to see baseball as a hard-core fan, not somebody wanting to ignore the game on the field and watch from a TV in a luxury suite.
The Puerto Rican league itself has been around 1938, with fans seeing for decades some of the best baseball players in the sport's history. Memorabilia at the stadium shows a mid-1950s photo with both Hank Aaron and Willie Mays as teammates in the same outfield — how does that sound for a lineup? The list of players who have participated in the Puerto Rican league is a who's who of baseball history and the island has five natives in the Hall of Fame — Roberto Clemente (inducted 1973), Orlando Cepeda (1999), Roberto Alomar (2011), Ivan "Pudge" Rodriguez (2017) and Edgar Martinez (2019). When Rodriguez was inducted, one of the loudest cheering contingents was people waving Puerto Rican flags as he stepped to the podium for a memorable speech in which he switched from English to Spanish to address his fans.
Estadio Hiram Bithorn has not just been the site of winter league games. It hosted MLB's Opening Day between Toronto and Texas in 2001, the then-Montreal Expos in a part-time capacity in 2003 and 2004 and has since had series in 2010 between Florida and the New York Mets and 2018 between Cleveland and Minnesota. Three times, the World Baseball Classic has held games in Puerto Rico.
"Baseball for Puerto Rico, it means a lot," says a coach at the stadium. "It is our number one sport. We take a lot of pride in playing baseball. It's always a proud moment when you see Latinos playing in the major leagues, especially from Puerto Rico. … In the Caribbean, baseball is a passion and hopefully we can continue to have that passion for years to come."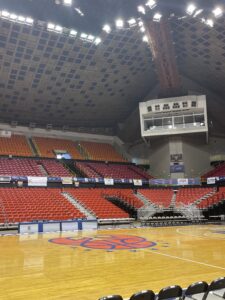 A short walk over from the baseball stadium is another historic venue, Roberto Clemente Coliseum. Named after the Pittsburgh Pirates icon — you see lots of black and gold shirts with "21" on the back to this day in San Juan — the coliseum has been home to boxing title fights, international basketball events and in November was hosting the playoffs for the National Superior Basketball League, which was founded in 1929 (yes, decades before the NBA).
With its distinctive apex roof and seats of various shades of red and orange, the seating capacity is listed at 9,000 but it feels courtside like an arena that is much bigger. Even while standing there in a quiet moment, a visitor can easily see why a visiting team would be intimidated at a full crowd. The NSBL is full of local and international talent yearly; Jose Ortiz, considered the best player in Puerto Rican history, played two stints in the league and won eight titles before and after he spent time in the NBA and in Europe. An FIBA 2019 Hall of Famer, Ortiz's international career is highlighted by four Olympic appearances, none more famous than when he led a team that included Carlos Arroyo to a famous upset of the United States in a game still talked about by locals.
Boxing Remains a Draw
The third pillar of Puerto Rican sports is boxing, with more than 60 world championships in the island's history starting with Sixto Escobar, whose statue is in front of the island's Sports Hall of Fame. Ten Puerto Ricans are in the Boxing Hall of Fame including Escobar and modern champions such as Felix Trinidad and Ivan "Iron Boy" Calderon, who won two world titles and emerged victorious from 11 title defenses from 2001–2012.
Calderon now works training boxers — male and female, thanks to Amanda Serrano's popularity — at the Amelia Municipal Boxing Gym Félix Pagán Pintor, named after one of the island's legendary trainers.
"Those are the main things in Puerto Rico — boxing, baseball and basketball," Calderon tells us. "When they say 'Ivan's going to fight on Saturday,' everybody will go to see that. It's a family thing. Boxing brings families together like baseball or basketball."
While those may be the big three, there is no mistaking the overall sports passion that the island has. Golf has been a tourist boom for Puerto Rico for more than a decade and the island's first Olympic gold medalist was in women's tennis as Monica Puig triumphed in Rio 2016. The San Juan Natatorium is an Olympic-level aquatic facility with a 50-meter pool convertible to two, 25-meter pools, 10 lanes each 5 meters wide with permanent starting blocks. San Juan will also host the International Surfing Association World SUP and Paddleboard Championship this year at the renowned Laguna del Condado and Bahia de San Juan in "La 8," a well-known local break with multiple peaks of sloping waves that break left and right with exposure to most swell directions.
"After a challenging absence of authentic, elite events for the SUP community due to global health crisis, we are very excited to relaunch this amazing event in a true surfing destination like Puerto Rico," said ISA President Fernando Aguerre. "We're thrilled to be back in Puerto Rico, an island rich in surfing and SUP history. This is the start of an exciting partnership with our friends from Puerto Rico and we can't wait to celebrate the beauty and culture of this island."
Soak in the Atmosphere
Of course, Puerto Rico is not just sports. Whether it's lounging by the ocean and walking through the sand on the beach, the island has plenty of ways for a visitor to relax after a day of competition.
The Fairmont San Juan Hotel is where you can have a sushi dinner next to the bar and a stage that has musical performances nearly every night or have the garlic shrimp as part of a multi-course meal at Caña. Take a dip at the multiple pools (one of which has a bar in the middle of it) or walk straight onto the beach in the late afternoon as the waves come in. Want to explore Old Town? Enjoy a rum flight as part of a dining experience at Casita de Rones with some of the freshest pulled pork tacos imaginable, or savor the fried cheese and mahi-mahi at Casita Miramar.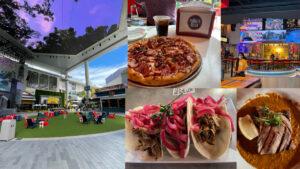 Those in town for an event at the Puerto Rico Convention Center also have a convenient and attractive diversion in El Distrito, an ASM-Global managed entertainment district that includes ziplines and all sorts of dining options. The Arena Medalla is a sports bar with all the televisions and games you could want that turns into a gathering place to cheer on Puerto Rican athletes during international events. Pudge's Pizza, owned by Hall of Famer Ivan "Pudge" Rodriguez, has booths of brown leather that brings to mind a baseball glove while serving some of the freshest bites you could want; the "Munson" pie with pepperoni, ham, salami, bacon and meatballs is as enticing to eat as it sounds.
Puerto Rico also has strict entry requirements and protocols for visitors to the island. This reporter, during his visit to the island in November, was screened at the airport by a medical professional and needed to show proof of vaccination plus describe plans for the trip, including where he was staying, in case contact tracing was needed. All of that is done to any visitor before they are allowed to leave the airport. Throughout the visit, masks were seen at all indoor venues and at no point was entry to any venue during the trip allowed without showing proof of vaccination, as 77.6 percent of the country is now fully vaccinated.
(Editor's Note: While on the trip to Puerto Rico, construction was seen of a stage at Bithorn Stadium for a mid-December concert by Bad Bunny attended by 60,000 people. According to The New York Times, 2,000 people tested positive after the concert and omicron has caused Puerto Rico's positivity rate to jump significantly. Through January 18, businesses were closed between midnight and 5 a.m. while bars and restaurants had limited capacities for indoor and outdoor dining.)
Training for Future Glory
Tucked away in the mountains about an hour away from San Juan in Salinas, Albergue Olímpico Germán Rieckehoff — the island's Olympic Training Center, named after the former longtime president of the Puerto Rican Olympic Committee — sits on 1,500 acres with more than a dozen gymnasiums for all sorts of sports plus baseball and softball stadiums, archery and shooting areas, a track-and-field complex and notably an aquatic complex that could be the perfect setting for any warm-weather training that a college team would want to utilize on a spring break.

There are still reminders of the island's perilous location, battered by a series of earthquakes in 2020 and Hurricane Maria in 2017, a category 5 storm that was one of the worst natural disasters recorded. The gymnastics venue at the training center has pictures of what it looked like after Maria; the venue itself has recently finished its repairs for athletes.
But the training center is not only for athletes; it has a series of water parks for families to enjoy with Ola Marina, Isla Chiquitines, Villa Enchumbá, El Yunque, Piedra Chiquita, Campo Chico and Jardín Botánico, giving those who travel to Salinas the chance to play hard both on and off the field of competition. And the Olympic Museum, recently renovated, celebrates 90 years of legendary moments for Puerto Rico at the Olympic Games — both Summer and, to some surprise, Winter — but also its participation in the Pan Am, Caribbean and Central American Games. It also houses under the floor the tombs for both Rieckehoff and his wife, Irma.
Visitors can learn and see about the accomplishments from festivals decades ago, with everything from running shoes to basketballs and more. There are also other moments to remember such as the letter from the International Olympic Committee recognizing Puerto Rico as a member in the 1940s, to the impeccably maintained suit jacket that Jose "Tonin" Casillas wore as Puerto Rico's flag bearer at the 1960 Games in Rome. Participation medals from every international multi-sport Games that Puerto Rico has competed at can be viewed, as well as a display celebrating major female sporting achievements including, of course, Monica Puig.
"When Monica won in the Olympics, that was a big party for us," I was told during the trip. "We always support our own sportsmen and sportswomen not just in baseball but basketball, boxing, tennis. We're going to support our Puerto Rican players. … We take a lot of pride in what we do and we always represent the island."
Of that, anybody who visits Puerto Rico can be sure.