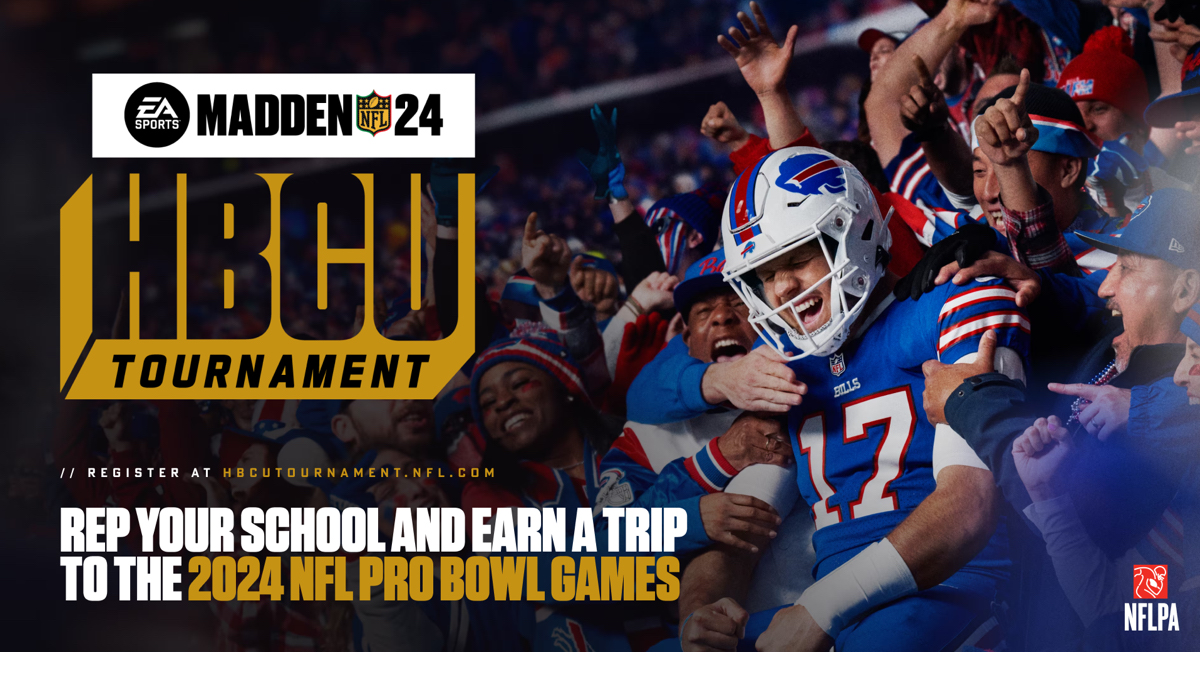 Registration is opening for the fourth annual EA Sports Madden NFL 24 x HBCU Tournament, an event designed for students attending Historically Black Colleges and Universities that have a passion for gaming and football.
The tournament aims to provide students a chance to compete and to explore the business of sports through practical learning and job shadowing experiences at the NFL Pro Bowl Games in Orlando, Florida. Students will have three paths to qualify — open qualifiers, women's qualifiers and HBCU video applications. All undergraduate and graduate students attending an HBCU school are eligible.
"Each year, the Madden Tournament showcases the top gaming talent within the HBCU community and provides the students access to industry experts and career opportunities," said Arthur McAfee, senior vice president of football operations – pipeline development at the NFL. "We are excited to provide this platform with new avenues for student involvement via the expanded women's qualifier and HBCU video applications and look forward to exposing the top talent to a more in-depth look into the business of sports."
Qualifier events take place on October 28, November 4, November 11 and November 18, with the top two in each event advancing to the qualifiers finals. The open qualifiers finals will take place December 2, with the top three advancing to the Pro Bowl. The women's qualifiers finals will be on December 9, with the top three advancing to the Pro Bowl. Students can also participate by submitting a video application until December 1. The top two winners will be selected based on NFL criteria.
"The Madden NFL x HBCU tournament continues to grow every year by leaps and bounds, driving us to deliver a competitive program for HBCU students and discover new ways to educate them on the business of sports," said Ed Kiang, vice president of video gaming at the NFL. "We can't wait to give the students access to all the behind-the-scenes action at the NFL Pro Bowl Games in Orlando."
Players selected from the qualifiers and video applications will participate in media interviews at the Pro Bowl Games and shadow NFL executives. They will tour Camping World Stadium in Orlando, interact with players and receive a media pass for field access to the game.