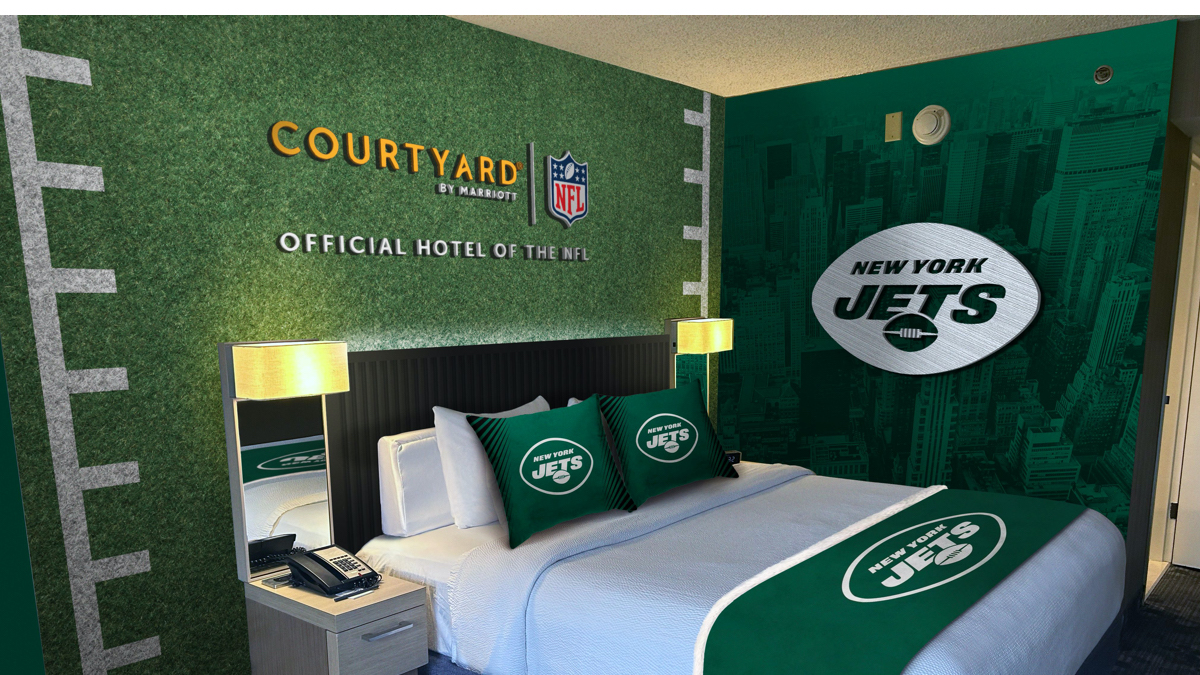 Courtyard by Marriott and Marriott Bonvoy are teaming with the NFL to give fans the opportunity to stay in NFL-themed Courtyard fan rooms as part of the Marriott Bonvoy Moments campaign, culminating with the chance to experience a night in the Courtyard Super Bowl Sleepover Suite in Las Vegas.
Courtyard is in its 13th year as the NFL's official hotel partner and is the official hotel of the New York Jets, Baltimore Ravens and Seattle Seahawks. These three teams will have Courtyard Ultimate NFL Fan Rooms during the 2023 season, which will include exclusive in-room team memorabilia, locker-themed closets and more.
The New York Jets themed room is located at Courtyard by Marriott Secaucus Meadowlands and is available September 28 through October 15. The Baltimore Ravens room is at the Courtyard Baltimore Downtown/McHenry Row and is available October 21 through November 3. The Seattle Seahawks room is at the Courtyard Seattle Downtown/Lake Union, available October 28 through November 10. Fans who stay in one of the rooms or visit a Courtyard hotel in the U.S. during the NFL regular season can enter to win a stay at the Courtyard Super Bowl Sleepover Suite.
"Each year we look for new ways to celebrate our guests' passion for travel and football, and for the first time, we are turning our designation as the official hotel of the NFL into the ultimate expression of fandom with our Courtyard Ultimate NFL Fan Rooms," said Sarah Lipton, vice president, premium and select brand marketing at Marriott International. "Our guests will be able to support their favorite teams on the road one hotel night stay at a time."
Marriott Bonvoy members can also participate in Bonvoy Moments, the platform where members can use points to earn NFL-related experiences. Three Bonvoy Moments this season will include a stay in the Courtyard Ultimate NFL Fan Rooms as well as lower-level tickets and sideline passes at an NFL game for two guests. Bonvoy members can also use points toward access and experiences at the 2024 Pro Bowl Games in Orlando, exclusive VIP experiences and premier tickets to Super Bowl LVIII and NFL Honors, tickets and exclusive experiences at select NFL stadiums throughout the season and at NFL International Games, including games in Frankfurt and London.
"Throughout the entire 2023–2024 season, Marriott Bonvoy Moments will give passionate NFL fans exclusive access to their favorite teams from New York to Seattle," said Jackie McAllister, vice president, brand and moments marketing at Marriott International. "From behind-the-scenes access at the 2024 Pro Bowl Games to suite tickets at Super Bowl LVIII, Marriott Bonvoy is continuing to offer its members with exceptional hospitality experiences that no other travel program can offer."