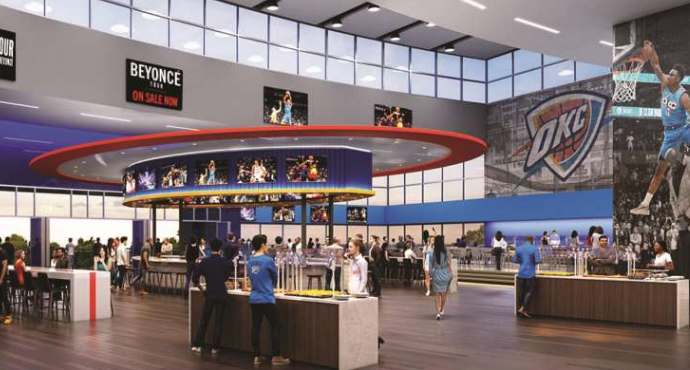 The home of Chris Paul (for now) and the former home of Russell Westbrook will be getting a facelift as the city of Oklahoma City has detailed a series of proposed renovations for Chesapeake Energy Arena, the home of the Oklahoma City Thunder.
The renovations would cover several areas throughout the arena, touching on both the fan experience and also comfort for the team and workers at the arena, which opened in 2002 in a market that is the third-smallest in the NBA.
Renovations were detailed at a hearing of Oklahoma City's Metropolitan Area Projects Plan, a public works program. The cost would be up to $135 million.

The arena renovations would include a new fan lobby at the northeast entrance with an expanded team store, box office, wider concourses and new amenities for season-ticket holders. Along with a new food court in the east area of the arena, the south entrances would be expanded into a multi-purpose space and add 70,000 square feet to the arena's footprint.
Renovations would also include a renovated concourse and a new seating level that would be accessible by elevator, along with hospitality rooms and social spaces. The upper level would be extended 10,000 square feet to allow for more restrooms, plus a dedicated area for dining and drinking. Every original seat in the arena would also be replaced.
The Thunder and their opponents would also get new locker rooms, along with a new locker room for all gender use. The current 20-foot by 10-foot videoboard would be replaced with one that measures 34 feet by 19 feet.