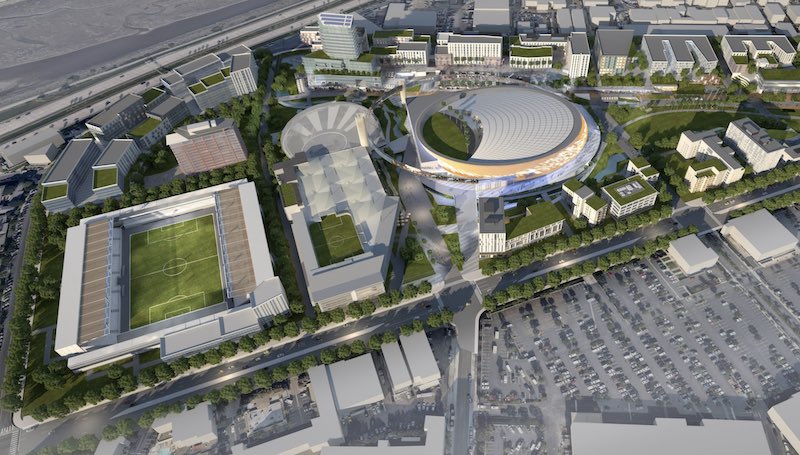 Developers have released updated plans for a proposed mixed-use project in San Diego that would be on the site of the former Sports Arena, incorporating a new arena plus soccer stadium and affordable housing under the umbrella of the "Midway Village+" moniker.
Plans for 49-acre Sports Arena site include affordable housing for low-income and middle-income families; a new sports arena that would be built and financed by Oak View Group; a 12-acre park; a temporary home the USL Championship club San Diego Loyal, plus a new permanent soccer stadium for the team.
"We believe we have the best plan and the best team, but this is a competitive process so we're going to need your support to bring this plan to life," Project Executive David Malmuth said. "This is a plan designed specifically for San Diego but this process is just beginning."
Midway Village+ includes a new arena that would seat approximately 15,000 fans and be designed by Populous while privately financed and built by Oak View Group.
"We've built arenas ranging in size from 10,000 to 22,500 seats in all corners of the globe and we've long-viewed San Diego as a jewel," said Francesca Bodie, president of business development for Oak View Group. "Our team will work with the community to create a memorable space that reflects the needs of the market, but I can tell you it will be a world-class facility that will draw top concerts, comedians, sports teams, and others."
The temporary stadium for the San Diego Loyal would be a modular setup in Phase 1 of the construction that would be home for the team for up to 10 years. Beyond that, future plans would include a 20,000-seat stadium for the team with the development site growing beyond the 49 acres of the sports arena and into an adjacent 17-acre site to the northwest.
The project plans are one of two groups who want to develop the area. A new bid will also be submitted by the Discover Midway group, led by Brookfield Properties and ASM Global, the current operator of the Sports Arena. The new Discover Midway plan also includes a mixed-use neighborhood that includes a variety of housing along with a reimagined or new Sports Arena, office, retail, parks and green spaces.
The competing plans have come about because a previous redevelopment plan called for Brookfield Properties and ASM Global to build a new facility before it was rejected last year by the California Department of Housing and Community Development, which held that it violated the Surplus Land Act requiring that excess government-owned land be available for affordable housing.
"Our team is fully committed to creating a bright future for the Sports Arena site and understands the unique needs of the Midway community and San Diego," said Jessica Jones, senior director at Brookfield Properties, said last week. "We are taking this opportunity to create an enhanced and more robust mixed-use destination that builds on our existing experience collaborating with the city, input gathered from the community and our hands-on partnership with Affirmed Housing, National CORE and ASM Global."