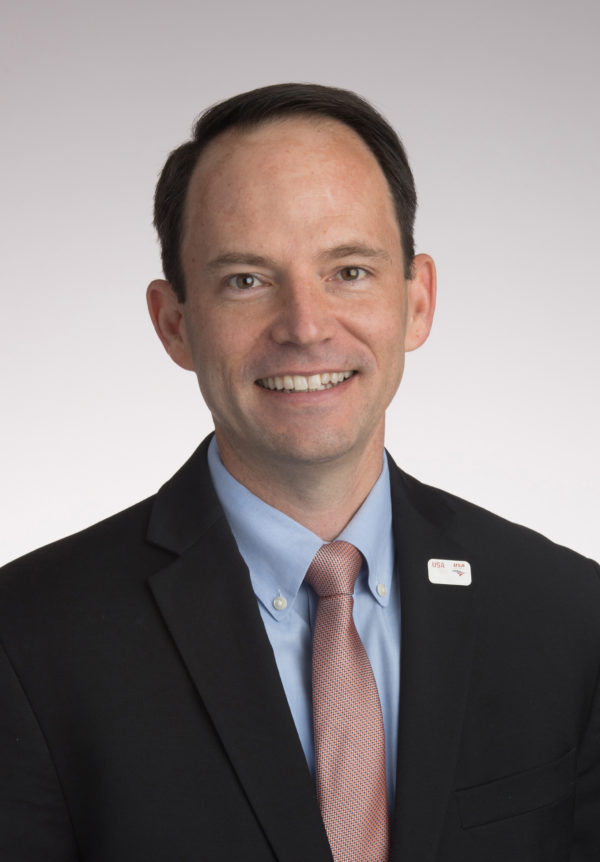 The new CEO of USA Triathlon is focused on bringing value to members of the national governing body and building new bridges for the sport
Rocky Harris is one of a new wave of national governing body executives with no prior background working in Olympic sports before he was named CEO of USA Triathlon in August. But what he did have was a solid background in professional and collegiate sports, most recently serving as chief operating officer of the Athletic Department at Arizona State University. There, his role included direct oversight of strategic planning and day-to-day operations of the department, a role that included adding triathlon as a sport at the university. Prior to that he worked for the MLS Houston Dynamo and AEG Global Partnerships as chief marketing officer and senior vice-president. He also worked as director of sports and marketing sponsorships at Reliant Energy, director of communication with the Houston Texans and media relations coordinator with the San Francisco 49ers. At USA Triathlon, he takes over an organization that sanctions more than 4,000 races a year in addition to organizing its own championship events. In a few short months, he's already made headlines, including a ground-breaking initiative with Ironman, an organization the NGB had not traditionally worked closely with in the past. In this interview, Harris discusses why NGBs are willing to look outside the ranks for leaders, the similarities and differences of the Olympic world to collegiate and pro sports, and why a recent "bro-hug" at an industry conference caused a stir.
Your career was in professional and collegiate sports. What was your interest in the job at USA Triathlon?
I have worked in pro sports and corporate America and collegiate athletics. The one thing I really had zero experience and really limited knowledge of—outside of being a fan—was Olympic sports. But I have participated in triathlon as an age-group athlete. I participated for about eight years in the sport and I was a cyclist before that. I've always enjoyed the sport. It's a lifestyle sport and it keeps you healthy, fit and competitive. When I was at Arizona State, USA Triathlon had a grant program to add triathlon as an NCAA sport. We were the first Power Five school to add an NCAA program. We won a national championship in our first year and won it again last year. So I had some experience with USA Triathlon through that. I became somewhat of a spokesperson for them because ASU was the biggest brand that adopted the sport and they wanted me to go around and talk to other Division I programs about adding triathlon.
But what I noticed as a participant in triathlon was that something had changed, in my opinion, with the national governing body. I got injured three or four years ago and still paid the $50 membership because I wanted to support the sport. That made me pay more attention because I wasn't racing. It felt like the relationship had become somewhat transactional in nature. I didn't have that warm and fuzzy feeling I had felt for the brand before. So when the job became available, I talked to the president because he and I knew each other. The sport was facing some issues in terms of stagnation. It was on this huge growth curve and now it's slowed down and there's been a little bit of attrition. What they felt they needed matched my skill set, which is someone with a marketing focus. I felt I could get people to fall in love with the sport again. So far, the triathlon community has welcomed me with open arms. They wanted change. They wanted to see us be more of a service entity and focus on serving the sport versus just monetizing it.
So what are you focusing your attention on right now?
What we're focused on a lot right now is how are we bringing value to the industry versus how are we extracting value. When you become a successful business like USA Triathlon has, you become a business. I don't think that's our mission. We're a nonprofit. Our mission is not to make money. Our mission is to serve the sport, grow the sport and make sure everyone in the sport is successful. And as a byproduct to that you can make some money that you can put in the bank to run your organization. Part of why I was brought on here was about changing the meaning behind what we're doing and the focus. If I have to make a decision between making a dollar here or improving the sport, I'm going to make the decision to improve the sport. The money doesn't lead my decisions, it follows them.
A number of the new NGB leaders, including Jamie Davis at USA Volleyball and Tim Hinchey at USA Swimming, are not from the governing body world but have similar backgrounds to you working in professional sports or marketing. Why do you think that's the case?
I think this will be a trend, especially if Tim and Jamie and I do well. When I got into pro sports when I was with the San Francisco 49ers, we were a mom-and-pop shop. We had these very successful coaches who had become GMs and presidents and they were running these multimillion-dollar business. If you think about it, the owners there had four or five or 10 businesses. The one that was the most public facing was the one they had the least business acumen in. So in the late 1990s and early 2000s, they started inserting these presidents of business operations and the business evolved significantly. When I got to the 49ers, we didn't have a marketing department. We outsourced it. I was an entry-level PR person and we did everything. That's how far pro sports has advanced over the past 20 years.
Major League Soccer is another example. They decided to start investing in the business of the sport and created their own marketing arm that ended up monetizing the sport. I came in right during that time, so I was lucky to see this significant growth in that sport as well. In college athletics, it was the same thing. The presidents of these universities said these athletic directors are great people, they've won a lot of games, but I need someone who can basically put a pro forma together. We're building these multimillion facilities and we're paying these coaches all this money, we need to make sure we have someone in there who can make sure we're running it like a business.
Now fast forward to the NGBs. They are all run like great businesses. But what I see happening right now is the need for new ideas to come in and the need for people with these experiences having seen other sports go from really good to phenomenal in terms of exposure, growth and brand. There has been a little bit of a leveling out in terms of success among many NGBs. These boards are now looking at it and saying why not? Why don't we try someone without your typical background? Why don't we take someone who hasn't been groomed for 20 years to take this job? Why don't we take someone from the outside and see what new things they can bring to the table?
Are there comparisons between fundraising for a college athletic department and raising the money needed to support an NGB?
At the collegiate level, donors invest in you. They invest in people. When I'm asking someone for a $10 million check, they're investing in the school. But if they don't trust you, they're not giving you the money. My first year at ASU, I went on a speaking tour and basically broke down these barriers and walls around our university that had built up. I talked to people and let them know what our plan was and what our vision was. When you talk to people and you're transparent and let them know why you're making decisions, they may not agree with those decisions but if they know why you made it, they typically get it. That's what I'm seeing here at USA Triathlon. We also have built some walls up around ourselves for various reasons that no one is to blame for. Now I'm overly honest and transparent about why I'm making decisions. That's what I saw work in college athletics. Pro sports was much different, it was about monetizing every dollar. But college athletics taught me how to think differently about the business model of sports and how you can still be very successful without leading with making money as the primary objective.
You recently held a weekend-long meeting with race directors. What kinds of things are you hearing from them?
I actually have been getting emails from them that they're re-energized and getting excited. The reason why is they felt like we had a transactional relationship with them. They had to sanction with us. They gave us a check. They had all these people participate in their events who had to be members. We spent the whole weekend talking about what value USA Triathlon can bring to them as race directors. As an example, it's really important for us to better promote their races. So we're going to insert in each of our emails to our members local race calendars that they can click on for races in their area. We also heard from them about quality control and their concern about other race directors not having the high standards they have. So we're going to implement some quality-control measures.
A lot of it was they felt like they hadn't been listened to: Run your events, we'll cash the check and make sure you're insured. And that's not a recipe for long-term success or a viable business. We're perceived as a bureaucratic government group that was slow and never made decisions or never wanted to rock the boat or try new things. Our staff is not like that at all, we were just perceived that way.
You recently launched the "Time to Tri" initiative with Ironman with a goal of getting 100,000 new people to try the sport. USA Triathlon has not always had a close relationship with Ironman. How did that partnership come about?
My first day on the job I met with Derek Bouchard-Hall, the CEO of USA Cycling. They are across the parking lot from us but there was no relationship. The second day, I flew to Chattanooga for the Ironman 70.3 World Championships. I met with Andrew Messick, their CEO, and a few of their executives. It could have gone really bad because USA Triathlon and Ironman have not had the best relationship. For some reason we saw them as competition, which doesn't make sense to me because we're the governing body. When we sat down, my objective at that meeting was to get some alignment around shared objectives that were mutually beneficial to grow participation and grow the sport. When I sat down, I was pleasantly surprised. Andrew and I had both worked at AEG together, although not at the same time. We ended up having mutual respect even before we met because we knew we were raised in the AEG family. Right away we were talking about what's important to us. I said for me it's about growing participation in the sport. He said the same.
What is the plan for this initiative?
We've always taken a short-term strategy and this is a long-term strategy. We said, let's work together to grow participation and figure out how we can get our teams together and get our entire industry to rally around bringing new participants to the sport. That day we came up with the idea to create this initiative that would take the entire industry—race directors, clubs, coaches, participants, merchandisers, retailers, sponsors, everyone—and align us around the growth of the sport. The way the sport was, and a lot of businesses and sports are like this, we had a couple thousand people all moving in different directions, but all trying to do the right thing. I feel like the governing body should be the glue that brings it together. We've never had an industry initiative. So my team flew out to Tampa—my chief marketing officer had been here eight years and had never been to their office at Ironman. Ironman has never been here. We had executives come out here for planning sessions, one or two days each. It shows you how these little things can make a huge difference.
What has the reaction been in the industry?
When Andrew and I announced our plans at our big conference, TBI, in January, the biggest statement wasn't that we launched an initiative that everyone loves, it was the fact that we were on stage together and bro-hugged. That was the biggest news there. [Laughs.] It shows you how simple steps are going to make a big impact in our sport. Now we have hundreds of industry leaders who are committed to doing things to grow the sport like adding multisport clinics around the races and giving free swim lessons. Triathlete magazine is giving $100,000 in free advertising to us. Rudy Project is going to give us free helmets. The industry has stepped up to say we're going to break down the barriers so people who have always thought about participating no longer have any excuses not to.
Part of this effort includes a website for people interested in giving triathlon a shot. It looks like you've done a nice job customizing the content there for people at different skill levels…
That's music to my ears that you said that. If you've never done triathlon, you wonder how do you transition from swim to bike, what do I need to have? The training plan is something our certified coaches put together. We went back and asked if they can simplify it even more. Nobody understands our vernacular. Let's clean it up so someone who has run one 5K can look at this and say, "OK, I can train for that." With the sliders we have on each discipline, the content changes based on how advanced a swimmer you are. We have over 70 articles in there and the ones that go on your stream are different than someone else's based on the sliders. There's a free training plan there. If you look, there are local races in your area too. We wanted that as one tool for the industry.
What are the main barriers for people wanting to get started in triathlon?
The three barriers for our sport are swimming—people are afraid of the swim; information and education such as how to train or what to do; and the third is financial. We thought launching that web portal would help take care of that middle section: information and education. I also have our whole team focused on breaking down the swim barrier. How do we work with all these great swim coaches at USA Swimming's learn-to-swim program? How do we figure out how to make that not as much of a barrier, since it's always going to be for certain people? And then financial barriers, how do we lower costs? We're trying to work on it for all ends. It's a three-year initiative, not a one-year deal. I'm someone who likes long-term planning. I want to build a strong base, build something we know will work for 10 years and by year three we will have seen big results.
Are there other new ideas at USA Triathlon you're planning to implement?
Something that's really important to me—and I don't know if anyone in our space has it figured out yet—is data infrastructure. We have eight different databases at USA Triathlon and none of them talk. We're creating a data warehouse and we're going to start using data to make more informed business decisions. There's some predictive modeling we can do around participant behavior. I don't know if this is the case without data informing us, but if we know people usually quit after the second race, what can we do to incentivize them to get to that third race? Right now, we're just out there making decisions on what we think instead of being informed based off of data and information and analytics. I think we're going to see a shift in the NGBs in that space. It's going to be a focus of ours to get all our data in one warehouse and get a 360-degree view of each participant to see what they've done throughout their triathlon career. When did people leave us? Why did they leave us? When did people join? And then what races do they do? I don't make every decision based on data, but it informs my decisions. Right now, I feel like most of us are just making decisions based on history or what we feel without actually having information to inform us.
At ASU, if a donor was within a certain percentage of the next giving level they got an automatic email that if you just give this much more, you get this many more benefits. We got huge donations from that and it was all automated. Here, you can see the same thing. If someone has done two one-day races or bought two one-day memberships, they've already paid $30 toward the full $50 membership. Shouldn't we let them know they only owe $20 to be an annual member? Little things like that that can become automated versus us having to manually pull lists and calls. I think we can go out of the dark ages and into the future here at USA Triathlon and I hope others replicate it.
USA Triathlon was divided into 10 regions when it came to funding and events, but that number has been reduced to six. What was behind that thinking?
That happened before I came and I was lucky enough to inherit it and manage the transition. They had a data analyst come in to determine the best mix to make it so the membership is evenly dispersed across the country rather than one being heavy and the others being light. We added three staff members that are going to facilitate it. What happened is we basically gave money to these 10 regions and they would do what they wanted with it and we hoped it worked. Now it's more of a centralized model where we still have a huge budget that we invest in each of the regions but it has to be approved and has to align with our strategic plan. It can't be to buy mugs as giveaways or those types of things. It has to literally impact the sport, the youth, the growth of women in our sport, focus on short-course racing in local communities, or positively impact race directors, coaches and clubs. Even though it's a big change and a transition is always tough, and even though I wasn't a part of the decision, it was the right decision to make.
USA Triathlon sanctions thousands of events, but you also organize your own championships. Do you envision any changes to those events?
We have four that we own and operate. They've been successful. Our Age-Group National Championships is up 65 percent year over year. For our Duathlon Championship in mid-April, we're already ahead of last year's final total, so we're seeing some growth in our events. What we're really focused on now for our events is we have hired a sponsorship sales agency, IPG360 out of Los Angeles. My concern is we've had mostly endemic sponsors, which are great, and they've been big supporters of ours. But if we really want to grow—and I don't want my marketing team necessarily focused on this—we have to go out to the Coca-Colas of the world, the big brands. I want an agency to come in and help support us. I think we'll do much better if we have a higher level of support from bigger and broader sponsors. Our Age-Group National Championships are the biggest event in America for triathlon and it's one of the best, especially in terms of economic impact.
Another thing I really want to see at our events is a better spectator experience. I want more of a festival experience around it so people aren't just standing there watching someone do laps. I want our youth and junior national championships to have a kid zone. I want to make it so when you go there it's an experience and you're not just showing up for a sporting event. In Cleveland this year for the Age-Group Nationals, we're looking to do a concert series in the park next to it so it's bigger than just the race. That's one thing that my team is really focused on is enhancing the spectator experience at our owned events.
You mentioned going after non-endemic sponsors. Is there a lot of opportunity for growth there?
We have a lot of really important triathlon sponsors but not a lot of sponsors that the general public knows about. We've done a great job with the sponsors we have. We over-deliver, bringing tremendous value. But I think we can still broaden it significantly. When you bring in big businesses, they don't only give you money. They give you support, resources, marketing, all these things that help build your brand. The more resources we have, the less we have to count on those who have been giving to this sport forever to support us. That will actually help the sport grow.
You served on a number of host committees during your time in Houston, including for the World Cup and the Super Bowl. How has that background helped you in this position now at USA Triathlon?
In Houston, I worked with the Super Bowl, the Major League Baseball All-Star Game and the World Cup host committees. And then I worked at AEG, which is the biggest facility company in the world. When I got to ASU, I was responsible for bidding on NCAA events in the Valley and also building facilities. Here, it's not facility-based but we are trying to bring events to cities. We have eight national championships, multiple regional championships, so I know how to deal with the local organizing committees because I've been on both sides. I know what's in it for them. I know they need to fill room nights. I'm not going in there blind.
But I think where I see that back history benefiting is a lot of our race directors are having issues with their cities or local governments not supporting their events. Not that I want to go out and create a public affairs or government affairs division, but I think over time, part of our responsibility as an NGB is to go in and educate these LOCs, these tourism groups, these mayors and cities to better support the sport. They're making it harder and harder to run triathlons since we have to close roads. I think we can serve in that role. I saw the best bids eventually won not because you had the best bid all the time, but because of relationships you had, because of having these discussions over years. Part of what I want to do is help some of these race directors or others in these cities be able to keep their events there and over time bring events to the cities that have most supported the sport.
After years of working in a collegiate administration, are you finding it enjoyable being back at a sports organization?
At ASU, I was the athletics liaison for developing 300 acres of land. I'm not a developer but I ended up becoming a designer, builder, developer and city planner as part of my role. One of the things I love about this job is it's really nice not to have to deal with that part of the business right now. Although that was fun and intriguing and I learned a ton, I love getting back to sports. And right now, I'm focused on growing a sport versus building buildings. Sometimes in college athletics and pro sports you're so focused on building these buildings, which is great, but it takes you away from why you're really there—to grow a sport and impact lives. And I feel that now I'm repositioned in my career to be able to do just that.