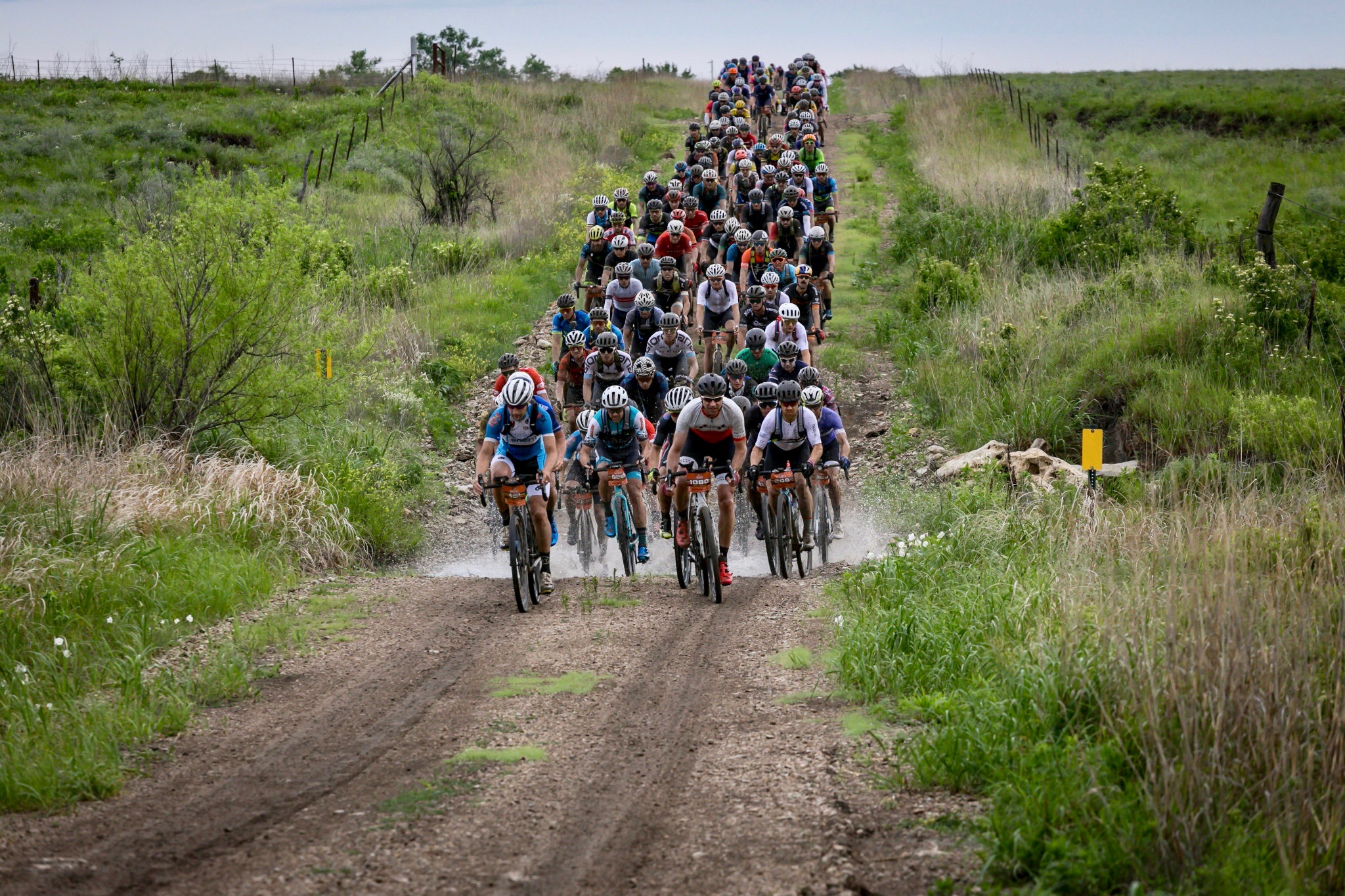 For years, the claim to fame for Emporia, Kansas — a city of 25,000 between Wichita and Topeka — was that William Allen White, the famed Kansas newspaperman from the early 1900s, called the area home.
"I love that we have that history," said LeLan Dains, director of Visit Emporia. "But no one is pulling off the interstate because William Allen White used to live here."
Now, thousands of people a year pull into town because of Emporia's new identity in one of the fastest-growing disciplines in cycling — gravel racing. And other small- to mid-sized cities are seeing similar outsized interest from people interested in discovering remote dirt roads.
The Emporia race now known as Unbound Gravel (formerly Dirty Kanza) is considered the Super Bowl of the discipline that is taking the cycling world by storm. The June 4–6 race marks 15 years since 34 riders took off from downtown for the remote roads of the Flint Hills. Today, up to 4,000 riders from all 50 states and 38 countries come to town, assuming they've won entry from a lottery that sells out in minutes. And to ride that dirt, they pay up to $240 depending on the distance, with most opting for a 200-mile route.
"We often talk about this event as being lighting in a bottle: right place, right time, right people," said Kristi Mohn, the race's longtime race director who now serves as marketing manager.
While Emporia may serve as the prime example of how a destination can grow a gravel cycling event, it's also a case study for other destinations that may struggle in their sports marketing efforts — or feel they don't have anything to offer. In cities such as Trinidad, Colorado, and Beaver, Utah, an abundance of gravel roads has become an asset for a class of sports events that has inspired people to get out and ride in ways other cycling events are not.
The Road to Unbound
The Emporia race began in 2006 after two of its founders participated in a gravel race in Iowa and wanted to replicate something similar. That race, however, was point-to-point covering 300 miles. That made logistics difficult, said Mohn, an Emporia native who joined the Unbound event team in 2009 and has been involved ever since.
As a result, the Emporia race took on the form of a giant loop from downtown, with checkpoints every 45 to 90 miles. Mohn, who had moved away from town but moved back in 1996 to run a downtown music store, saw potential right away in the route that goes through the Flint Hills of east-central Kansas, one of two tall-grass prairies left in the world. She describes the area as "beautiful, rugged and remote."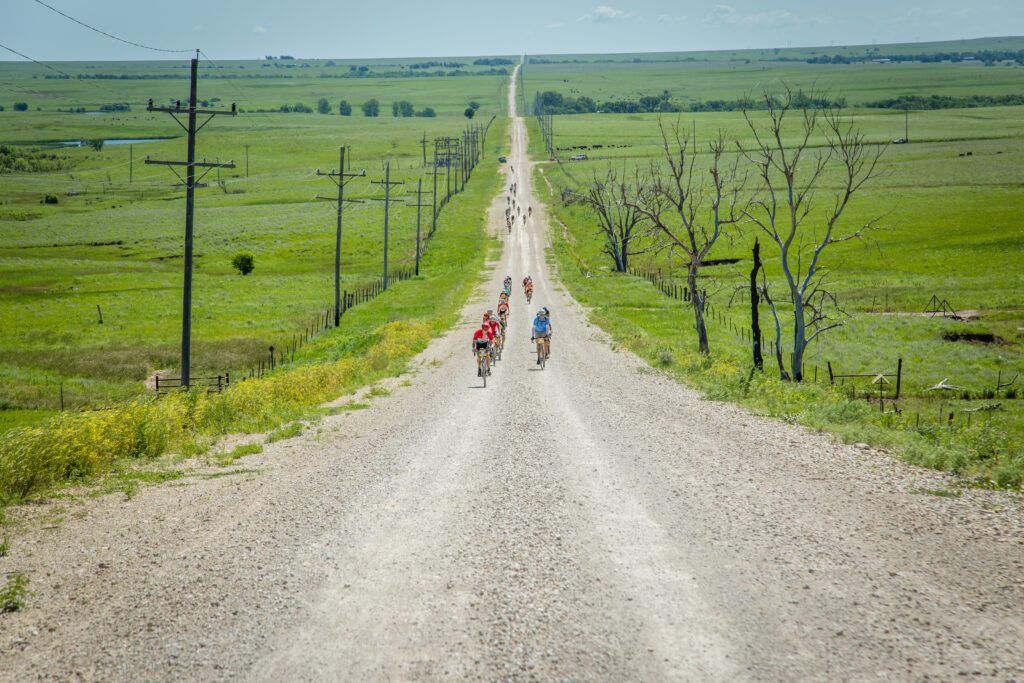 Around the time of the race launch, Mohn had also been put in charge of the city's efforts to attract new events. "I looked at it differently," she said. "Maybe we should look at events already happening in Emporia and make those events bigger and better." What she saw in Unbound, where people were traveling from around the country to ride on the region's gravel roads, was a winner. "The best term I could use is that I thought it had some legs," she said.
Indeed, after the 2017 race, so much word had gotten out about the experience in the Flint Hills that race officials had to make entries available via a lottery for fear the crowds would start to exceed the town's ability to organize a successful event. But the interest in the lottery also exceeded what was expected. "We told people it sold out in five minutes but it actually sold out in two," Mohn said. "The number of people who had clicked the 'buy' button at 7 a.m. was 7,000. It just crashed the system."
"We told people it sold out in five minutes but it actually sold out in two. The number of people who had clicked the 'buy' button at 7 a.m. was 7,000."
—Kristi Mohn, Unbound Gravel Marketing Manager
In time, professional riders began hearing about Emporia and decided to enter as well.
"It had been growing for quite some time but then we started attracting world champions and former Tour de France riders," said Dains, the CVB director who also served years as the race's operations manager. "We were already on the map, but when they started showing up, I was like 'Wow, this is truly something.' At that point I really felt like we're turning a corner here."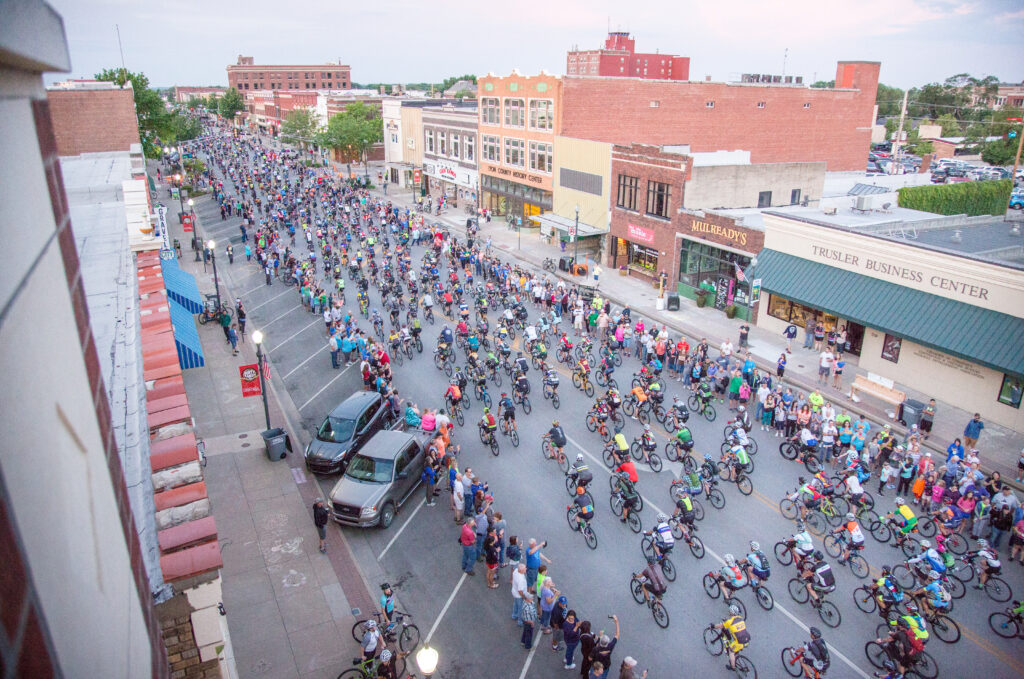 Today, racers have the option of riding 350, 200, 100, 50 or 25 miles. There is also a junior's race. While organizers couldn't produce a 2020 race because of the pandemic, the 2021 race is being staged with a smaller-than-normal field. A typical race field will be about 4,000 riders. But the 2021 race will be groundbreaking nonetheless as flobikes.com will air the event live, believed to be the first gravel race that will have a broadcast audience.
As for economic impact, the 2019 race was estimated to generate $5.5 million over the event weekend.
Enter Life Time
In 2018, the Emporia race caught the attention of Life Time, the company that operates gyms around the country and has also expanded into live events. Life Time currently organizes 38 live events a year and has been acquiring some of the jewels of endurance racing. That stable of events includes the Leadville 100, a legendary ultramarathon and cycling event in the Colorado town that at 10,151 feet is one of the highest-elevated cities in the country.
The company now has its hands in some of the biggest gravel races in the country as well. A year after acquiring Unbound, Life Time purchased the Crusher in the Tushar event that takes off from Beaver, Utah (claim to fame: birthplace of Butch Cassidy) and ascends to the Eagle Point ski resort in the Tushar Mountains. In 2020, Life Time planned to launch a new event, the Big Sugar NWA Gravel in Bentonville, Arkansas. But after the pandemic canceled plans for that launch, the event will be staged for the first time October 23. And in April, the company announced that it would launch the October 2–3 'Rad Dirt Fest in Trinidad, Colorado, which will feature gravel races across three distances and two trail running races.
Kimo Seymour, a Life Time senior vice president, said the interest in gravel races stems from people's interest in moving away from road cycling, where clashes with vehicles on heavily traveled roads have led to conflicts and in many unfortunate cases, injuries or deaths to cyclists. And for those not interested in pure mountain biking on steep trails, gravel racing on often-remote roads seems to be a happy medium.
"[Trinidad leaders] realize the next big opportunity and the next evolution of that town is outdoors. They've been sitting in the middle of what is an outdoor mecca."
—Kimo Seymour, Life Time Senior Vice President
"Riding a bike on pavement with cars whizzing by at 70 mph and people on their cell phones, you don't stand a chance," Seymour said. "It's just gotten more and more dangerous."
For Life Time, the move into gravel racing is a play into the company's culture, Seymour said. "Our events become these aspirational opportunities to do more than just go to one of our clubs and lose a few pounds and work out with a trainer," he said. "People really engage with these aspirational opportunities."
For communities like Trinidad, which sits near the Colorado–New Mexico border, the abundance of gravel roads (an estimated 1,200 miles in the surrounding county alone) and a city leadership looking to embrace the outdoors as a potential tourism asset, gravel races like 'Rad Dirt Fest seem an ideal fit. "I went down there to Trinidad for that launch party," Seymour said, "and I was blown away. They realize the next big opportunity and the next evolution of that town is outdoors. They've been sitting in the middle of what is an outdoor mecca."
'Much More Like an Ironman'
One cycling industry veteran who saw the move to gravel coming for years is Micah Rice. The former national events director for USA Cycling, Rice now works as vice president of event strategy and operations for Sports Strategies. He was recently brought on to serve as race director for SBT GRVL, a gravel race that began in 2019 in the Colorado mountain town of Steamboat Springs.
The popularity of gravel racing, Rice said, could be seen early on for similar reasons that Seymour noted. "Cruising around on paved roads never feels safe," Rice said. The Steamboat race allows participants to ride routes that go 142, 105, 64 or 37 miles starting in downtown and looping around the surrounding remote Routt County.
Cycling enthusiasts have also started gravitating to gravel bikes, Rice said, which are something of a cross between a road bike and a mountain bike. The handlebars may look like those of a road bike, but the wheels are typically wider like a mountain bike and inflated to lower pressures than a road bike to allow a more forgiving ride on dirt.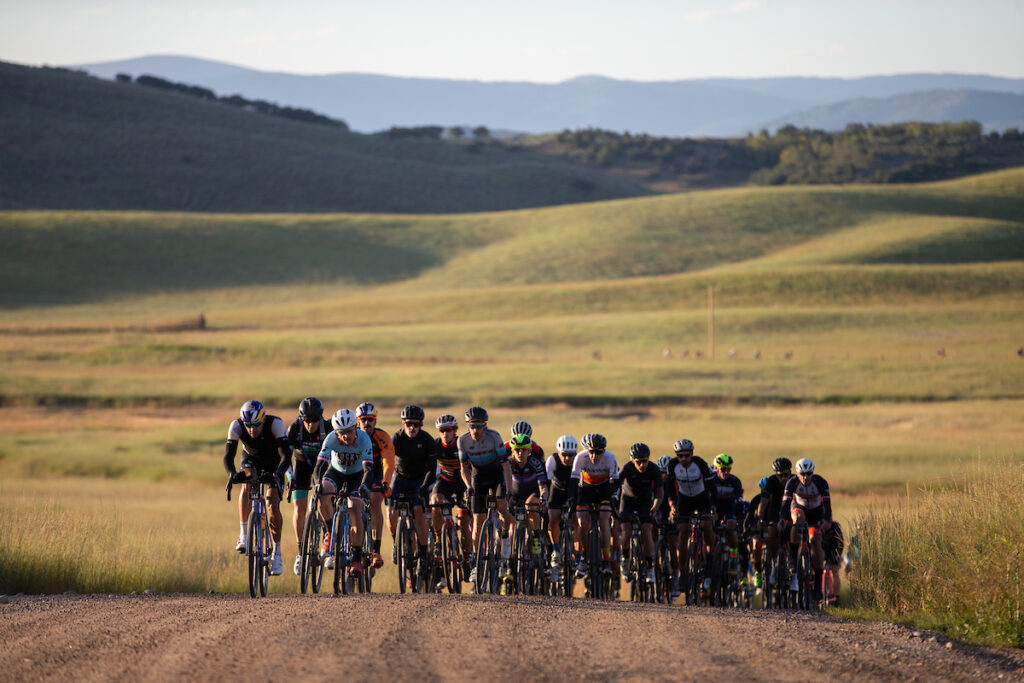 The endurance nature of the sport is also appealing, Rice said, giving participants a similar thrill to competing in a triathlon. "You can ride in a group and you can run it on your own pace," he said. "It's much more like an Ironman in that way where it's more about participation."
From a race director's perspective, Rice said there are other benefits to staging gravel races on rural roads. "It's hard as a race director to operate events, to shut down roads and pay for police," he said. "The municipality doesn't want roads shut down. The permitting process is just hard and expensive. But a lot of those municipalities are like, 'You can use those dirt roads.'"
Mohn said Emporia's approach along the route is to communicate with landowners that they are going to see riders coming by at all hours. (For the Unbound 200-mile distance, the fastest time recorded is just under 10 hours.) "Although it's open road, we feel there's a due diligence to talk to the people who live on those roads and manage those roads," she said.
"It's hard as a race director to operate events, to shut down roads
and pay for police. … But a lot of those municipalities are like, 'You can use those dirt roads.'"
—Micah Rice, SBT GRVL Race Director
The Steamboat race had its first edition in 2019 before the pandemic wiped out the 2020 event. But taking a page from Emporia, the 2021 event — which will be staged August 15 — went to a lottery system for entry. The inaugural race had about 1,700 spots that took about six days to fill. This year's 3,000 spots were taken in less than 10 minutes, Rice said, including those for the popular 142-mile loop that the best riders will complete in about seven hours. Entry cost is $250.
In Steamboat, whose popular ski resort already attracts international tourism, the race is a draw because of the destination, Rice said.
"People are coming to Emporia and spending the weekend to ride their bikes because they've heard of these races and seen the pictures on Instagram of the rolling hills and this adventure that you get to ride your bike in the middle of nowhere and you're excited about that," he said. "Steamboat is a destination in itself. But the roads you ride on in Routt County are just unbelievable."
A Model to Replicate?
Dains, who took over as Visit Emporia director in April, cautions other communities looking to enter the space that while having access to dirt roads is an obvious advantage, the dirt alone won't cut it. Part of the wild success in Emporia, he said, has been a community willing to embrace the event and accept the bustle in downtown for the start and finish of the race. Those living along the route have also been supportive.
"You can't match what the people of this area have given," he said. "Not every community wants to work as hard. Everyone has worked very hard to grow the event you see today."
Mohn, Unbound's marketing manager who has been there nearly from the beginning, said the city's size also lends itself to success. "The size of Emporia is conducive to an event like this," she said. "It's not too big and it's not too small. People here like it because it's our event."
The potential exists for other destinations to attempt something similar, Mohn said. While she agrees the local support has been helpful in growing the race, it has also been essential that the area has something to sell with its unique terrain. "There's room for a lot of us but the successful events are those that identify a personality, that have a story to tell within a community," she said. "People are looking for those opportunities."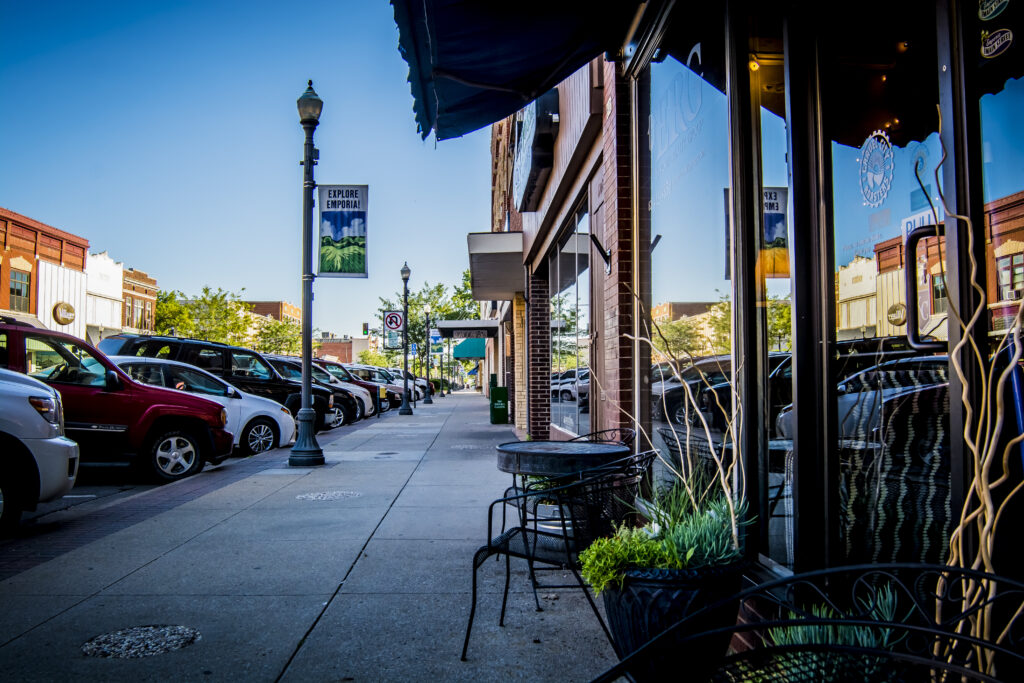 And the event has been good to Emporia. After a few years, riders started coming outside of race weekend to see what all the fuss was about. There were enough people year-round that Dains co-founded a downtown bike shop that serves riders today.
Mohn added that when the race was formed, Emporia's downtown lacked the types of businesses most would come to expect. "There was one barbeque place downtown off the beaten path but other than that there were no restaurants," she said. "And since then, we have a great selection of restaurants downtown."
Yet there is room for improvement, Dains said. One of his pushes is to get younger people involved in racing. He also leads a community effort to teach people Spanish, noting that while nearly 25 percent of Emporia is Hispanic, that demographic is not yet reflected in the participants in the race.
Building Roots from Gravel
From a destination marketing perspective, Dains sees sports as playing a big role in Emporia's future. The city also hosts a significant disc golf event and 15 former tennis courts were recently converted to pickleball courts to take advantage of the growth of that sport.
But Unbound continues to be a year-round draw of sorts. Dains said people come outside of race weekend because they want to experience the ride they see people doing at Unbound. The pandemic, ironically, has also worked in the town's favor as some riders don't want to be around the crowds that come for race weekend, he said.
"The goal is simply to further that reach and increase the number of visitors that are coming, spreading that message that this is a destination beyond the event weekend."
—LeLan Dains, Visit Emporia Director
"The goal is simply to further that reach and increase the number of visitors that are coming, spreading that message that this is a destination beyond the event weekend," Dains said. "The message of come ride here any time of the year if you're uncomfortable with the big crowds becomes more powerful as a result."
But wherever Emporia goes next, its roots will be planted in some of the finest gravel in the country – rocks that are attracting record amounts of interest.
"It's a great example of saying what are our sports tourism assets and how do we leverage them," Rice said. "I think some of these cities are finding that this network of gravel roads is an asset they never knew they had."