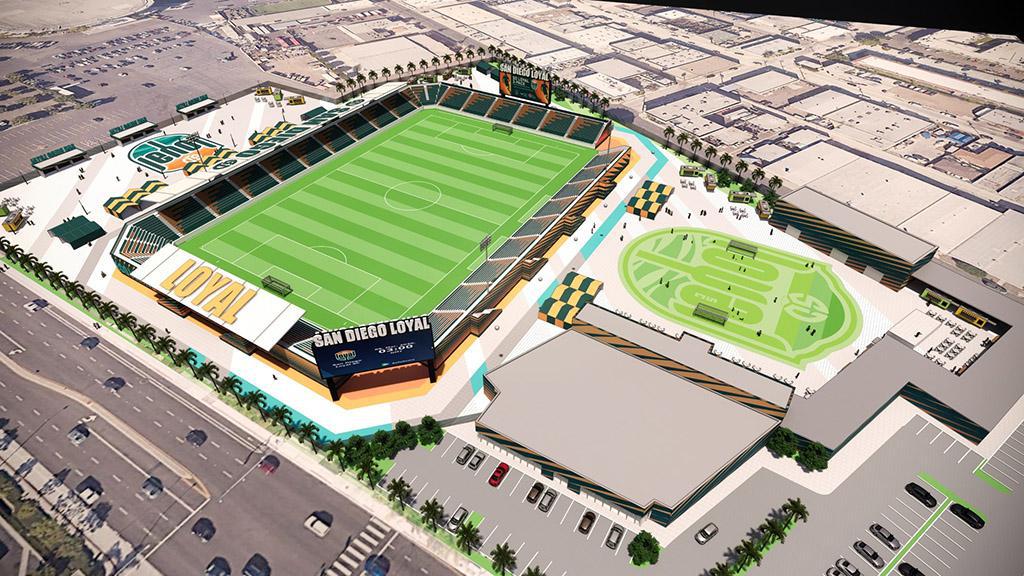 The latest area of the downtown San Diego area to potentially be renovated is the Midway-Pacific Highway neighborhood as the USL soccer club San Diego Loyal is proposing a redevelopment to break ground in 2022 for a 15,000-seat soccer stadium on the site of the San Diego Sports Arena.
This proposed stadium would serve as the club's home for up to a decade as it continues to build its fan base. The club would serve as a partner on the Midway Sport and Entertainment District team; in addition to the new soccer stadium, the approximately $1 billion project would also feature a music venue, housing, retail, restaurants and would be anchored by a new 12-acre public park.
The Loyal, owned and coached by U.S. soccer icon Landon Donovan, plans to use the new venue for its games before exploring a more permanent location in San Diego in years to come. Development on the project would occur in three phases with completion by 2029 at no cost to San Diego taxpayers, modernizing the existing 48 acres of space.
"We are thrilled to announce our partnership with the Midway Sports and Entertainment District project and are proud to be asked to participate in such an innovative concept," said SD Loyal President Warren Smith. "We want our club to continue to be a pillar in the community by creating passion for active sports and healthy living. We're looking forward to the positive impact a project like this will have on the San Diego community by making it an even better place to live, work and play."
According to NBC San Diego, the full plan for the area is ambitious and sports-centric, including not just a $125 million modernization of the sports arena, but adding a new 15,000-seat soccer venue for the Loyal. MSED's entire bid includes a public park, a music venue with seating for 3,500, office and retail space, over 1,400 housing units, 250 hotel rooms along with renovation and modernization of Pechanga Arena San Diego with seating for up to 15,000. The arena currently hosts the American Hockey League's San Diego Gulls, National Lacrosse League's San Diego Seals and Major Arena Soccer League's San Diego Sockers.
"Our club cares for the growth of our San Diego community and the new district project provides a great opportunity to transform an underutilized area into a place that celebrates our passion for fun and fitness," said Smith. "Our hope is that integrating with such a mixed-use space will help grow the fan base for not only the SD Loyal team but for soccer in general. San Diego is one of the largest soccer areas, and we want to reinvigorate fan passion for the sport."