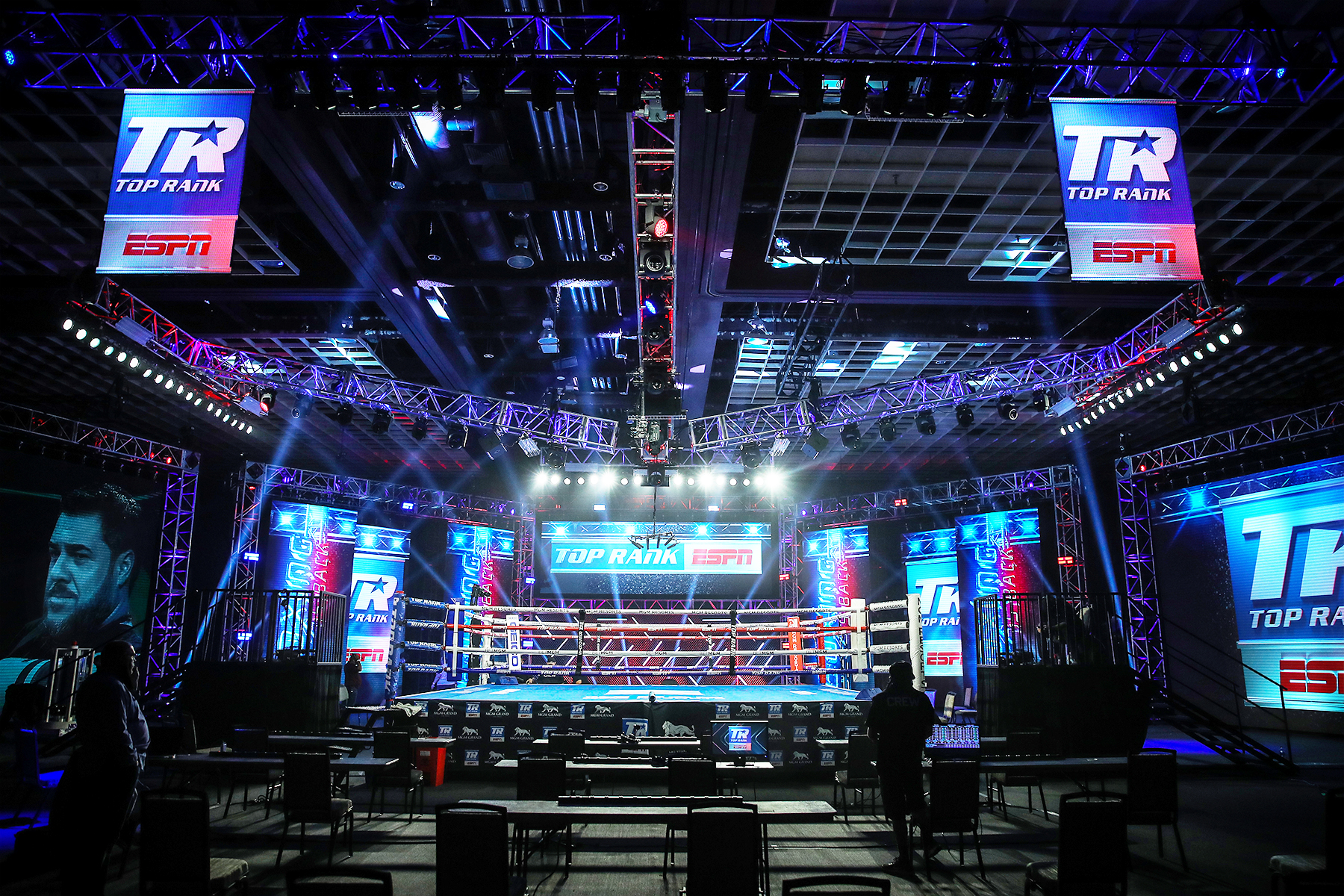 There are few events that can bring an electricity to the venue and surrounding area than a big-time boxing event. Some of the world's biggest fights staged in New York and Las Vegas have led to legendary tales of a city being packed with celebrities and regular fans alike both ringside and around a central location.
The COVID-19 pandemic changed everything for boxing just like every other sport, shutting down a pair of cards in mid-March as well as a few other events scheduled internationally for Top Rank Boxing — home for some of the best in the sport including Terence Crawford, Tyson Fury, Vasily Lomachenko and Jose Ramirez. After spending several weeks planning for an eventual return and making sure all protocols were in place, the organization was able to start staging events again in early June and has been hosting several matches per week ever since.
In the latest edition of our series on how destinations and sports-event event organizers are coming back from the COVID-19 pandemic, Top Rank Boxing's COO Brad Jacobs gives his perspective on how boxing was able to return to action with a series of regular events broadcast nationally on ESPN while living in the "Top Rank Bubble" at Las Vegas' MGM Grand Hotel.
Communicate Constantly
The timeline for Top Rank's return to action started in mid-April with the organization exploring which jurisdictions would allow boxing and under what circumstances; Jacobs said they knew that states such as Florida and Oklahoma had already been opening up to events. "But our focus was on Las Vegas," he said. "Our main offices are based here so our staff is here, MGM is a great partner and has always been a great partner."
Top Rank was attracted to have its bubble located at MGM because of its existing infrastructure and experience in organizing events. Then it became a matter of making sure that its events plan could be signed off by the Nevada State Athletic Commission, plus ESPN as a rights-holder since it would have to put a production crew inside the bubble as well.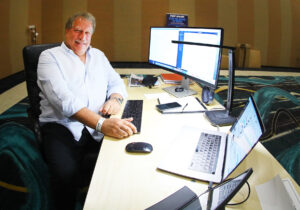 "There were a lot of balls we were juggling that had to land just right to pull off what we've done," Jacobs said. "If one of them happened to not happen, the rest of the thing falls apart. We worked hard with all the different entities because everybody has their own idea what a return to action looked like. To merge all of those into one cohesive plan certainly was not an easy thing but we got there and we like to think we're a model for a lot of other leagues and organizations and teams that are trying to do the same thing now."
Jacobs said Top Rank usually has an event execution plan that even in non-COVID times would run around 250 items deep with everything from arena selection to hotel confirmation, all the way down to what time the ring will be constructed at a site. Putting on cards during COVID-19 times, he said, added another 150 items to that list between testing protocols and coordinating issues between the NSAC, ESPN and MGM.
"I couldn't even begin to count how many conference calls, day and night meetings and emails, texts and WhatsApp exchanges with all the different partners to pull it together," Jacobs said. "Boxing is a very difficult event to pull together in normal circumstances. … It's quite intensive and a big learning experience but proud to say that our group pulled it together and we're very comfortable with what we've created here for our athletes, staff, ESPN, that everyone can work in an environment that we feel very safe in."
Staying Secure
The Top Rank bubble includes having the entire 12th floor at the MGM Grand Hotel in Las Vegas — 170 rooms worth of space — closed off to people from their organization, plus ESPN's production crew, fighters and their camps, and other essential employees. Top Rank also has the whole first floor of the MGM Conference Center closed off for its staff offices, ESPN production office, training facilities for the fighters ahead of cards, a catering area where everybody gets three meals per day and the studio where fights take place.
There are also strict social distancing protocols and face masks worn at all times. There is a fitness center that is open for people only in the bubble and a pool is open on weekends for people but essentially, "your life is in between the floor you sleep at night and the conference center where everything takes place," Jacobs said.

Testing Tops The List
You can have a hotel floor sealed off like Top Rank. You can try and put a restricted number of players in a bubble in Orlando like the NBA and MLS are attempting. You could even theoretically have a literal sealed off bubble in the middle of nowhere … and it would mean nothing unless you have effective testing.
Not only that, "it's a lot more than just the actual testing," Jacobs said. "It's the administration of how you do it, where you do it, what times you do it. We try to do it in a way that is least intrusive on people but making sure those people then quarantine when people come in. … Everything else doesn't happen if you don't have a system in place for testing."
Jacobs said that everybody in the Top Rank bubble is tested twice a week. People also are tested and quarantined as they enter the bubble to make sure it stays secure.
"If anyone tests positive, we have a protocol that we go through to remove that person from the property, make sure no one has been contacted and make sure that those people get home safely," he added. "To date, it's happened seven times between athletes and non-participants. We have put every protocol to work and it's worked well to date."
Attracting Attention
The first fight from the bubble featured Shakur Stevenson, who was scheduled to be showcased in one of the canceled mid-March cards. Stevenson is regarded as one of the top up-and-coming fighters in the sport — "in our mind he was always going to be the first one up," Jacobs said — and being broadcast on ESPN helped his branding to a broader audience.
"Our first call when we decided on June coming back was with ESPN," Jacobs said. "You have to have your television partner on board with you. … ESPN is thrilled with the product and amount of events we've had. It's been a win-win for everybody."
And with having multiple cards each week has given Top Rank the chance to showcase more than one or two stars.
"Usually, only our co-feature and main event are seen on ESPN and the balance of the card is on ESPN's streaming platform," Jacobs said. "Through June and July, our entire cards have been on ESPN so there's been a tremendous amount of exposure for guys who otherwise wouldn't be seen by that large audience. It's a great time for someone to seize that opportunity."
Top Rank has been putting together multiple cards each week for ESPN during June and July. Jacobs said once other leagues start returning to action such as Major League Baseball, Major League Soccer and the NBA, that will take up some additional programming on ESPN and Top Rank may go back to a more regular schedule: "We'll have some meetings over the next week or two with ESPN to figure out what those months looks like and come up with a solution," he said.

All-In from Athletes
What makes boxing a big event often can be the electric atmospheres at a title fight. Being in an enclosed facility with only a few people in the arena could have a detrimental effect on athletes who use the crowds to pump themselves up.
"I think early on some of the fighters were very concerned about that but being honest, I haven't heard too many issues once it all got going," Jacobs said.
To try and bring an atmosphere to the arena, Top Rank has been working with PSSI Global Services to connect with fans who are watching and reacting to the event at home. "It creates a live audience track that is played in the arena," Jacobs said. "The fighters feel and hear the people at home. Not as loud as if you were in a 10,000-seat arena but there's some sort of background there."