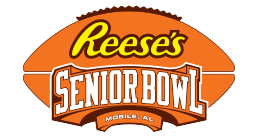 The Reese's Senior Bowl, the most high-profile college football all-star game leading up to the NFL Draft, will move from Ladd-Peebles Stadium to a new site in Mobile for the first time since 1951.
The game will be held at the new Hancock Whitney Stadium, a 25,000-seat stadium on the campus at the University of South Alabama in Mobile, Alabama, after a multiyear deal was agreed between the university and the Senior Bowl board of trustees.
"For decades Ladd-Peebles Stadium served the Senior Bowl well and as we now write the next chapter in the game's rich history at Hancock Whitney Stadium, we do so in a state-of-the art facility that provides for the best fan experience for our community and the great NFL staff and players who make our game possible," said Angus R. Cooper II, Senior Bowl chairman and president of the board of trustees.
The Senior Bowl is owned by the Mobile Sports and Arts Association and was played in Ladd-Peebles Stadium since its inaugural game in 1951. The game has featured 54 players later enshrined in the Pro Football Hall of Fame, including Joe Namath, Walter Payton, Dan Marino, Bo Jackson, and Brett Favre.
"We owe it to our community and players to host the nation's premier college football all-star game in the region's most advanced stadium and this transition to Hancock Whitney Stadium will best ensure our game resides in Mobile, Alabama, for decades to come," said Jim Nagy, Senior Bowl executive director.
Hancock Whitney Stadium will give fans and NFL personnel access to chair- and bench-back seating, indoor and outdoor private suites wand an option for paperless entry into the stadium. NFL coaches, scouts and players will use the University of South Alabama's weightlifting and sports medicine amenities, indoor and outdoor practice facilities and new locker room and meeting areas.
"I've coached the Senior Bowl three times and this is an exciting move for the coaches and players," Oakland Raiders Head Coach Jon Gruden said. "These players are the best of the best in college football and they deserve the best facilities possible.  Having brand new locker rooms, on-site meeting space, and athletic training facilities will certainly make things better for the NFL coaches and players."