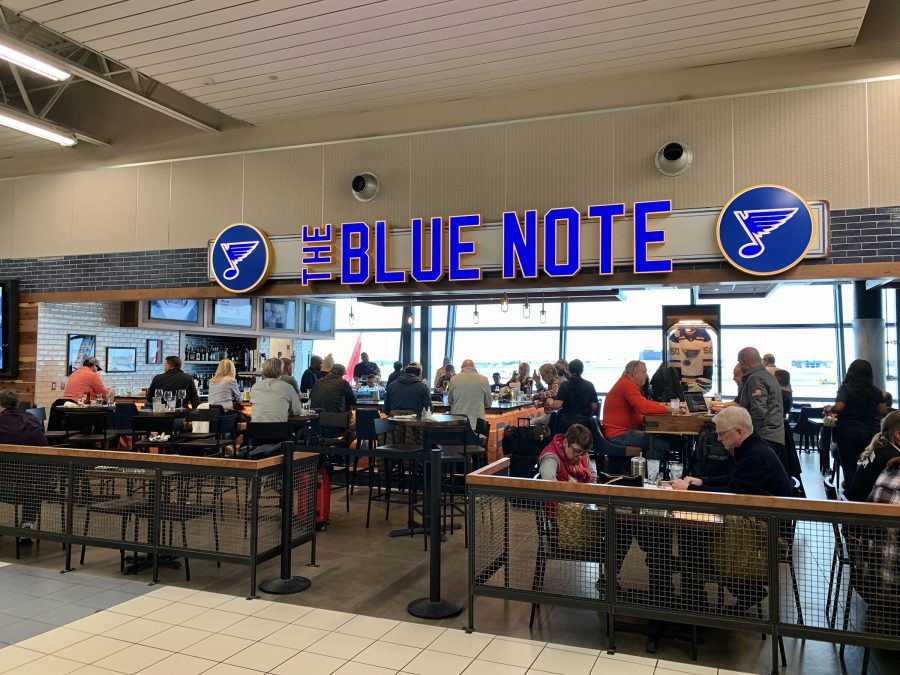 The St. Louis Blues have been on a roll lately as reigning Stanley Cup champions and having hosted the 2020 NHL All-Star Game. Now the team has extended its brand to one of the first things that visitors will see when they fly into their hometown.
The Blues have partnered with HMSHost to open The Blue Note at St. Louis Lambert International Airport. The hockey-themed restaurant in Terminal 2 will have a collection of memorabilia from the past 50 years including helmets, pucks and sticks used by players during their championship season.
The Blues and HMSHost will host a grand opening event at the restaurant on March 12.
"The St. Louis Blues have one of the best fan bases in sport locally and across the globe," said Steve Chapman, Blues executive vice president. "The Blue Note will bring a unique dining and social environment for Blues fans and fellow travelers to enjoy as they depart, visit or arrive home to St. Louis."
The Blue Note offers a full service dine-in menu beginning with breakfast, which includes "Bluesberry Pancakes." Appetizers include "Game 7 Poutine," a "Hat Trick Quesadilla" and St. Louis favorite, toasted ravioli. Lunch or dinner menu items include a "Penalty Box Salad" and a full-service bar also has drinks such as "5 Minutes For Fighting" (tequila, peach syrup, citra sour, spiked seltzer and lime).
The Blue Note's location is near the center of Terminal 2, which serves Southwest Airlines and many international flights. More than 4.7 million passengers boarded flights from Terminal 2 in 2019. The restaurant design is an homage to the Blues' former home, the St. Louis Arena, with seating for more than 110 guests, including 22 at the bar, with multiple video walls and televisions.
"The Blue Note has turned Terminal 2 into center ice, where every day is now a game-day dining experience," said HMSHost Vice President of Business Development Bryan Loden.